ISTANBUL — In Syria's second city of Aleppo, hell hovers in the sky.
It often comes with little warning — just the whooshing of helicopter blades overhead. And then, a deafening boom that makes the ears bleed and buildings crumble.
As the plume of smoke dissipates, those still alive dig through mounds of twisted wires and broken concrete to search for the people trapped inside — or what's left of them. It's the stuff of nightmares, but for thousands of Syrians in rebel-held areas of Aleppo and other cities, it's a grim reality.
This Sunday marks the four-year anniversary of Syria's revolution-turned-bloodbath. While the West and its allies focus on fighting the Islamic State group, the Syrian regime has ramped up its aerial bombardment on opposition-controlled areas in recent months, indiscriminately dropping crudely made "barrel bombs" on civilian neighborhoods.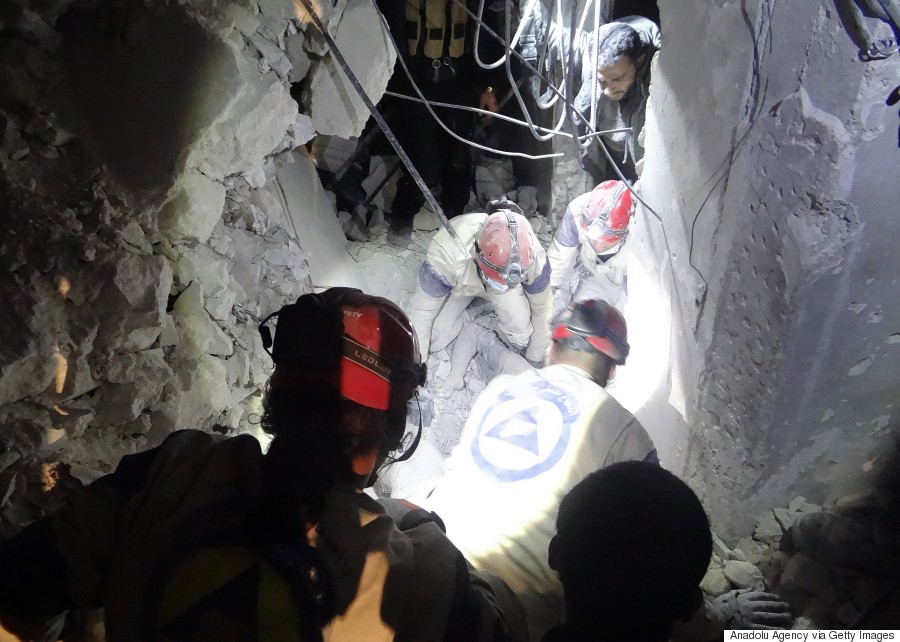 Syrians search for survivors amid the debris of destroyed buildings following an airstrike with barrel bombs by Syrian regime helicopters in the Shaar neighborhood of Aleppo, Syria, on Nov. 6, 2014. At least 16 casualties, including women and children, were reported.
"Every day, [Bashar al] Assad's fighters drop barrel bombs," 24-year-old Suliman Alhalaby, who lives in a rebel-controlled area of divided Aleppo, told The WorldPost over Skype. He says he's lost 20 friends and relatives to the bombs — cylinders filled with fuel, nails and shrapnel, and chucked out of helicopters. "It's a horrible sound," he explained. "Year after year, Assad is becoming more dangerous."
As Syria enters its fifth year of carnage, there is no end in sight to the conflict. It is estimated that at least 220,000 Syrians have been killed. Over half the of the country's pre-war population is now displaced, and nearly 4 million have fled to Syria's cash-strapped neighbors.
Despite a U.N. resolution that passed unanimously last February banning the indiscriminate use of weaponry like barrel bombs, there has been no relief for civilians who live in constant fear of the attacks. Despite overwhelming evidence, Syria's embattled dictator, Bashar al Assad, flatly denies that government forces use barrel bombs.
A Syrian child is comforted by another youth following a reported barrel bomb strike by Syrian government forces on March 5, 2015, in the Kadi Askar area, in the rebel-held side of the northern Syrian city of Aleppo.
According to Oxfam, the use of explosive weaponry — which has contributed to what is estimated to be over half of the civilian death toll since the war began — only increased in 2014.
In the past year, Human Rights Watch identified at least 450 damage sites in rebel-held Daraa and 1,000 sites in Aleppo caused by explosives like barrel bombs dropped by the regime.
There have also been reports of opposition forces using deadly tactics to target government-held areas with deadly explosives where civilians live, like an Oct. 1 twin car bomb attack that killed at least 41 young children at their school in Homs, according to the Syrian Observatory for Human Rights.
"When we hear an [Syrian] army helicopter, we don't know where [to] run away," explained Ahmad, a 27-year-old law student-turned-aid worker in Aleppo, as he showed a slew of photos he recently took at one blast site. He recalls at least two barrel bomb attacks in the past week that left civilians dead.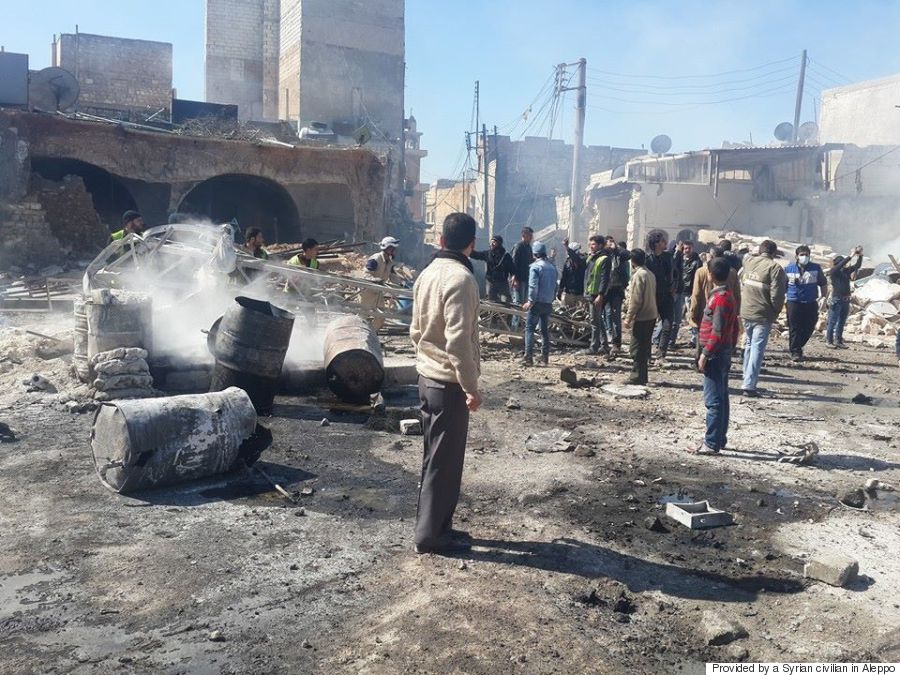 In a photo provided to The WorldPost by a Syrian civilian in Aleppo (who asked not to be named for security reasons), bystanders look on destruction in an Aleppo neighborhood from what they say was a deadly Syrian regime barrel bomb attack in early March 2015.
Earlier that day, Ahmad says he visited an older man who barely survived a barrel bombing attack. When the man's son saw the helicopter, he told his father to run, Ahmad said. The father ran for his life, his son close behind him but not far enough from the explosion. The barrel bomb was filled with fuel and he burned alive.
Many Syrians, like Ahmad, say they feel betrayed by the international community.
"All our people have [been] disappointed," he said. "All the governments in the world don't care about the suffering of my people."
"We know that ISIS was made by Assad to say to the international community: 'I am fighting terrorists,'" he continued, alluding to a commonly held belief among some Syrians that the regime allowed the extremist group to flourish.
While the United States and its allies have slammed Syria for using violence against its own people, there has been little more than strongly worded statements lobbed at the firm-fisted regime.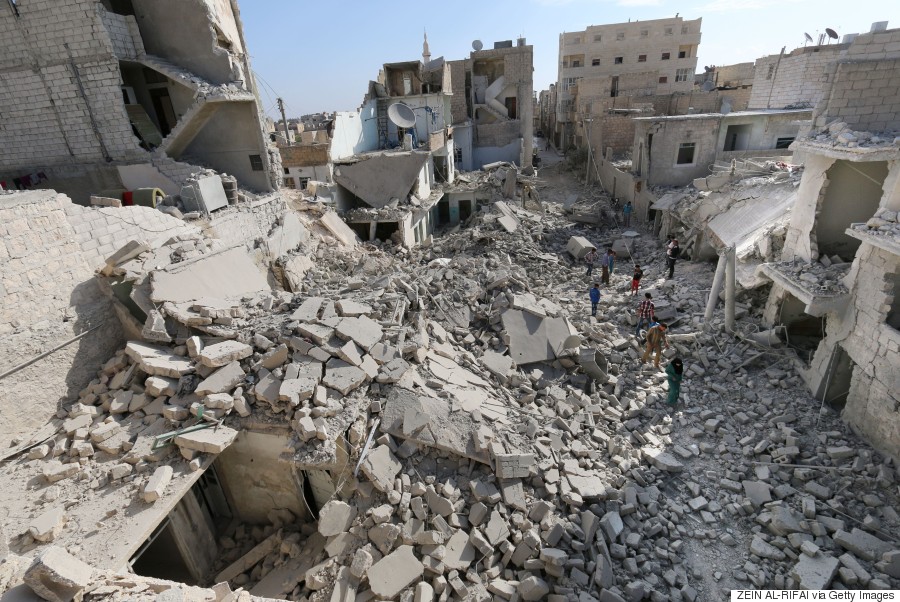 Syrians walk amid destroyed buildings following a reported barrel bomb attack by Syrian government forces in the northern city of Aleppo on Sept. 26, 2014.
Instead, a U.S.-led coalition has focused its energy and resources on striking Islamic State extremists — infamous for their shocking use of violence, recruitment of children, and attacks on Sunni Muslims and minorities alike — in Iraq and Syria. The U.S. program to train and equip a "moderate" Syrian rebel force is only focused on battling ISIS, not the regime.
And at the U.N. Security Council, China and Russia have repeatedly blocked any resolutions that would hold the Syrian regime accountable for possible war crimes. Aid agencies say the UNSC has failed Syrians.
Meanwhile, the Syrian regime shows no signs of giving up power anytime soon and the barrel bombs continue to rain down from the sky.
"It's like something from the Middle Ages," George, a first responder from Damascus, told The WorldPost in Istanbul this winter, days before he planned to risk his life to take a boat to Europe. He wept as he described pulling dead children from their collapsed homes after barrel bomb attacks. "I need to help my people. I need to do something," he said, frantically. "Death is so near."
A Syrian journalist contributed reporting from Aleppo.
Your browser does not support the iframe HTML tag.Try viewing this in a modern browser like Chrome, Safari, Firefox or Internet Explorer 9 or later.