SILOPI, Turkey — The Omers' journey to safety was the stuff of nightmares: gun-wielding militants firing on cars of screaming children, tens of thousands of people trapped on a mountain, mothers keeping dehydrated babies alive with their own saliva.
It took nine days for Omer Omer and his wife, Baraa, both 60, to make the desperate trip with their family from the town of Sinjar in northwestern Iraq to the relative safety of Silopi, a border town in southeast Turkey. After hardline militants from the Islamic State captured Sinjar earlier this month, vowing to kill members of the Yazidi religious minority unless they converted to Islam, they fled to Mount Sinjar, along with tens of thousands of other civilians. They say they were stuck there in the blazing heat for five days without food or water as people perished around them.
Now the Omers, their faces sunburned and covered in rashes, are seeking refuge with 22 family members and neighbors in a tiny, rundown concrete home in Silopi. The house, occupied for the first time since it was built years ago by Turkey's Housing Development Administration, is part of a makeshift camp set up here in the past week. According to local aid workers, there are are some 700 Yazidis at the camp and about 800 others seeking refuge around Silopi in other makeshift camps and homes. They consider themselves the lucky ones.
"When we left our village, the Islamic State was shooting at our car," Baraa says as flies buzz around her. "There were eight people in our car and people were running alongside us trying to hide themselves."
Looking down, she adds, "My disabled cousin was burned in her house."
Baraa's family says that heavily armed members of the Kurdistan Workers' Party (PKK), a group designated as a terrorist organization by Turkey and the United States, saved their lives by escorting them and other Yazidis from Sinjar, battling Islamic State militants along the way. They say that without the PKK's help and a car to drive to the mountain — many of their friends and neighbors fled on foot — they wouldn't have survived.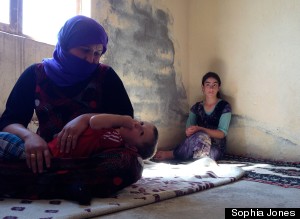 Busra Saeed rocks her son, Waseem, as she recounts her journey from Iraq to Turkey.
The Omers' 26-year-old daughter, Busra Saeed, says that the most harrowing moment of her journey was not when the militants lit her neighbors' homes on fire, or when bullets started flying, but when she crossed the Hezil Suyu river from Iraq to Turkey.
"The river was breast-deep," she says while holding her 2-year-old son, Waseem. "I thought I would lose him."
As the Islamic State continues to gain more territory in Iraq with the goal of creating an Islamic caliphate, it has reportedly killed at least 500 Yazidis, burying some alive. While some people who fled to Mount Sinjar have been rescued by helicopters and others have managed to reach Turkey, Syria or safer parts of Iraq, the death toll is climbing daily. Another day on the mountain is another day without adequate food, water, medical attention or shelter.
Sitting in the excruciating summer heat, refugees here exchange horror stories as children around them stare blankly into space. The refugees have one word for what the Islamic State is doing to their people in Iraq: genocide.
"How can we go back there?" Baraa asks, her lilac-colored dress matching her husband's tunic. "They will kill us."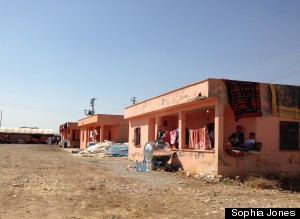 Refugees in a makeshift refugee camp in Silopi, Turkey, are living in small, dilapidated homes built by the country's Housing Development Administration.
Baraa says that one of her neighbors called her a few days ago and said he had witnessed militants kill a pregnant woman and cut open her belly. Stories of women and children being used as sex slaves run rampant in the camp. A United States official confirmed last week that some women are being sold or married off to Islamic State fighters.
Just days ago, Baraa and her family were eating leaves to survive. Now, they're living off donations from Silopi locals and volunteer aid workers. The family has even received medical treatment for diabetes, paid for by Kurdish locals.
But the refugees wonder how long they can survive on donations from generous strangers.
"People here share their things with us, but how will they do this for a year, two years?" Omer asks.
Yazidis desperately seeking sanctuary in Turkey find a cash-strapped country already facing a crippling refugee crisis. More than 800,000 registered Syrian refugees — and many more without permits — have poured over the border in the past three years to escape the civil war in their country, settling in refugee camps, crowded apartments and even bus stations.
Like many Syrians who came before them, Yazidi refugees here say that smugglers are charging hefty fees — around $600 per person — to sneak people without passports or papers across the border. Many Yazidis fled in the middle of the night, some of them still in their pajamas, so they didn't have a chance to grab large amounts of cash. Most could not afford such a large fee in the first place.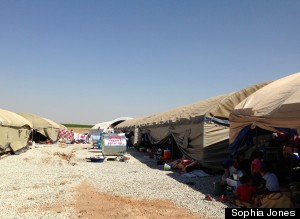 Hundreds of Yazidi refugees sit under tents in a makeshift camp to escape the heat.
Some Yazidis who lack proper documentation have been turned away at the border by Turkish guards, refugees say, while others have been detained. Outside of a school here now being used as a detention center for undocumented Yazidis, Turkish security officials holding assault rifles pace next to exhausted refugee families. After a week of barely surviving, they now find themselves prisoners in a foreign land.
Several mothers in Silopi say they had to leave their children behind with other family members because they don't have passports for them. They are waiting to somehow get the appropriate paperwork or find a way to smuggle their children across. They say they're not going back to Iraq — not ever.
Back at the makeshift refugee camp, a short drive from the detainment center, Omer says he considers himself and his fellow Yazidis stateless.
"This is the end for us," he says, as his family sits in silence around him.
Angel Ucar contributed reporting from Silopi.