QADIYA, Iraq — As a Yazidi woman watched reports from northern Iraq on Monday about France's airstrikes on the Islamic State's headquarters, she cheered, but couldn't shake an awful feeling in her gut.
Sinan, 29, escaped with her life from the besieged Syrian city of Raqqa seven months ago. She says there are perhaps hundreds of Yazidi women and children still being held hostage there by the Islamic State — which is also known as ISIS — as sex slaves and child soldiers.
"We are so worried," she says, sitting next to her cousin who also survived enslavement. "We are the only ones who know how they suffer." 
They support the strikes, but say they fear their loved ones will also die alongside their captors. 
France pounded Raqqa on Sunday and Monday in response to the bloody ISIS terrorist attack in Paris that killed 129 people and injured 352. On Monday, French President Francois Hollande vowed to continue striking the militants in the coming weeks. 
U.S.-led coalition airstrikes have been pummeling the extremist group's self-declared capital for over a year, but with ramped up calls to crush ISIS in the wake of the Paris carnage, Yazidis here with family held by the militants are worried. 
"Whenever there were airstrikes in Raqqa, we would look for a place to hide," Sinan says, explaining how she would often huddle in an underground tunnel much like the one The WorldPost saw on Sunday in Sinjar, a city ISIS militants fled just days ago.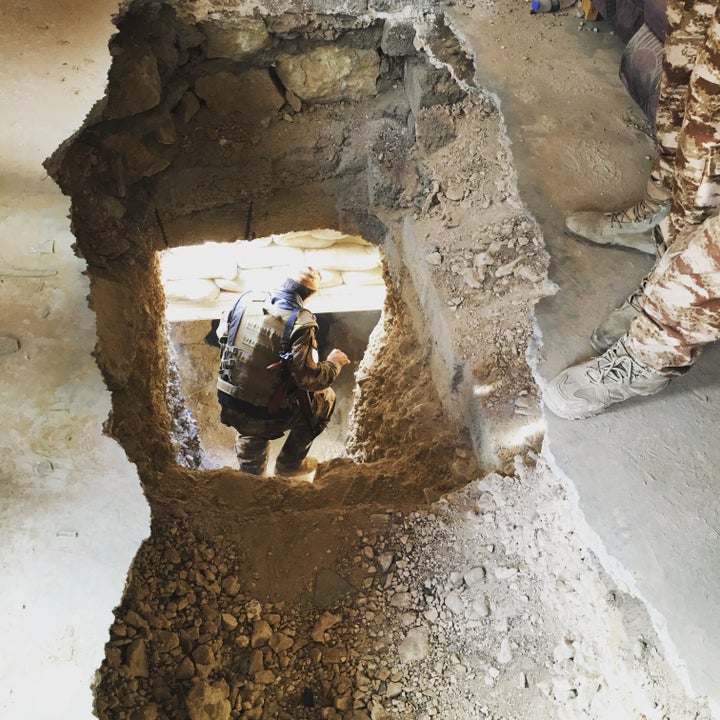 ISIS overran the predominantly Yazidi city of Sinjar in northern Iraq fifteen months ago, determined to rape, kill, enslave and convert the religious minority.
The hardline fighters consider them to be "devil worshippers" and polytheists due to their faith that combines elements of Islam, Christianity, Judaism and Zoroastrianism. 
While U.S.-backed Kurdish forces have pushed out the extremists from Sinjar, for now, the city is in ruins and the impoverished Yazidis say they have little hope of rebuilding. 
Meanwhile, thousands of their friends, cousins, sisters and sons are still missing. Some are held by ISIS militants in places like Raqqa and the Iraqi city of Mosul. Others are known or presumed to be dead.
The WorldPost saw the site of what is thought to be a mass grave of nearly 80 Yazidi women killed by ISIS last summer. Skulls and bones lay on the damp earth, a grim clue of what may be buried underground.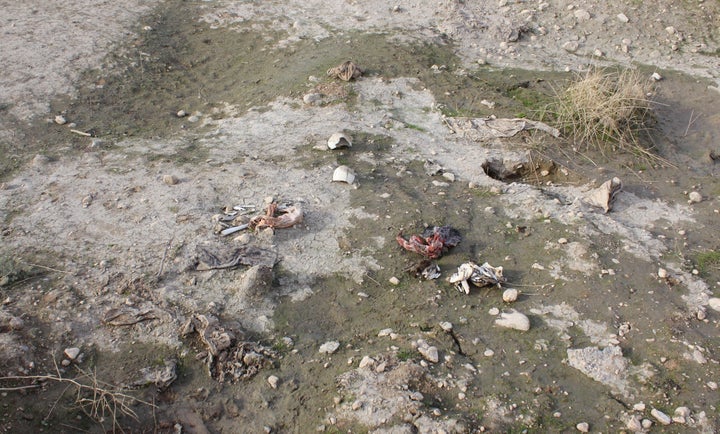 Survivors told The WorldPost that younger women and girls were separated from older women, who were then killed along with men and teenage boys.
Only those who were thought to be easy to brainwash or exploit sexually were kept alive, and endure their own horrors. 
Sinan and hundreds of other Yazidi women survived the mass killings that happened in August 2014, but her four-month-old daughter Lara died from lack of food, water and medical care soon after. 
"We drank our own urine to survive," she recalls as if it was yesterday.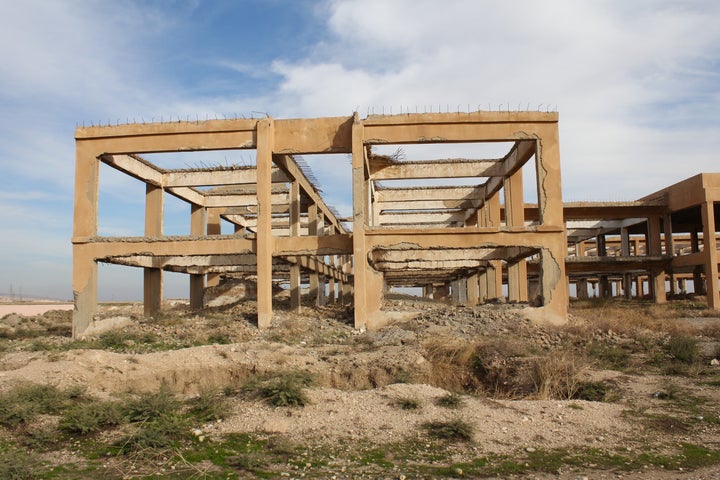 Sinan buried her baby in Tal Afar, Iraq, where she was taken by ISIS militants after being captured in Sinjar, only to be bussed to Raqqa several months later. 
At first, she was kept in a garden in Raqqa and then an oil field, along with what she says were 100 Yazidi women. Though she was already married, she says her captors "married" her off to a tall British lawyer of African descent who would repeatedly rape her and beat her with iron pipes. 
His nom du guerre was Abu Muslim, an adoption of the name of a religion ISIS says it follows, much to the horror of many Muslims worldwide who condemn the group's violent interpretation of Islam. 
"I want to cut him into a million little pieces," Sinan says, her trauma masked with bold fury. 
Sinan's cousin, Ibtisam, 30, recalls a horrifying rape she witnessed. She says an ISIS militant assaulted a girl between the ages of 7 and 9. 
"I saw it with my own eyes," Ibtisam says, infuriated. "They tied her hands and feet. I told them: 'Kill me instead.'"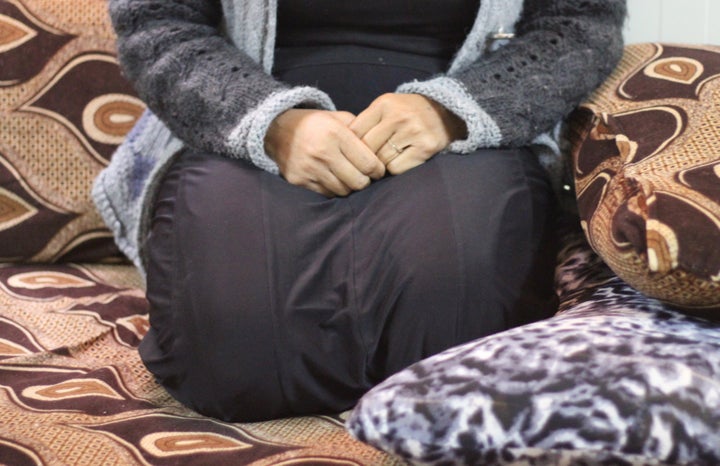 The cousins escaped only because they could pay thousands of dollars for their freedom. 
Sinan says that a local Syrian civilian in Raqqa, who was not part of ISIS, agreed to help her get out in exchange for the $2,000 she had been hiding in her box of sanitary pads. He also took $20,000 from her family in Iraq. 
Dawd, a 22-year-old former student says his older sister Khoula, 24, is being held in Raqqa, as a sex slave, along with their four-year-old brother. 
After hearing about coalition airstrikes on the city, he routinely messages his sister's captor on WhatsApp asking if they're still alive and pleading with him to buy her back. The asking price is $40,000. But ISIS won't free his little brother, Dawd says, so Khoula refuses to leave without him.
Recently, the ISIS fighter sent Dawd a photograph of the smiling toddler in military fatigues, holding what looks like a rocket-propelled grenade. 
Dawd says he's usually only able to speak with his sister when her "husband" reads her every word. But he recalls one instance, with pride, in which Khoula told him how she stood up against the militant group.
"An ISIS guy came over to her and she said 'I know who you are. You are a pimp,'" he says. "She's so brave. She's not afraid of anything."
When the militant left to find something to beat his sister with, she escaped into a crowd of other women and quickly changed her clothes.
If Khoula survives the brutality of being in captivity and the airstrikes thundering overhead, Dawd says he will get her home somehow, someday.
Sinan says that there are days when she can barely live with the fact that she's free while others like Khoula are slaves. 
"Find any way to escape," she says when asked what message she would give to the Yazidis stuck in Raqqa. "I'm so sorry I can't help you."
 Bryar Saeed contributed reporting from Qadiya, Iraq. Some names have been changed to protect survivors, and their friends and family still enslaved by ISIS.
CORRECTION: A previous version of this story misstated the amount of money Sinan's family in Iraq paid to a local Syrian in Raqqa to help her escape. It was $20,000, not $40,000.
Read More Paris Coverage