Credits
Kathleen Miles is the executive editor of Noema Magazine. She can be reached on Twitter at @mileskathleen.
VENICE — Directed by Chinese artist and activist Ai Weiwei, "Human Flow" ― a documentary filmed in 23 different countries ― depicts the largest human displacement since World War II. Behind the refugee crisis, we see a crisis of humanity. Ai's message is that if tolerance and compassion continue to give way to isolationism and xenophobia, "humanity will face an even bigger crisis," as he puts it. 
The WorldPost interviewed Ai at the "Human Flow" premiere at the 74th International Venice Film Festival in Italy, which for the past several years has been an entry point to Europe for hundreds of thousands of migrants and refugees streaming across the Mediterranean Sea from North Africa.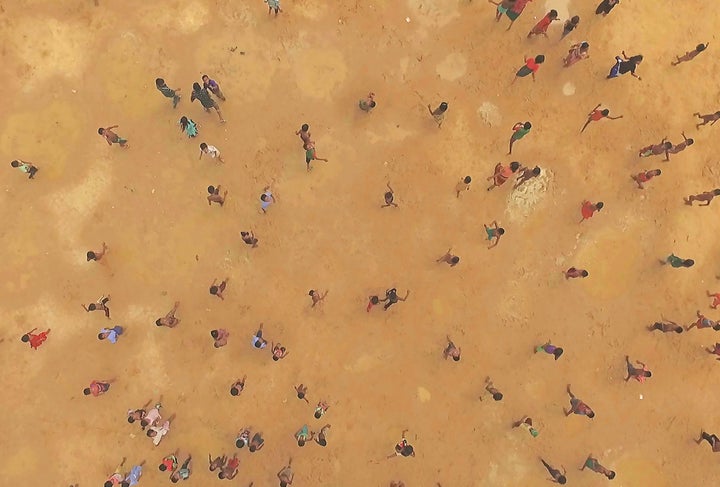 WORLDPOST:  
There was a striking scene in the film where you were walking with a young boy on a beach. Why did you choose to include that?
AI WEIWEI:
In the scene, I was on vacation in Lesbos with my girlfriend and son. He and I were walking on the beach. The beach is the most attractive thing to any child. It's just vast and blue and has this kind of wildness. Suddenly, a boat approached. Then we see the whole image of the beach change. People started jumping down off the boat. We saw a lot of children, a lot of women.
WORLDPOST:
Your son saw this?
AI WEIWEI:
Yeah, he saw it. 
WORLDPOST:
And did he understand?
AI WEIWEI:
No, he couldn't.
WORLDPOST:
Did you try to explain?
AI WEIWEI:
I couldn't explain. I had become speechless. I was just never prepared for something like this. You become like a machine, and speech suddenly doesn't work. I automatically put on my headphones to shoot the images, but I [was] feeling so badly because you don't know how to help them. I saw people wet, falling down, and nobody was helping them.
It made me wonder what is in their hearts. Why did they give up everything? They don't speak the same language [and don't practice] the same religion. And they're treated as if they're not human. So I thought, "Oh my god. This is something I've never experienced. I would like to know more about it." And I said, "I have to set up a studio here and just watch this, just record this." That was how I made my decision to make this film.
WORLDPOST:
The film documents the crossing of borders and mixing of nationalities. Going forward, do you think identity is going to become less national and more global?
AI WEIWEI:
Civilization has evolved toward more acceptance, understanding and tolerance of global thinking. If we accept differences, our creativity booms. It makes life much more colorful. It also makes humanity much more safe. If we see pureness somewhere as something to be desired, the trouble starts.
If we accept differences, our creativity booms.
WORLDPOST:
Do you consider yourself more of a Chinese citizen or a global citizen of Chinese descent?
AI WEIWEI:
I never felt like a Chinese citizen because I was pushed away at a very young age. My father, a writer, was a national enemy of the Communist Party. He was forbidden to write for 20 years. We literally lived underground. We dug a hole and lived there for years. My father cleaned public toilets, even though he was a highly respected poet. Nationality and borders are barriers to our intelligence, to our imagination and to all kinds of possibilities.
WORDPOST:
Are you saying nationality should go away or become more global?
AI WEIWEI:
Nationality started as something natural, but we should not be restrained by the old politics that make up these clear lines. It should have its own way of evolving. In some places, it will evolve slower and in others, faster. It's like the mountains, the ocean and the rivers. It has its own geological forms. Societies cannot be flat. But during change, human rights, human dignity and free speech have to be protected. Otherwise, we'll be going backward. 
Nationality started as something natural, but we should not be restrained by the old politics that make up these clear lines.
WORLDPOST:
In the past, much of your artwork has focused on China ― from the Han Dynasty to Tiananmen Square to the Sichuan earthquake. Now, it seems you are more globally focused. How did this transition happen?
AI WEIWEI:
I think I'm just a traveler. When you walk across a river and there's no bridge, you build one. I'm used to having to deal with Chinese Communist ideology ― it's not really an ideology, but a method of control. But China's problems are not just China's problems ― they're human problems. Humanity has always worked better when you see it as one.
Now I've come to such a mixed culture: America, Europe, South America, Africa. And the politics are changing everywhere all the time and becoming even more unpredictable. There's no such thing as "fixed" culture. China is also becoming more global. Its problems are becoming international problems, becoming German problems, becoming American problems. Nothing is clear-cut. Perhaps I'll find my way ― or get totally lost.
WORLDPOST:
You are putting up an exhibition throughout New York City called "Good Fences Make Good Neighbors." What is the idea behind it?
AI WEIWEI:
The United States is a melting pot. Like John F. Kennedy said, it's a nation of immigrants. But [Donald] Trump wants to build a fence that clearly makes the statement: "You and I are divided. We're different, and you're dangerous." That kind of thinking stops human, civilized evolution. It's dangerous to create that kind of tension.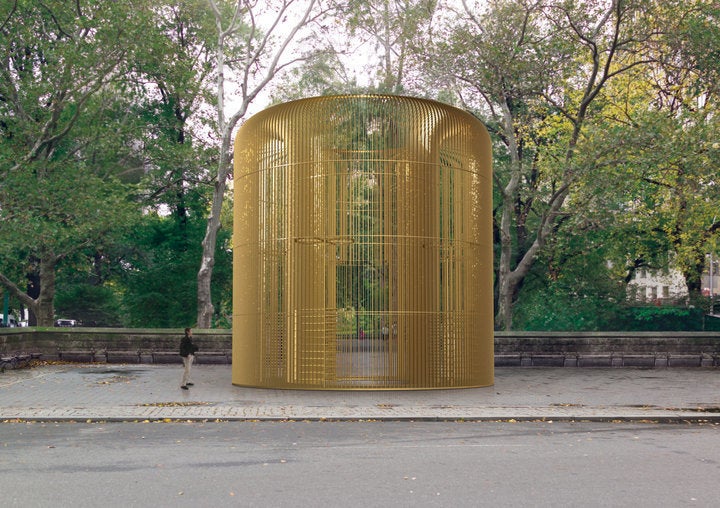 WORLDPOST:
There's a scene in "Human Flow" where an Israeli said that because a wall keeps Palestinians and Israelis physically apart, children grow up thinking of the people on the other side only in terms of stereotypes. They never actually meet each other, and that's precarious.
AI WEIWEI:
Right. It builds this sense of enemies and monsters. 
WORLDPOST:
Are you going to try to plan screenings for legislators involved in refugee policy?
AI WEIWEI:
Yes, yes, of course. That's what we want.
That kind of thinking [behind Trump's wall] stops human, civilized evolution. It's dangerous to create that kind of tension.
WORLDPOST:
Throughout the film, there were scenes with you in front of the screen, interacting with refugees. Your cameramen and other crew members were also on screen at times. It was as if the making of the movie was a part of the movie. Was that intentional?
AI WEIWEI:
My art is a personal effort to help viewers understand, through experiences and emotions, another person or another condition. Some kind of introduction of that individual interaction on screen is an important element of the film. I went in with very limited knowledge of the complex refugee situation. I think it's a more honest way to present a situation. It's sometimes humorous and awkward but it's honest.
Making this film was such a struggle. There are language barriers, geographical barriers, local politics and the dangers of war zones. Everything happens in such a short period of time. So you have to have some kind of vision, to know how to catch what you later can use. But even still, you're not writing the script ― the script is writing you.
Nationality should have its own way of evolving … like the mountains, the ocean and the rivers. … Societies cannot be flat.
WORLDPOST:
Much of the footage I've seen of the refugee crisis has been dramatic ― with people who are soaked, wailing, burned or emaciated, sometimes with dead bodies. But your film, especially the first half, showed people going about their daily life in refugee camps ― cooking their food, talking on their cell phones, playing games. Explain that approach.
AI WEIWEI:
Yes. That's purposely set up for the tone. When you're making a film, you need a film language. We tried to avoid simple emotional and dramatic scenes. Ordinary life is dramatic enough. We can easily understand the difficulties of ordinary people surviving. We don't want to only rely on images that shock people or make people feel that the situation is so hopeless. We want people to feel that the situation is normal, just like daily life ― but when you think about it, it's not acceptable. There is no human dignity in the [refugee] camps.
WORLDPOST:
What's your response to the argument that if we welcome refugees and make the passage safe, then the flood of refugees will become even more overwhelming?
AI WEIWEI:
That could be true, or it could not be true. You have to have trust in humanity. I have experienced people who live on a mountain, where there isn't even any water, and they have to climb down the mountain to pick up water. People always ask why they have to do that: why can't they just move down the mountain? It's because they belong to the mountain.
Those refugees don't belong to Europe. I've never met a refugee who doesn't want to go home. They are being forced out. It would be their last choice to stay somewhere so foreign.
I've seen people who escape North Korea and cannot accept the Western lifestyle. Don't take the Western lifestyle as the natural, absolute condition. It's just an illusion. Humans have their own dignity to develop. We have to trust that.