A growing number of American students are studying in China, and they're returning to the U.S. with more positive impressions of the country, according to a recent survey by Foreign Policy magazine. Educational exchanges between the U.S. and China have exploded in recent years, and Foreign Policy sought to measure the effects of these exchanges on Americans through a survey of current students and alumni. Seventy-eight percent of surveyed students said they left China with a more positive impression of the country than when they arrived. Twelve percent left the country with a more negative impression, and about 10 percent had no change in their views of the country. A whopping 97 percent of Americans who studied in China said the trip was worth the costs and hassle. China and the U.S. have been growing more and more strongly linked via their students. The number of Chinese students in U.S. colleges grew by 17 percent during the last full school year, hitting a record-breaking 274,000. Last year, 100,000 Strong, an initiative founded by the State Department, achieved its goal of having 100,000 Americans studying in China over a four-year span. The survey results come from an admittedly unscientific sampling of that group — the respondents were self-selecting participants in study-abroad programs. The results also don't explain why so many students had their views of China improved. Is it because the U.S. media paints an overly grim portrait of China, and so students were going in with low expectations? Or is it because study-abroad programs are carefully stage-managed to showcase a cheery side of Chinese life? Whatever the reasons, the survey results suggest that Chinese money donated to scholarships for foreign students has been well spent. The Chinese government sponsored 20,000 scholarships in support of the 100,000 Strong initiative, and it continues to offer a plethora of scholarship options for students from around the world.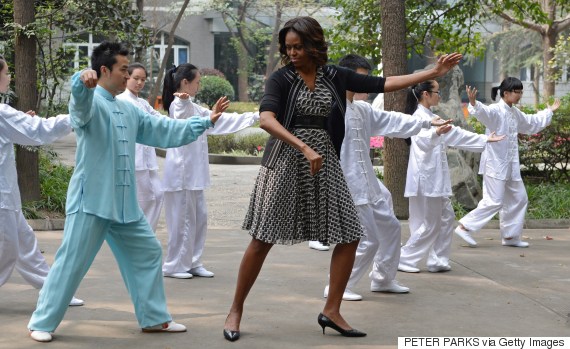 Tensions between Beijing and Washington have been running high over territorial claims in the South China Sea. But people-to-people exchanges have remained a bright spot in the relationship. Then-Secretary of State Hillary Clinton kicked off the 100,000 Strong initiative in 2010, and first lady Michelle Obama highlighted cultural and educational ties between the two countries during a visit to China last year. Those scholarships may also help bring some diversity to American students in the Middle Kingdom. According to Carola McGiffert, president of the 100,000 Strong Foundation, African-Americans, Latinos and students from community colleges remain "deeply underrepresented" among Americans studying in China.
Almost half the respondents to the Foreign Policy survey said they hope to work in China after they graduate, and over 80 percent said they plan to use Chinese language in their careers. Students were less ambitious when it came to starting a business, with just 20 percent saying they would choose to base their business in China instead of the United States. Americans studying in China remain greatly outnumbered by students flowing in the other direction. Chinese enrollment in American schools has seen double-digit growth rates for years, with an increasing number of Chinese students now attending primary and secondary school in the U.S.