ISTANBUL — Sixty-five heads of state and governments, along with thousands of aid workers, politicians, civil society members journalists and celebrities, descended on Istanbul this week for the first-ever World Humanitarian Summit.
The U.N. sponsored the two-day summit hoping the high-level meetings could help jumpstart, or even fix, the world's struggling aid system.
But leaders from some of the world's wealthiest countries were nowhere to be seen. Only one out of the "Group of Seven" member states, who together made up nearly half of the global GDP last year, attended.
United Nations Secretary-General Ban Ki-moon on Tuesday slammed their failure to attend.
"It's disappointing that some world leaders could not be here, especially from the G7 countries," he said at a joint press conference with Turkey's President Recep Tayyip Erdogan on Tuesday.
"The absence of these leaders from this meeting does not provide an excuse for inaction," Ban continued. "They have a unique responsibility to pursue peace and stability."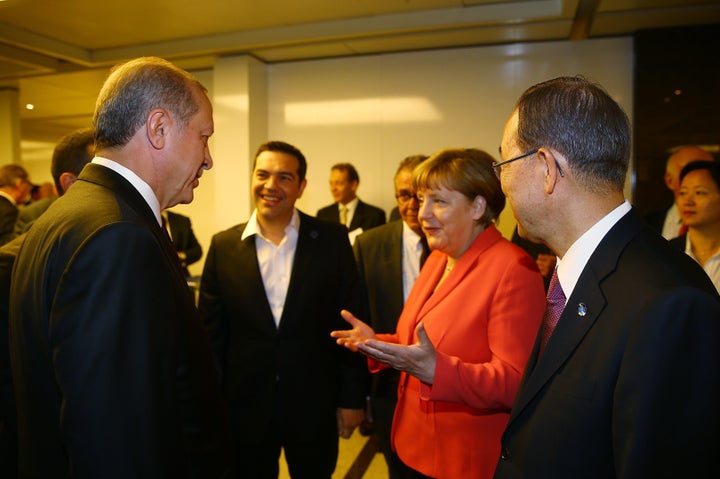 German Chancellor Angela Merkel was the only G7 leader to show up, while the United States, Canada, the United Kingdom, France, Italy and Japan sent lower-ranking officials to represent their delegations. Though largely absent at the summit in Istanbul, leaders from the seven countries are set to meet in two days in Japan to discuss issues ranging from from the global economy to the refugee crisis.
President Barack Obama, who did not attend the summit, was instead in Vietnam, where he announced Monday that the U.S. agreed to lift an embargo on lethal arms exports to the country. USAID Administrator Gayle Smith led the U.S. delegation in his place.
The summit focused on five "core responsibilities": preventing and ending conflict; respecting rules of war; leaving no one behind due to forced displacement; working differently to end need through innovation; and "investing in humanity" politically and financially.
"Today we do not yet have a functioning humanitarian aid system," Merkel said in her opening remarks on Monday. "Very often pledges are made but the money does not reach where it is most needed."
The current refugee crisis, which stems mainly from Syria and stretches all the way to western Europe, has been billed as the worst humanitarian disaster since World War II.
Meanwhile, aid organizations and states from Syria to South Sudan are struggling to help those in need as cash dries up and the laws of war are often ignored.
"We have reached a level of human suffering without parallel since the founding of the UN [in 1945]," Ban said on Tuesday.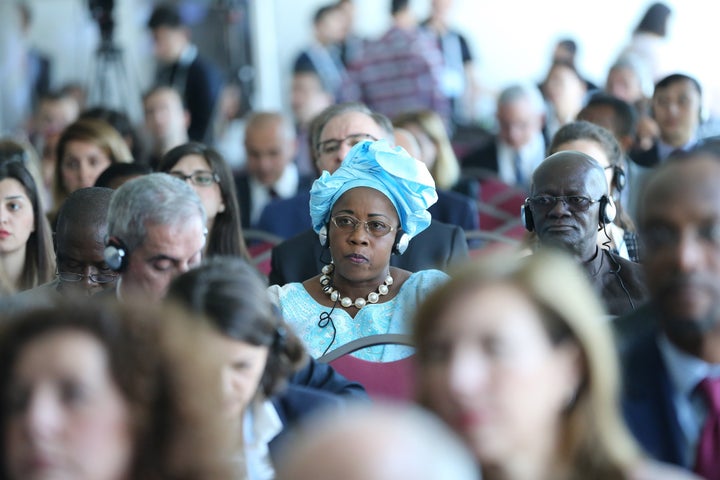 But with great fanfare over the summit and what it could mean for the future of aid also came stark criticism.
Doctors Without Borders pulled out of the summit in early May, calling it a mere "fig-leaf of good intentions." In November, U.S. forces bombed and destroyed a clinic run by the international aid organization — the only one of its kind in northern Afghanistan — in an incident slammed as a possible war crime.
"The summit neglects to reinforce the obligations of states to uphold and implement the humanitarian and refugee laws which they have signed up to," an MSF statement said.
And then there's the fact that Turkey, with its controversial human rights record and what critics say is increasing authoritarianism, was the summit host. The country, which is now home to over 2.7 million Syrian refugees, recently came under fire for allegedly shooting refugees when they tried to cross the border to safety.
Turkey, which is currently being targeted by the so-called Islamic State as well as by Kurdish militants, has slammed the international community for not sharing the burden of the refugee crisis. 
But despite the criticism and what some call lofty aspirations for change, Ban called for "all hands on deck," saying that such change could indeed take place, if only states — like those whose leaders did not attend the summit — stepped up to the plate.
The UN leader suggested that states spend less money on weapons and war, and more on humanitarian needs.
"The money we are trying to mobilize is just 1 percent of global, annual military spending," he said. "We can find it if there is political will."