REYHANLI, Turkey — In an empty car dealership turned Syrian rebel office in this Turkish border town, a group of cash-strapped fighters aligned with the U.S.-backed Free Syrian Army gathered Wednesday. As the world waited for President Barack Obama to lay out his plan for reigning in the Islamic State, the Syrian rebels aired their concerns and fears.
"If the international community doesn't intervene soon, I expect the FSA will flee — or we'll all be beheaded," said Ramadan al-Helo, 31, who introduced himself as the commander of a rebel brigade in Syria's largest city, Aleppo. His men, part of the Hazem Movement, a rebel group with ties to the FSA, are fighting both the Syrian regime and the Islamic State, the hardline Sunni Muslim group that has recently captured large swaths of Syria and Iraq in hopes of creating an Islamic Caliphate.
"The blood of Syrians is on the hands of the international community," al-Helo boomed, the men around him nodding in agreement.
In Obama's much anticipated address Wednesday, he outlined a plan to "degrade and ultimately destroy" the Islamic State through more targeted airstrikes in Iraq, as well through striking Syria for the first time. He also called on Congress to authorize a program to train and arm Syria's more moderate rebels, whom the U.S. has previously provided with limited support.
But many of these rebels, desperate and disenchanted, don't believe real support will ever come from the West. They blame the United States and its allies, whose promises of support have failed to materialize in the past, for the rise of the Islamic State. And they don't know how much longer they'll last battling two formidable enemies.
Three Syrian fighters aligned with the Free Syrian Army pose for a picture in the Turkish border town of Reyhanli.
"ISIS has grown so big because no one did anything," said Abdullah Shama, a middle-aged fighter with a commanding presence who was the oldest in the room. "It's the making of the outside world. We, the FSA, are dying."
Meanwhile, the Islamic State has amassed considerable wealth through foreign donations, oil smuggling, extortion and hostage ransoms. They've taken control of crucial weapons warehouses and supplies, such as weaponry the U.S. gave to the Iraqi Army.
And with this newfound power, they're gaining support by setting up badly needed infrastructure and imposing order, as well as a slew of strictly enforced rules such as bans on smoking, and mandates that women wear full-face veils.
But the West has been reluctant to arm Syria's moderate rebels, who have fluctuating alliances with more hardline groups and frequent glaring divisions. And the situation on the ground in Syria has only grown more complex as years of war drag on.
"It may be too late to provide effective support, at least quickly," Austin Long, a professor of security policy at Columbia University, told The WorldPost. "The worst situation would be to dump a lot of weapons on the rebels when they are weak. This would be a golden opportunity for the Islamic State to concentrate attacks on them in order to seize the weapons (as happened with the Iraqi Army)."
"At best a flow of money for recruitment and extensive training of those recruits could then produce a force capable of making use of new weapons and potentially U.S. air support to fight the Islamic State."
Three and a half years into a devastating civil war that has ripped apart the country, Syrian fighters say that if something doesn't change — and quickly — they'll lose more and more moderate fighters to the Islamic State. As secular, moderate rebel groups face infighting, divisions and a lack of necessary equipment and training, some may be enticed by the rich and highly organized Islamic State.
The group of fighters gathered in the Turkish border town said they usually make roughly $50 a month. But they've heard that Islamic State fighters can make $600 or more.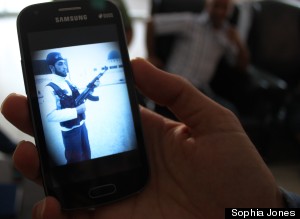 Ali Rasheed, a Syrian fighter aligned with the Free Syrian Army, shows a photo of him holding his weapon in Syria.
"Some leave because they need to help their families survive, and ISIS is well-funded," explained Abu Ahmed. He calls himself a manager for the Hazem Movement, which reportedly has been supplied with a small number of anti-tank missiles from the West. "And because they fear ISIS. They aren't traitors."
Ali Rasheed, a 24-year-old former regime soldier who joined the FSA two and a half years ago, lamented his situation. "ISIS has salaries, good salaries they can live on," he complained. He came to Turkey for a few days to recover after being shot in the chest fighting the regime. "They have food, equipment, someone looking out for their needs. They have oil. We are in the middle of battle and it's a catastrophe. We are lacking many things."
As these rebels fight both the regime and the Islamic State, they fear that the perceived threat of the jihadi group will trump any real efforts to curb the regime's grip on Syria. They're afraid their revolution is being forgotten.
While the Islamic State beheads U.S. journalists and persecutes and kills religious minorities, the Assad regime continues to indiscriminately bomb civilian areas and likely is using chemical weapons against its own population.
"Assad and ISIS are both enemies of Syria, one in the sky and one on the ground," said Ali Rashid. "They are both terrorists. The international community should be held responsible. We can't fight this alone."
Alaa Aldeen contributed reporting from Reyhanli, Turkey.