BEIJING — China is cracking down on drugs, and its B-list celebrities are paying the price. In recent weeks Chinese police have used raids, public confessions and semi-public urine tests to send a message on drug use.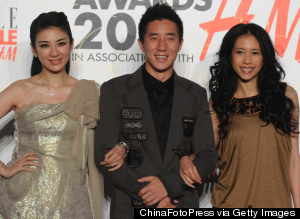 Jaycee Chan was arrested after showing police his stash of weed.
The roots of the recent boom in drug busts remain unclear, but they've already netted some almost-famous entertainers, including Jackie Chan's son, Jaycee Chan. That arrest marks the most high-profile incident in a string of drug busts among B-list Chinese celebrities. This year Chinese police have detained at least 11 celebrities on drug offenses, including singer Li Daimo, writer Ning Caishen, and actor Gao Hu. In the midst of the arrests, 40 performing arts groups in Beijing reportedly signed a pledge not to employ those involved in drug use.
Foreigners in Beijing have also come under the microscope, with Beijing police in May saying they've targeted foreign drug dealers in a popular bar district. Earlier this month, police also surrounded an alternative music venue, reportedly blocking all exits and forcing patrons to submit to semi-public urine tests that resulted in several arrests and deportations for foreigners.
In anticipation of June's International Day Against Drug Abuse and Illicit Trafficking, Chinese President Xi Jinping delivered a speech calling for forceful measures to wipe out drugs, and Premier Li Keqiang declared drugs to be a "common enemy to humanity." State media have reported that drug-related arrests have climbed 27.8 percent during the first five months of this year, though its unclear if the rise results from increased usage or more proactive policing. Analysts have ventured few guesses as to what prompted the highly public campaign, with one professor telling the Los Angeles Times, "It's hard to know why the government does what they do."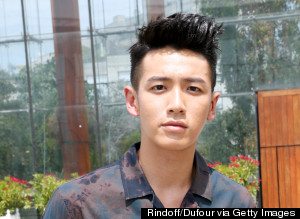 Kai Ko, a Taiwanese movie star, was caught in the same raid as the younger Chan.
Last week Beijing police announced that 32-year-old Jaycee Chan had been arrested during a drug bust at his luxurious Beijing home. A viral video that circulated online purports to show Jaycee (with his face blurred out) leading a plainclothes officer to his private drug stash: several packets of year-old weed, a handful of joints and a grinder. Apprehended in the same raid as Jaycee was Kai Ko, a 23-year-old Taiwanese movie star who had previously been featured in anti-drug commercials.
The incident elicited a social-media apology from Jackie Chan, himself an anti-drug ambassador who had already publicly disinherited his son. M'Stones International, the agency that represents both Chans, released a statement pledging to "bear responsibility for the social impact" of Jaycee's actions. The agency did not reply to a request for comment on Jaycee's current status.
His arrest has raised eyebrows because of the elder Chan's status in China. In recent years, Jackie Chan has been a staunch defender of mainland China's government and an occasionally vociferous critic of Taiwan and the United States. In early 2013, Chan made headlines for calling the United States "the most corrupt country in the world." Shortly afterwards, Chan was granted membership in the Chinese People's Political Consultative Congress, a prestigious governmental advisory body.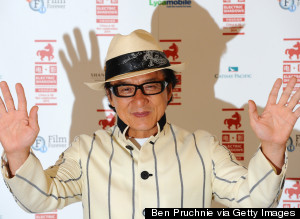 Jackie Chan has cozied up to the Chinese government, but that didn't shield his son from arrest.
In the last two years, the Xi administration has made a habit of pulling down the high and mighty in sweeping crackdowns on both corrupt officials and prominent micro-bloggers critical of the government, and some have suggested the campaign is an attempt to remind those in the entertainment industry who their real boss is.
Many of those arrested were caught with marijuana or methamphetamine, and state media has taken pains to argue that marijuana is a potent threat to individuals and society. Though marijuana use is widely thought to be on the rise in China, it remains largely confined to artistic circles and young people who have lived abroad. Many Chinese people view marijuana as being equal in danger to heroin, and Chinese media often uses the generic term "smoke drugs" to refer to everything from marijuana to methamphetamines to ecstasy.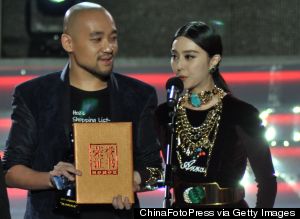 Li Daimo, a reality TV singing sensation, was charged with hosting meth parties.
Rampant drug addiction may not plague Chinese cities today, but all drug-related subjects strike a sensitive historical chord in this country. In the 1800s, opium brought into China by foreign smugglers led to a national crisis: Millions of Chinese became addicted, mass stores of silver flowed abroad, and China suffered defeats at the hands of British troops protecting the opium smugglers. Those defeats in the Opium Wars marked the beginning of what's known in China as the "Century of Humiliation." A recent editorial reposted on the website of China's state-run television station called to mind this history.
"At the beginning of the 19th century westerners tricked us by saying you could smoke opium. The result was that they not only made off with our silver, but they also hollowed out the Chinese people's spirit," the editorial said. Attacking calls for China to legalize marijuana, the same editorial described legalization supporters as having "confused thinking" and "chaotic logic."
Chinese media outlets and entertainers have largely fallen in line with the government's rhetoric, roundly condemning all forms of drug use and issuing tear-filled apologies when apprehended.
Only one celebrity has refused to make the traditional post-arrest plea for forgiveness. In the first public interview since his June arrest for methamphetamine possession, popular writer and television personality Ning Caishen surprised many when asked if he regretted his choice.
"I don't regret it at all," Ning said. "What's there to regret? Life will always have all different kinds of experiences."