BEIJING — Chinese taxi drivers have been protesting, police have been raiding and politicians have been debating ride-hailing companies like Uber. And one Chinese amateur rapper has thrown down a blistering, profanity-laced track — excerpts of which appear in full below — shouting out Uber and calling out the politicians and taxi drivers who oppose it.
In the four-minute flow that has since been censored from Chinese websites, a little-known rapper who goes by Melo tears into local taxi drivers, rival ride-hailing apps and regulators who are trying to stop him from taking his beloved Uber.
"Where there's oppression, there's resistance," Melo proclaims at the start of the song. "I only represent myself. I just like taking Uber. It's just better than your taxi. What you trying to do? Bite me, bitch!"
Melo's Uber track has been reposted on Youtube. Click [CC] for English subtitles.
The San Francisco-based company has had a rocky few months in China. Since first entering some Chinese cities in late 2013, Uber has faced stiff competition from two main Chinese competitors that recently teamed up in a merger. In May, Uber's offices in Melo's hometown of Chengdu and other cities were raided by police investigating the company for allegedly offering illegal taxi services.
Melo's rap is in the local Sichuan dialect, with a handful of English sentences and profanities thrown into the mix. According to The New York Times, the track was posted in May and briefly went viral before being taken down by censors. Melo, a 21-year-old engineering student in the city of Chengdu, said on his micro-blog that he was called in for questioning by the police about the provocative song. In China, political speech is tightly controlled, and the song appeared to cross the line when it came to criticism of the government.
After calling out taxi drivers for cheating passengers and local Chinese competitors for copying Uber, Melo lays into policymakers who he says protect taxi monopolies.
"Fucking government are you even human? Who dares to go big now? Go big and get shut down. They take all the benefits and say it's because they love China."
Those lines might have already landed him in hot water, but the next ones went even further:
"I don't write political raps. But if you try to force me to stop rapping I'll cut the politician's heads off with a knife and lay it at the feet of their corpses."
The song isn't all disses and gory threats, though. Melo praises Uber as the best alternative to the low-quality taxi services and jam-packed subways in Chinese cities.
"I can't find a taxi. I take Uber.The bus doesn't come. I take Uber. The subway's too crowded. I take Uber."
He even shouts out the free bottles of water found in many Uber rides.
Uber has been betting big on China, forging partnerships with top Chinese tech brands and heavily subsidizing rides — something that may explain the low prices that Melo praises. But that hasn't kept controversy at bay.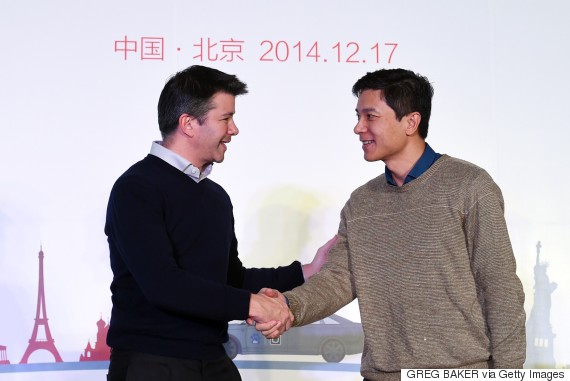 Uber CEO Travis Kalanick and Chinese search giant Baidu's Chairman and CEO Robin Li shake hands after agreeing to a partnership in December 2014.
Both Uber and it's main Chinese competitor, Didi Kuaidi, are operating in a legal gray area by offering taxi-like services via ride hailing apps. Taxi companies in the country must possess a strictly controlled license, and some have accused ride-hailing apps of operating illegally. Several cities have seen their Uber offices raided, and taxi drivers who see their business shrinking have protested and even beat up drivers using the apps.
Melo gives all of these groups a piece of his mind, and calls out people who are satisfied just being bystanders.
"You can choose not to care. You can choose to think it's got nothing to do with you. But this time it was Uber getting investigated and next time it's you."
That prophecy proved true for Melo. After being questioned by police, he asked fans to listen but not repost the track on their micro-blogs. Despite that caution, his social media postings managed to maintain some hip-hop bravado.
"I'm not a gangster," Melo wrote on his micro-blog. "But I do things more gangster than gangsters."
Yes, Melo. Yes, you do.