Credits
Kathleen Miles is the executive editor of Noema Magazine. She can be reached on Twitter at @mileskathleen.
SANTA MONICA, Calif. — Janet Napolitano on Saturday lambasted Congress for politicizing concerns about the Ebola virus, and drew parallels to the response to 2009's H1N1 flu pandemic, which she oversaw as Homeland Security Secretary.
Napolitano criticized a recent Congressional hearing on Ebola featuring Dr. Tom Frieden, director of the Centers for Disease Control and Prevention. "In the middle of a crisis, pulling Dr. Frieden away from the work he needs to do so Congress members could all make their little press statements — it was shameful," Napolitano, now president of the University of California, said to The WorldPost at a Pacific Council on International Policy conference.
"It was outrageous to drag the head of the CDC so that they can make very partisan comments and tell him to do something that makes no sense," said Napolitano, referring to congressional calls to ban travel from Ebola-affected countries.
After three recent Ebola diagnoses in the U.S., at least 40 members of Congress have gone on record seeking a travel ban –- and several pressed for it at the hearing.
Napolitano said the situation was similar when she was Homeland Security Secretary during the H1N1 pandemic in 2009. "We had the same calls," she said. "'Close the border. Close the airports. Close the schools.'"
She continued, "I resisted that and said it doesn't make any sense at all. I said, 'Look, let's take a deep breath. Let's understand the problem.'"
Napolitano said such a travel ban would be ineffective –- not to mention difficult to implement and economically disruptive. "Viruses don't need passports or checkpoints to enter the country," she said. Instead, she said, the U.S. should be increasing the resources sent to the West African countries where the vast majority of cases are, taking measures to identify sick travelers and educating people and hospitals on what to watch for.
President Barack Obama has rejected the idea of a travel ban, and it is believed he will ask Congress for additional funding to combat the growing Ebola outbreak in West Africa.
In what is the world's worst Ebola outbreak ever, about 9,000 cases have been reported in seven countries, with the vast majority in Liberia, Sierra Leone and Guinea. About 4,500 people have died from the virus so far, and the World Health Organization has warned there could be up to 10,000 new cases a week in two months if the international community does not step up its response to the outbreak.
Napolitano said that the lack of an Ebola vaccine reflects the dysfunction of the federal government, which has cut support for research grants. Federal funding for research is needed, she said, because "basic research is messy, time-consuming and a lot of it doesn't seem at the time to have an application but then, eight or 10 years later, it will."
The National Institutes of Health's purchasing power is down 23 percent over the past 10 years, and it is supporting far fewer research grants than it used to. In 2013, there were 49,581 grant applications, and only 8,310 –- about 17 percent — were funded.
"What that means is we're leaving a lot of good science on the table," Napolitano said.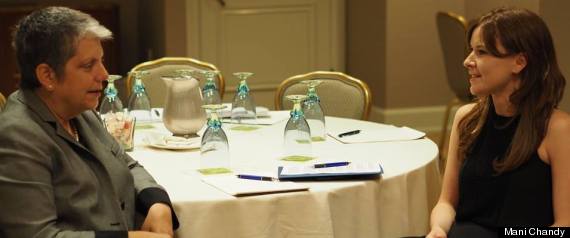 The WorldPost Senior Editor Kathleen Miles interviews Janet Napolitano at the Pacific Council on International Policy weekend conference.