BEIJING — On Sunday, China's National People's Congress announced that Beijing intends to pre-screen candidates in the election of Hong Kong's next chief executive. Thousands of democracy activists took to the streets of Hong Kong upon hearing the news. With those activists threatening to shut down the city's central business district, reaction in both Hong Kong and mainland China remains sharply divided over the wisdom of potentially crippling the local economy for the sake of democratic freedom.
After 150 years as a British colony, Hong Kong was returned to mainland China in 1997 with the promise that residents would enjoy more expansive civil liberties than people on the mainland, and that the city would gradually progress toward elections based on universal suffrage. This arrangement, known as the "one country, two systems" model, has protected free political speech in the city and kept alive hopes for a degree of electoral democracy that was never seen under British rule.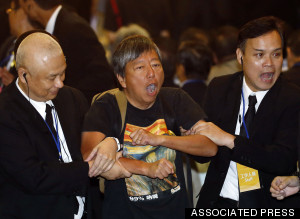 A pro-democracy lawmaker tries to shout down Beijing's representative at a meeting in Hong Kong.
Central government leaders in Beijing have promised universal suffrage in Hong Kong's 2017 election, but Sunday's announcement confirmed the fears of democracy activists: The two or three candidates in the election will be required to gain 50 percent approval from a committee dominated by pro-Beijing representatives, effectively allowing the Chinese government to set the parameters of electoral choice.
"Hong Kong people will have one person, one vote, but Beijing will select all the candidates — puppets," said Martin Lee, founder of Hong Kong's Democratic Party, at a rally on Sunday evening. "What's the difference between a rotten apple, a rotten orange and a rotten banana?"
In response to the election plan, leaders of the pro-democracy movement Occupy Central with Peace and Love say that Hong Kong has entered "an era of civil disobedience," one expected to gum up the gears of Hong Kong's bustling financial center.
But opinion in Hong Kong and mainland China remains deeply divided over the desirability of economic disturbance and the growing distance between freedoms enjoyed in Hong Kong and life in mainland China.
In Hong Kong, the fractures largely occur along class and age lines. In a poll conducted at the end of 2013, more than 70 percent of respondents with a family income of less than $10,000 opposed the Occupy movement, as did more than 80 percent of respondents over 70 years old. Support for the movement was strongest among students and those making more than $100,000. Overall, that poll showed a majority of respondents opposing Occupy Central and fearing that it would lead to violence and economic loss. But the poll also revealed broad support for universal suffrage.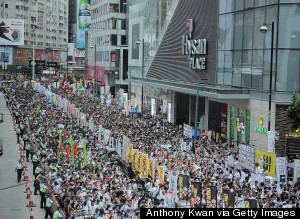 An estimated 150,000 protesters marched in Hong Kong on July 1, 2014, the 17th anniversary of Hong Kong's return to China.
Tensions have been rising since June, and it's unclear which force has exhibited a greater pull on the people of Hong Kong: revulsion at Beijing's take-it-or-leave-it approach, or fear that a confrontation will damage the city and its residents' livelihoods. After Beijing previewed the candidate restrictions in a June white paper, an annual march opposing Beijing's influence drew over 150,000 participants, according to estimates by the University of Hong Kong.
The Hong Kong press has been similarly divided. While the popular Apple Daily is a steadfast supporter of Occupy Central, an editorial in the prominent South China Morning Post recommended grudging acquiescence to Beijing's plan.
"Imperfect as it is, the model is still a step forward," wrote the editors of the South China Morning Post. "It is in the best interests of the city to adopt the change and strive for further improvements in the future."
Meanwhile, in mainland China, attitudes about the events in Hong Kong are likewise mixed. On China's Twitter-esque microblog platform Sina Weibo, some users praised the Occupy movement for advancing democracy in China, while others bristled at the fact that no such push for democracy occurred under British colonial rule.
"I just want to ask Hong Kongers: how is it that during British rule you didn't ever bring up the 'one person, one vote' demand for Hong Kong's Governor?" wrote one user.
Scores of similar posts tap into a strong resentment from many in mainland China as a result of perceived scorn heaped on them by Hong Kong residents since reunification. Waves of mainland Chinese tourists have descended on Hong Kong in recent years, many of them from the newly moneyed classes that have emerged alongside China's booming economy. These wealthy tourists often come to Hong Kong for luxury shopping sprees to take advantage of lower taxes in the city. That influx has led to friction, with some Hong Kong residents labeling the mainlanders "locusts" intent on gobbling up luxury goods while maintaining uncouth mainland habits such as public urination.
Despite those social tensions, many mainland Chinese Web users have expressed support for the Occupy movement, suggesting that it could represent a dry run for eventual democratization on the mainland.
"From a small fishing village all the way to a major metropolis, Hong Kong's development has come from the hard work of its own people!" wrote one microblog user from the neighboring Chinese province of Guangdong. "Now they're doing this so their own descendants can live with dignity. So what are you doing for your descendants?"