CAIRO — Dozens of men close their eyes in prayer and throw their hands up in the air toward the night sky. Barefoot and focused, their bodies sway to the rhythmic chanting booming from a loudspeaker at the mass outdoor religious celebration. And around their necks, lanyards bear the portrait of former military chief Abdel-Fattah el-Sissi, the man likely to be the next president.
The men practice Sufism, a moderate and mystical interpretation of Islam followed by at least 15 million of Egypt's 90 million residents. In the wake of the country's 2011 revolution, they've faced increased persecution, with a rise in attacks on Sufi holy sites by Islamist hardliners. But as the country gears up for presidential elections early next week, they say they have found new hope in el-Sissi, who led the ousting last July of Islamist President Mohammed Morsi and is expected to win the elections in a landslide.
"I'm a lover of the [2011] revolution, but I feel there was more of a movement after June 30," said Tareq Yassin el-Rifa'i, sheik of the country's largest Sufi order, in reference to the mass protests leading up to the ousting of Morsi. "Egypt at this point cannot be ruled by anyone other than a military man."
Sufis in Egypt have long clashed ideologically with hardline Islamist groups, especially Salafis, or strict, ultraconservative Muslims who follow a more literal interpretation of the Quran. Opponents of Sufism decry metaphorical interpretations of Islam and say the religion's public gatherings rich with dancing and singing are indulgent and un-Islamic. After the revolution began and hardline Islamist groups gained more power, attacks on Sufis' religious shrines increased at startling rates, as did hate speech directed at minority religious groups.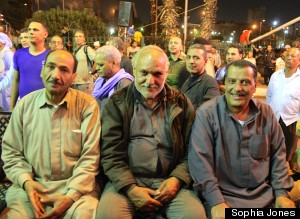 Men listen to religious music at a Sufi celebration in Old Cairo.
"We've been called a lot of things," el-Rifa'i said from his office in one of Cairo's grand old mosques, adorned with aged photographs of him and other religious leaders. "Infidels, shrine worshippers, like we're not even people of the book."
El-Rifa'i and other Sufi leaders say they believe el-Sissi will put a stop to the persecution, stomp out the extremism that flourished after the revolution, and end the near-daily bombings and attacks on security personnel across the country. He says el-Sissi has already come to their aid, pointing to his recent attempt to curb hate speech by imposing state-sanctioned themes for Friday sermons in mosques.
El-Sissi paraphernalia, like the lanyards bearing his portrait, and chants in favor of the strongman are now common at Sufi religious celebrations known as mawlids. And earlier this month, the leader met with a delegation of Sufi leaders who applauded his presidential bid, rallying behind his crackdown against hardline Islamists and the now-banned Muslim Brotherhood, the group behind Morsi's rise to power.
"Morsi gave Islamists the green light to attack our shrines and burn churches," said Alaa Madi Abul-Azaeim, sheik of the prominent Azmeya Sufi order. "I support [el-Sissi]."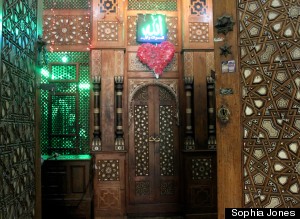 A Sufi shrine at Cairo's Al-Rifa'i Mosque.
El-Sissi, who often speaks publicly of his own piety, has slammed the notion of an Islamic state touted by ultra-conservative Muslims, insisting Islam is a way of life and not a political path. His wife covers her hair and has been seen wearing a black abaya, a garment for conservative Muslim women. And on his forehead he has a zebiba, or a dark spot from decades of pressing his head down in frequent prayer.
Yet despite his public pronouncements and the optimism of many Sufis, el-Sissi has been labeled authoritarian by critics who say he is poised to be Egypt's next dictator. He and his military-backed interim government have launched an extensive campaign to imprison tens of thousands of people, including Muslim Brotherhood leaders and supporters, journalists, academics, lawyers, and revolutionary activists who have spoken out against the government. Just last summer, he orchestrated a violent clearing of a pro-Morsi Islamist sit-in that left as many as 900 people dead. It has been called the largest mass killing in Egypt's modern history.
But despite the heavy criticism leveled against el-Sissi, Azaeim defends the leader's tight-fisted rule, saying he has pulled Egypt from the brink of disaster.
"[El-Sissi] stood with the people even though he could have been killed," he said. "He protected the Egyptian people from terrorism."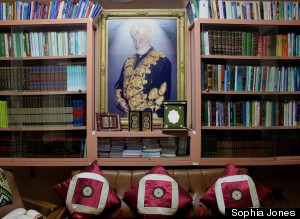 A portrait of Alaa Madi Abul-Azaeim, sheik of the Azmeya Sufi order, hanging in his Cairo office.
Palming white prayer beads, he offers a simple explanation as to why the man expected to be Egypt's next president has his vote: "He loves Egypt and we love him."
Azaeim proudly recalls giving speeches on religious coexistence during the initial protests in Tahrir Square more than three years ago. Though some Egyptians critical of the government lament a revolution they say has failed, he believes it will be revived after security is restored and extremism is suppressed.
While Azaeim has no doubt that el-Sissi will meet the people's expectations, it's impossible not to notice a twinge of nervous hope in the voices of others.
"Sufism is on the right track. It will play a bigger role in society," insists el-Rifa'i, pausing to think for a moment. "I just hope [el-Sissi] has the right people behind him."
May Kamel contributed reporting from Cairo.