BURSA, Turkey — When 15-year-old Tambi Asaad Cimuk walked into a music store in this northwestern Turkish city last year, he had never played the piano before. Now, the shy Syrian refugee from Damascus is set to perform at Carnegie Hall next month. His teachers say he could be the next Rachmaninoff.
Dubbed a child prodigy by Turkish media, Tambi, now 16, made headlines earlier this month when Turkey's President Recep Tayyip Erdogan personally granted Turkish citizenship to the Cimuk family of four. Most Syrian refugees in Turkey, who now number roughly 1.5 million, can't even get a work permit. The Cimuk family had applied for the citizenship a month before, but the process is usually long, and rarely ends in success for refugees.
But on Dec. 8, Tambi got a presidential phone call that changed his life. Before then, it had been nearly impossible for him to use his Syrian papers to travel internationally for music competitions. But Tambi's Turkish teachers rallied together, heading a media campaign to call attention to what they say is extraordinary talent.
Tambi Asaad Cimuk plays the piano in a video uploaded to YouTube by Rustem Avci, Tambi's manager.
Erdogan's phone call came just in time. Less than two days later, Tambi boarded a flight to Russia to attend an international music competition alongside pianists who have been playing for over a decade.
The teenager, who left everything behind in Syria when his family fled to Turkey two years ago, says he hopes his music will somehow help foster peace.
"Art shouldn't have teams," he said, sitting in his living room with his family. "It's a simple message from the piano."
Tambi says he tries not to watch too much news about what's happening in Syria. The war, now in its fourth year, is just too overwhelming. He has little stomach for talk of the politics that divides the country he left behind. What started as a series of peaceful protests against the Syrian regime in 2011 has delved into bloody civil war, uprooting millions and claiming the lives of over 200,000 people, according to some counts.
But Tambi finds solace in his music.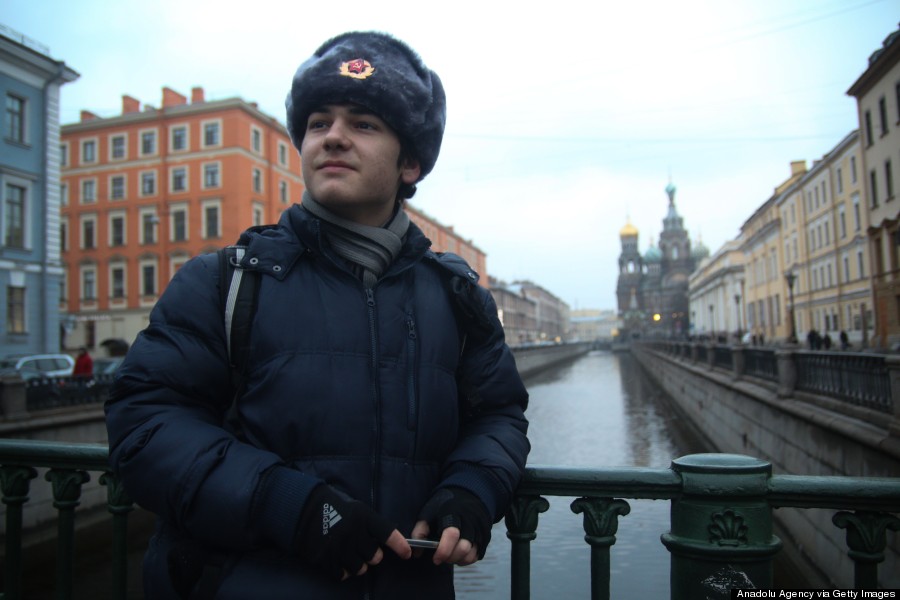 Teenage pianist Tambi Asaad Cimuk poses during an interview in St. Petersburg, Russia, where he attended a music contest on Dec. 12.
"I'm expecting a Rachmaninoff out of him," said Rustem Avci, Tambi's manager and the owner of Akademix, the private music school in Bursa where Tambi takes classes. He jests that he would have had to smuggle Tambi to Russia if he had not received Turkish citizenship. While Avci says the Turkish government giving his student citizenship might just be a good PR stunt, it makes it no less life-altering for his student.
Avci and his colleagues have been Tambi's biggest supporters, securing a full scholarship for him at a private Turkish high school and paying for his normally expensive piano lessons as soon as they realized his level of talent. But they aren't the only ones who have eyes on Tambi's future.
"In 16 months, to come to this level — it's absolutely unbelievable," Tamara Poddubnaya, a Georgian pianist and piano teacher at the Long Island Conservatory of Music, told The WorldPost by phone from New York. "If he continues like this, he can become a serious musician," she continued. "He's on the right track."
Poddubnaya first met Tambi in May when she chaired a jury at a national music competition in Istanbul. One of Tambi's teachers introduced him to Poddubnaya. She was drawn to his dedication and what she says is "amazing potential."
Now Tambi will be spending part of next summer at the intensive international piano festival "Music Without Borders" in Bethel, Maine, where Poddubnaya serves as the artistic director.
With his new and unexpected stardom, Tambi says his Facebook inbox is full of messages from strangers — mostly Syrians, Turks and Circassians — saying how proud they are and congratulating him.
Tambi says that despite the overwhelming support, he fears some people might not approve of his citizenship because he's Syrian. After all, he explains, there are plenty of talented people out there.
"I'm a very lucky boy," he says, shaking his head in disbelief. "There are so many people who want to be in my place right now."
But Tambi also feels real pressure — it's not every day the president tells you, "You have to work harder now," as Erdogan told him during the phone call.
"I must make Turkey proud," Tambi says. "I must practice more and more. It's a big responsibility."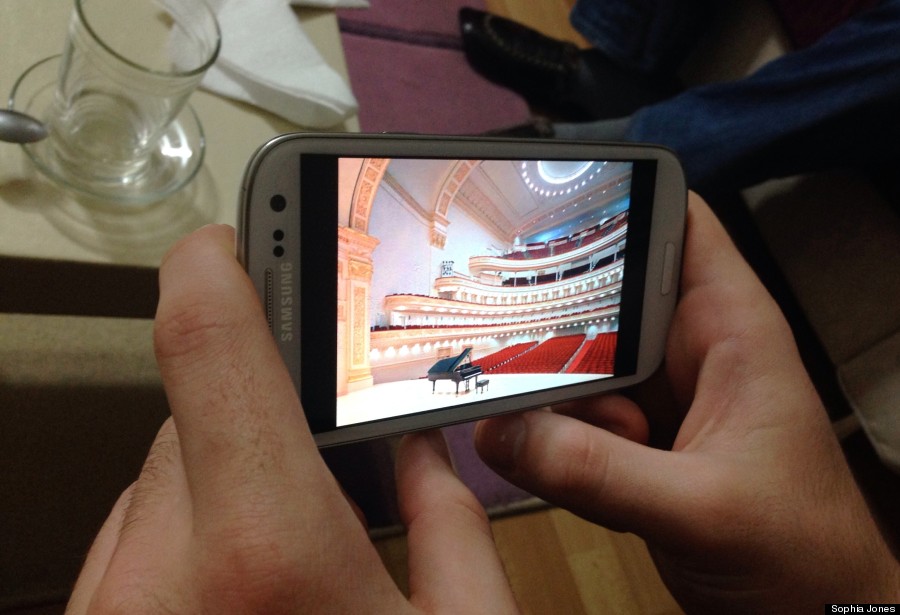 Tambi Asaad Cimuk excitedly pulls up a photo on his phone on Dec. 16 of Carnegie Hall, where he will be playing piano in January as part of a youth music competition.
Before Syria's war, the Cimuk family frequently traveled to Turkey, where Tambi often played the accordion at festivals celebrating Circassians, the minority group to which his family belongs.
Kicked out of the North Caucasus in the 1800s when the Russians violently took over and allegedly massacred scores of the ethnic group (which Russia denies), the Circassians fled en masse. Predominantly Sunni Muslim, many are scattered across what is now Turkey, Israel, Syria and Jordan.
When the Cimuk family formally received Turkish citizenship, they changed their surname from Asaad to Cimuk; it was their original Circassian last name, which they say they couldn't keep when their relatives fled to Syria generations ago.
Tambi says that he misses Syria — it's the only home he's ever known — but he always felt like a bit of an outsider there as a Circassian. He's proud and humbled to officially belong to Turkey now, he says, but he's not one for labels. When he plays music by Russian composers, he says, he feels like he belongs to them.
Tambi sits down at a keyboard in his living room, his slippered feet gently pressing on the foot pedals. For a few minutes, he's not nervous. He's fearless, and lost in the music.
Friday, Tambi will play piano in southeast Turkey at a government-sponsored symposium on peace in the Middle East. Former NATO Secretary-General Anders Fogh Rasmussen is set to be there, as well as Turkish and foreign academics and experts.
When he takes the stage, he hopes people will see him solely as a person playing a message of peace.
"I will likely play Chopin, because it's romantic," he explains with a smile. "Mozart, because it's about happiness, and Rachmaninoff …" he pauses, searching for the right words, then laughs, adding, "for the sake of insanity!"
While the government has taken a special interest in Tambi, he says he still needs financial aid to further his musical education. He's hoping to land a scholarship this summer when he attends Poddubnaya's workshop, and in a few years, when he attends university. He dreams of studying piano in the United States, where he will travel next month to play at Carnegie Hall as part of a youth music competition.
His family, while more comfortable than many Syrians here in Turkey living in refugee camps or on the streets, cannot support Tambi's gift alone. Plane tickets and music schools are expensive.
"I couldn't get my money out of the bank in Syria," explains Tambi's father, Nart Cimuk, a former electrician in Syria who now works at an elevator factory in Turkey with his wife, a former high school teacher. But despite the war ravaging what was once home, Nart beams with pride — and hope — at his son.
"Tambi didn't find his chance in Syria," Nart says. "He found it here."
Burak Sayin contributed reporting from Bursa.