ISTANBUL ― When Greece promised to return Syrian and other refugees to Turkey under a controversial European Union deal, it probably never thought it would have to consider asylum for the Turks themselves.
But that's exactly the corner Greece found itself backed into when eight men arrived in the country last Saturday.
Unlike the thousands of men, women and children before them who arrived by dinghy, these asylum-seekers landed in a Black Hawk helicopter. And the men weren't fleeing Syria's endless war or Taliban death threats or Islamic State assaults on Iraqi towns ― instead, they've been accused of orchestrating a failed coup in neighboring Turkey. The attempt to overthrow President Tayyip Erdogan left at least 232 people dead, with some gunned down by rebel-flown helicopters and others crushed by tanks.
The eight say they were unaware of the coup plot until it was too late ― after they were ordered to help evacuate soldiers, according to their lawyers. They asked for political asylum in Greece.
But it would be no small ask.
The men ― two majors, four captains and two master sergeants ― are traitors, according to Turkey's Foreign Minister Mevlut Cavusoglu. The minister said they need to be extradited and tried in a Turkish court on charges of attempting to overthrow the government.
If Greece refuses, it could result in weakened ties with Turkey ― a NATO country, member of the U.S.-led coalition fighting the Islamic State and a key player in the migrant crisis. But if Greece hands them over, the men could potentially face the death penalty if Turkey legalizes capital punishment, a move Erdogan has said he's ready to carry out "if the people demand it."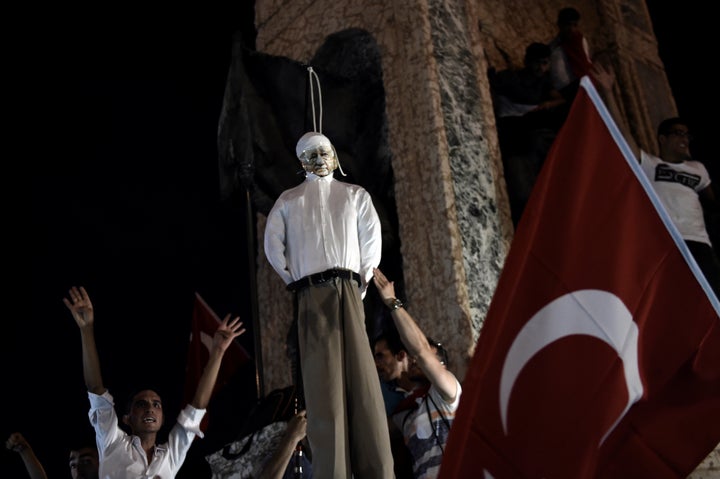 Rights groups have raised serious concerns in recent days that detainees, accused of supporting the failed coup, are being mistreated and tortured. A senior Turkish official categorically denied on Thursday that such abuse was taking place. 
Over 10,000 people have been detained in the week following Friday's bloody coup attempt, Erdogan said on Thursday. Tens of thousands more have been suspended or fired from their jobs, or placed under investigation by Turkish forces hell-bent on rooting out alleged coup supporters. Turkey announced a three-month state of emergency on Thursday and said it would derogate from the European Convention on Human Rights.
Some Turks worry the purge will turn into a witch hunt targeting anyone who opposes Erdogan, whose rule has increasingly been called authoritarian by his critics.
Erdogan blames Fethullah Gulen, a U.S.-based cleric with a large international following, for instigating the coup, and demands that he be extradited as well. U.S. officials have asked for proof, further infuriating Turkey. Turkey considers Gulen, Erdogan's onetime ally turned arch nemesis, to be a terrorist organization leader. 
Gulen currently resides on a compound in Saylorsburg, Pennsylvania, and denies any involvement in Friday's chaos. Instead, he speculates that Erdogan may have staged the coup in order to gain more power.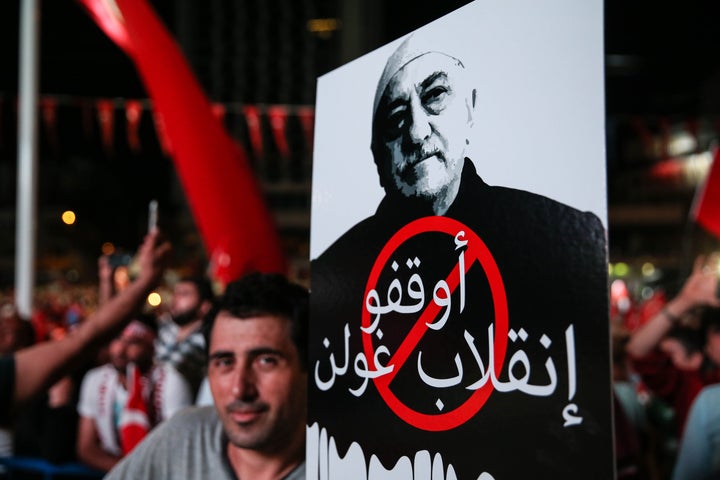 A lawyer representing four of the men says they'll be killed if they're sent back.
"They believe that, one way or another, they will lose their lives [in Turkey]," said Vasiliki Ilia Marinaki, according to Reuters. The men have covered their faces during court appearances.
"Regardless of whether the death penalty is imposed or not, they believe that in the end they will be killed," the lawyer said.
Greek officials completed a "pre-registration" for the eight men on Tuesday in Alexandroupoli, the first step in the political asylum application process.
On Thursday, all eight men were sentenced to two months in prison and charged with illegally entering Greece. Their sentences were suspended for three years as their asylum applications are processed.
Maria Stavropoulou, head of the Greek Asylum services, has said that their asylum claims will be processed the same way all others are.
The eight military personnel are set to be transferred from the northeastern city of Alexandroupoli to Athens Friday, according to Menia Polychroni, another lawyer representing the group. She said the move could complicate their asylum application process.
"This creates a big problem in their communications with their lawyers, as we already have an appointment in Alexandroupolis on Wednesday for interviews on their asylum applications," Polychroni told The Associated Press.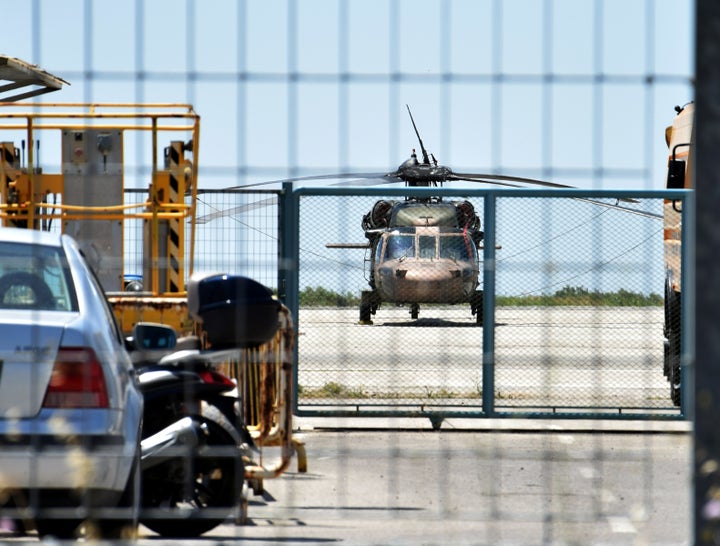 Over 1 million migrants and refugees have arrived in Greece, mostly via Turkey, since the start of 2015, according to the International Organization for Migration. Arrival numbers have dramatically decreased since the controversial Turkey-EU deal was signed, in which Turkey vowed to crack down on human smuggling in return for hefty financial benefits and visa-free travel in the EU for Turks.
Turkey's widespread post-coup attempt purge, as well as the controversy surrounding the eight Turkish military personnel in Greece, could further destabilize the already shaky deal.
Turkey seems to have no intention of backing down on the extradition requests, both in Greece and the United States, with many Turkish citizens of all political affiliations demanding retribution following Friday's bloodshed. Turks have come out en masse every night this week to rally in support of the government and against the coup attempt. 
"What we expect from Greek authorities is that they cooperate [with Turkey] and send these traitors back," Foreign Minister Çavuşoğlu told state-run television channel TRT on Friday.
Danae Leivada contributed reporting from Athens.