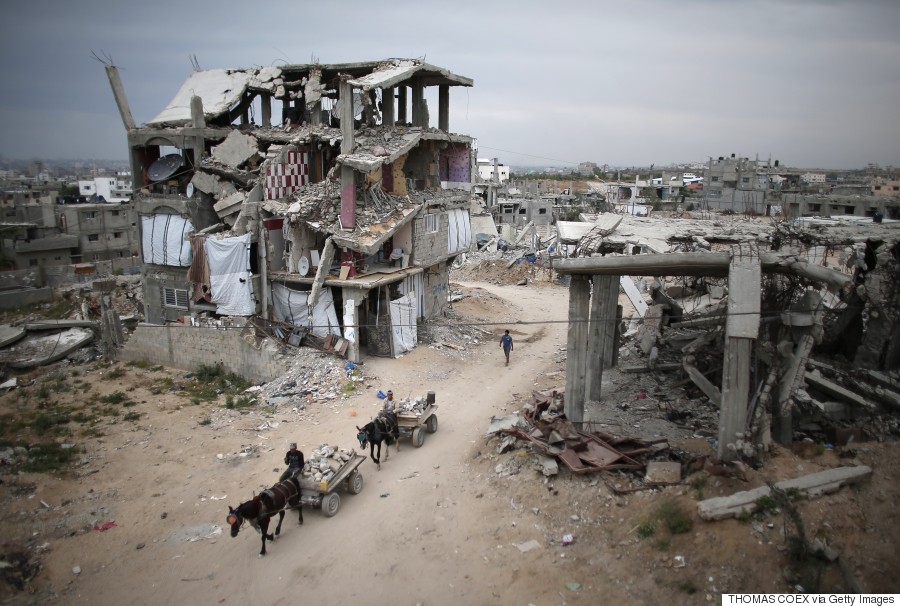 Palestinians ride their donkey-carts in the middle of rubble and destroyed buildings, on May 11, 2015, in the Eastern Gaza City neighborhood of Shejaiya, which were destroyed during the 50-day war between Israel and Hamas militants in the summer of 2014.
GAZA CITY — Youssef al-Jamal just can't take the irony: The country that bombed his factory now directly reaps reward from his misfortune, he says.
Nine months ago, Pioneer Foods, a household name here in Gaza, produced Palestinian-made tissues and other goods, providing much-needed jobs to people in the impoverished coastal enclave.
But after Israel bombed his factory during last summer's bloody war, destroying the top four floors, he lost much of his expensive equipment and production dropped by half.
"Now, we're importing [tissues] from Israel," the factory account manager explained, with a sigh. He said the most recent war cost Pioneer Foods nearly $3 million. "Israel took away jobs from Gazans," he continued. "Now, 50 people are unemployed."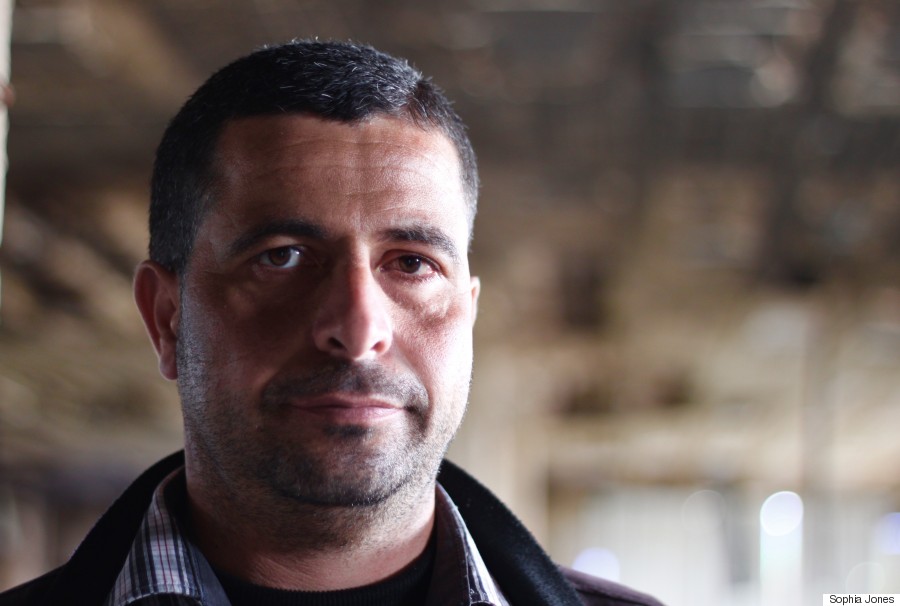 Pioneer Foods factory's manager stands on a floor totally destroyed by Israeli strikes last summer.
Al-Jamal is not alone in his fury. Gaza's already battered economy is reeling eight months after the devastating war that claimed the lives of over 2,200 Palestinians and 72 Israelis. Palestinian enterprises in post-war Gaza now face ruin and increasing reliance on Israel, struggling under a continued blockade and newly implemented taxes levied by Gaza's cash-strapped government controlled by the Palestinian Islamist group Hamas.
Pioneer Foods is just one of many businesses still trying to find their footing long after the bombings ended. While the factory's first floor works like a well-oiled machine — an assembly line of a dozen employees working in unison to boil, can and package food bound for Gaza's dinner tables — there's a post-apocalyptic scene just one floor up, with nothing but mangled wire and charred debris from Israeli strikes. It's the same destruction outside, as far as the eye can see.
Roughly 30,000 Gazans lost jobs because of last summer's July-August conflict, according to Frode Mauring, the U.N. Development Program's special representative for Gaza and the West Bank. The war cost Gaza $200 million in economic losses, causing the Palestinian economy to contract for the first time since 2006, the International Monetary Fund said in late January.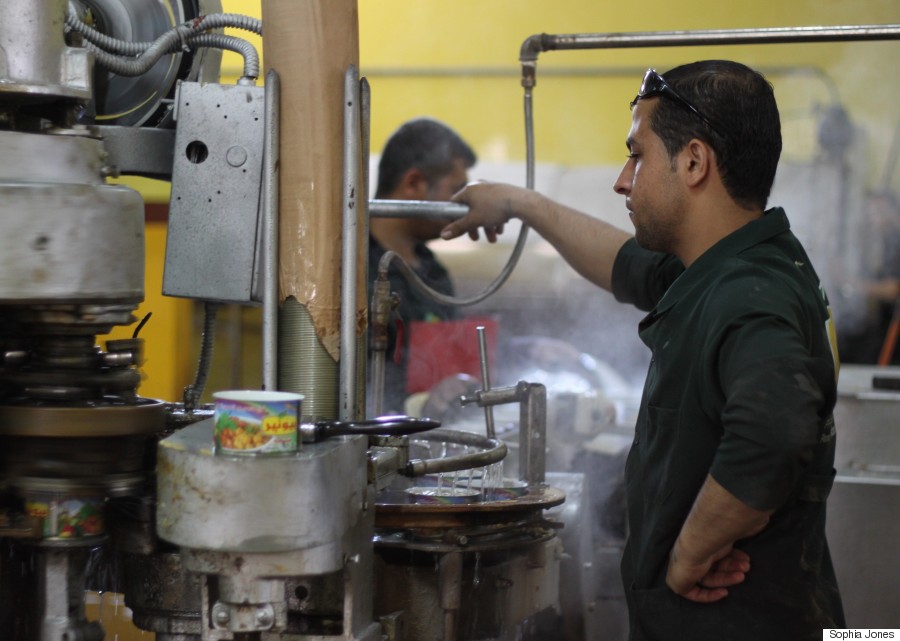 An employee of the Pioneer Food factory in Gaza works on assembly line to can and package vegetables.
People here say there just aren't any opportunities. The unemployment rate hovers around 43.9 percent in Gaza, compared to roughly 5.9 percent just over the border in Israel. When the United Nations Relief and Works Agency for Palestine Refugees in the Near East advertised for 200 school teacher openings in Gaza recently, 27,000 people applied for the rare jobs.
On top of that, water running from many sinks in Gaza is undrinkable. Showers are salty. Electricity cuts now often last most of the day and fuel is expensive. Countless crops and livestock were killed during the war. And many Palestinians in Gaza, homeless and destitute after the most recent round of hostilities, can't even afford basic goods.
Only a fraction of the $5.4 billion pledged by donor countries to help rebuild Gaza has been paid — many donors are worried about ongoing tensions between Fatah and Hamas, who agreed last fall to form a unity government but have made little progress to make good on their promise.
"Because of the financial situation of the people, nobody is buying," shopkeeper Abu Eyada said, defeatedly, in his tiny shop in central Gaza City. "I'm here all day and I can't even earn pocket money — maybe 60 shekels ($15.50) for the whole day."
Most of the products on his shelves are Israeli-produced or imported, heavily taxed by both Israel and the Hamas-led government. When asked what products were indeed made in Gaza, Eyada thought for a moment before pointing to Pioneer's tissue paper. It's the same product that the factory's account manager in Gaza told The WorldPost is now — much to their dismay — made in Israel after their factory was bombed.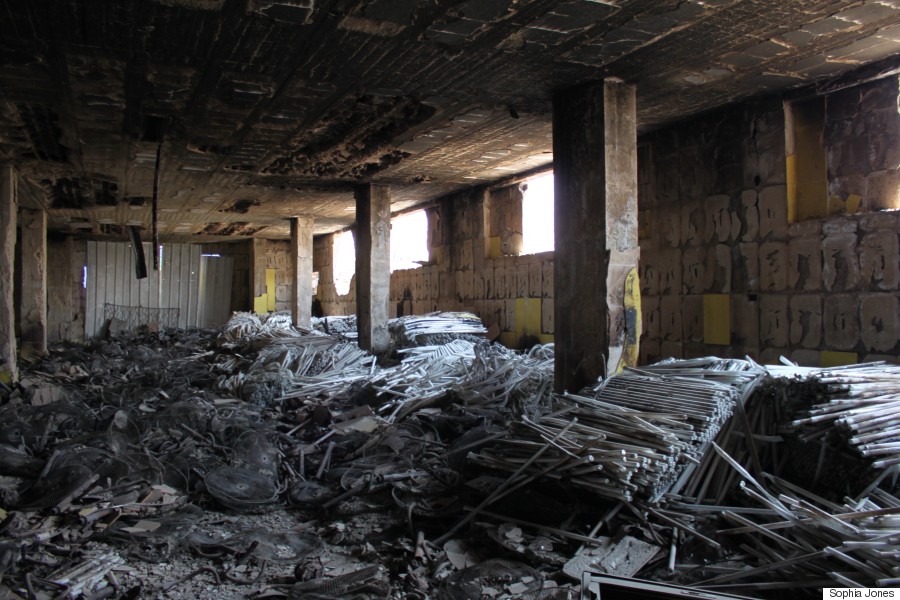 A destroyed floor of Pioneer Foods factory in Gaza, eight months after the most recent war with Israel ended.
The WorldPost reached out to the Israeli Defense Forces to inquire as to why Pioneer Foods and other factories were seemingly targeted during last summer's war.
"I can state that there was no policy to target factories during Operation Protective Edge," Lt. Colonel Peter Lerner, spokesman for the IDF, said in an email, referring to Israel's name of the last war.
"It is known and was widely observed that Hamas and their affiliates in Gaza intentionally and strategically planted their rocket, tunnel, command and control capabilities within the civilian arena," he continued. "As a stated strategy, Hamas' leadership utilized hospitals, schools, residential and industrial areas to launch over 4500 rockets at Israel."
But factory managers say in interviews that they believe by bombing the factories, Israel wanted to solidify its control over Gaza's private sector and benefit its own economy, while putting more pressure on Hamas. Gazan civilians told The WorldPost during the war that they felt as if they were being collectively punished, pounded indiscriminately in the densely packed strip of land with nowhere to hide.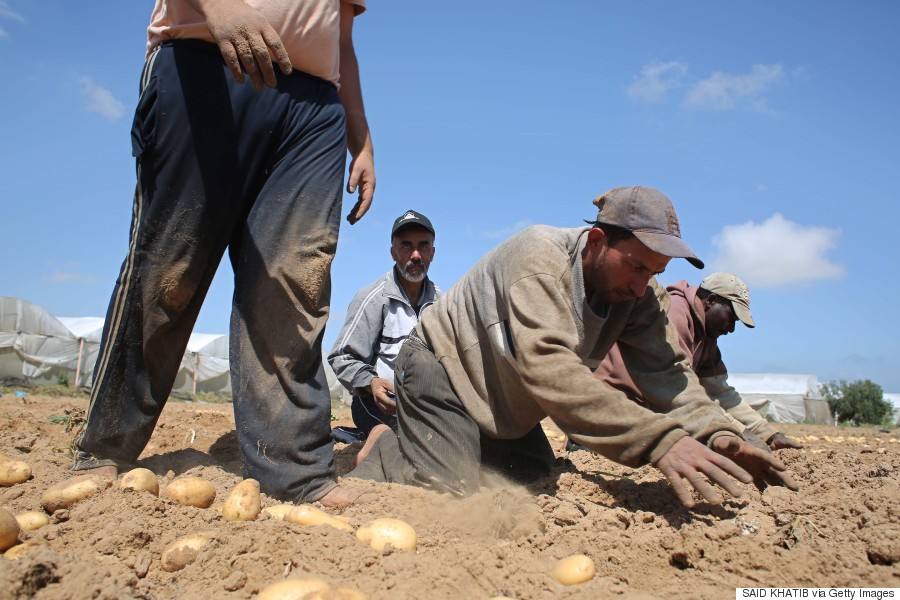 Palestinian farmers harvest a potatoes crop, in Rafah, in the southern Gaza strip, on April 30, 2015.
Managers at the Palestinian-Arab Company for Freezing and Storing, the main company that freezes and stores produce in Gaza, insist their factory was targeted with intent to throw off Gaza's local market. They claim to have lost millions of dollars in damage to their factory during the war and say that dwindling reserves of gas needed for the freezing process pose a serious risk to the local economy. But Israel blocks the company from importing the gas, they say.
"[Farmers and merchants] need a place to store goods," explained account manager Safwat Hamouda. "But because the capacity decreased, they've been forced to put goods into the local market at a lower price or just throw them out because they expire."
Well before this most recent war, many Gazans pointed to the blockade by land, air and sea — which Israel says is crucial to the security of its citizens — as the biggest barrier to business and life in general.
To combat the blockade and a closed commercial border with neighboring Egypt, Gazans relied on smuggling tunnels from Egypt. They provided access to nearly everything — basic goods, cheap fuel, weapons, even chicken from KFC — to the coastal enclave from a source other than Israel.
But when the Egyptian military ousted Islamist President Mohamed Morsi — who sympathized with Hamas — Cairo soon launched a policy to destroy the tunnels connecting the restive Sinai Peninsula to Gaza, citing security reasons. That leaves Gazans with basically one option to get outside goods: "There's no alternative to Israel," said UNDP's Mauring, speaking on Gaza's barriers to getting necessary products and materials into the Strip.
With the tunnel destruction came economic disaster for many Gazans. And the Hamas government, which relied on the tunnels for tax income, suffered a heavy blow. Over a year later, many public employees have yet to see a steady paycheck.
The WorldPost witnessed one small demonstration in Gaza City last week — a rarity in Gaza — where a small group of men decried unpaid salaries for tens of thousands of civil servants.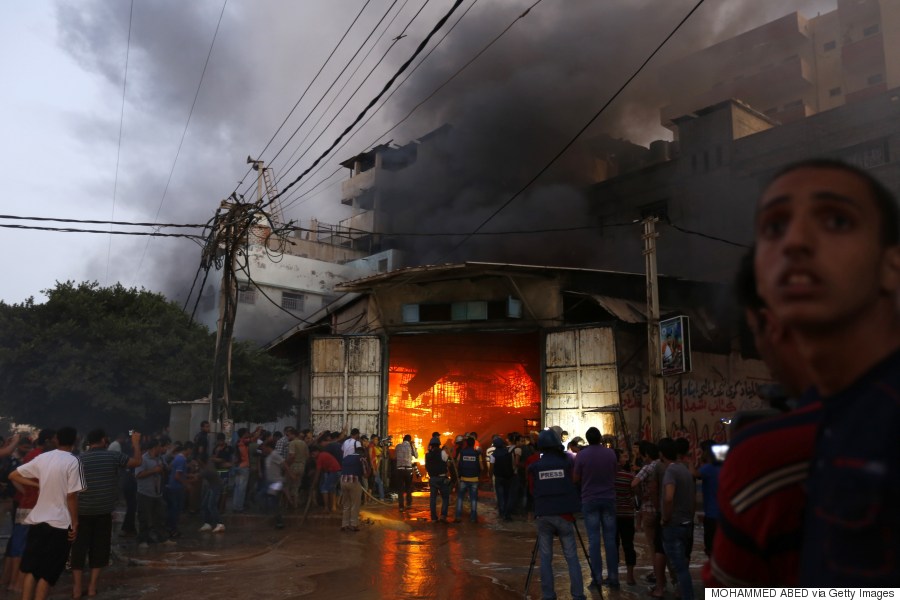 Residents of a neighborhood in Gaza City gather to put out a fire at a soap factory moments after it was hit by an Israeli airstrike, on Aug. 10, 2014.
Now, business-minded Gazans importing goods into the Strip not only have to pay Israeli taxes on goods, but also a considerably high "social support" tax recently ordered by Gaza's Hamas run-government to combat the increasingly dire financial situation.
"For us, the main issue is double taxation," Hamam el-Yazji, a 34-year-old marketing manager of a Pepsi factory in Gaza that was damaged in the last war. His company isn't allowed to export to the West Bank, and most of the ingredients necessary for making soft drinks are imported through Israel. "I believe the Gaza economy is collapsing," he said.
His factory was one of many businesses and homes that were damaged during the war. But they were lucky — many others were completely destroyed, with little resources and money to rebuild.
But despite the hoops his company has to jump through, he says they make ends meet because they have to. People are counting on them. Instead of working seven days a week, they only work three. Instead of 100 full-time employees (compared to 350 before the blockade), they have 100 employees working part time for half the pay.
That way, more families get money to survive, he says, even if it's not very much.
"If you make a thousand dollars in Gaza, you'd make a million outside," he joked. "I say: If you survive in Gaza, then they should make a statue for you. If you survive in Gaza, it's a miracle."
A Palestinian journalist contributed reporting from Gaza.