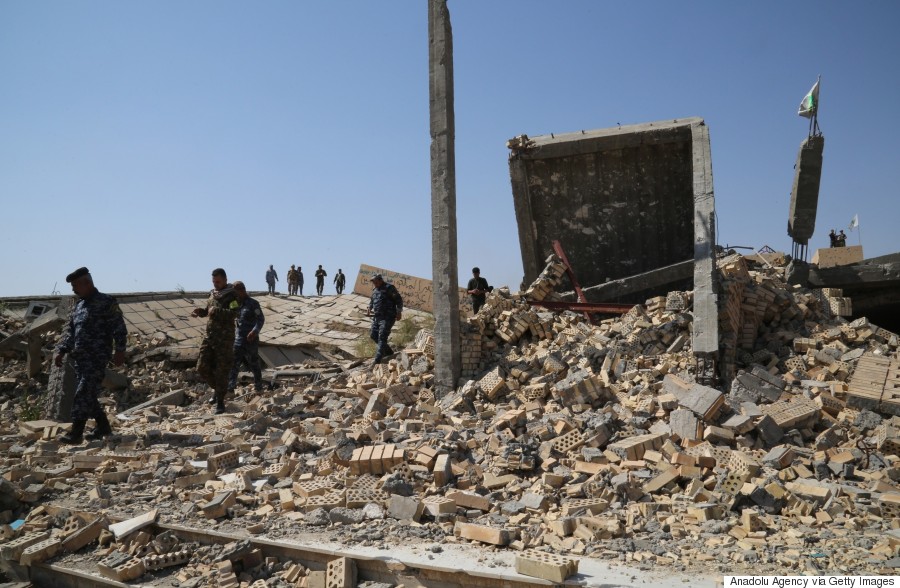 Iraqi security forces and al-Hashid al-Shabi forces prepare in Tikrit to stage an attack with heavy weapons on March 26. (Photo by Ali Mohammed/Anadolu Agency/Getty Images)
TIKRIT, Iraq — The United States insists its airstrikes on Islamic State-held Tikrit are only meant to enable and back up Iraqi forces, and that all Iran-supported Shiite militias have withdrawn from the forefront of the battle as a precondition for U.S. intervention.
But Shiite paramilitary forces here in Iraq say otherwise, with some insisting they will continue to fight in the battle despite their objections to U.S. intervention. Meanwhile, others are threatening to attack U.S. forces, and several say they're boycotting the fight just until the U.S. airstrikes stop.
The United States and its allies began striking Tikrit late Wednesday night at the request of the Iraqi government, targeting major ISIS infrastructure and command centers in the city. Iraqi warplanes are also bombing the extremist group, which has violently seized large swaths of Iraq and Syria.
Army Gen. Lloyd J. Austin, commander of U.S. Central Command, told Congress Thursday that Shiite militias, armed and advised by Iranian military officers, were not a part of the fight to reclaim the besieged city of Tikrit, about 120 miles north of Baghdad.
But on Thursday afternoon, after U.S. airstrikes had pounded ISIS-held positions the night before, Shiite paramilitary forces held many of the towns, roads and military positions leading from Baghdad to Tikrit, with Shiite fighters still inside the city.
The Department of Defense did not immediately respond to a WorldPost request for comment.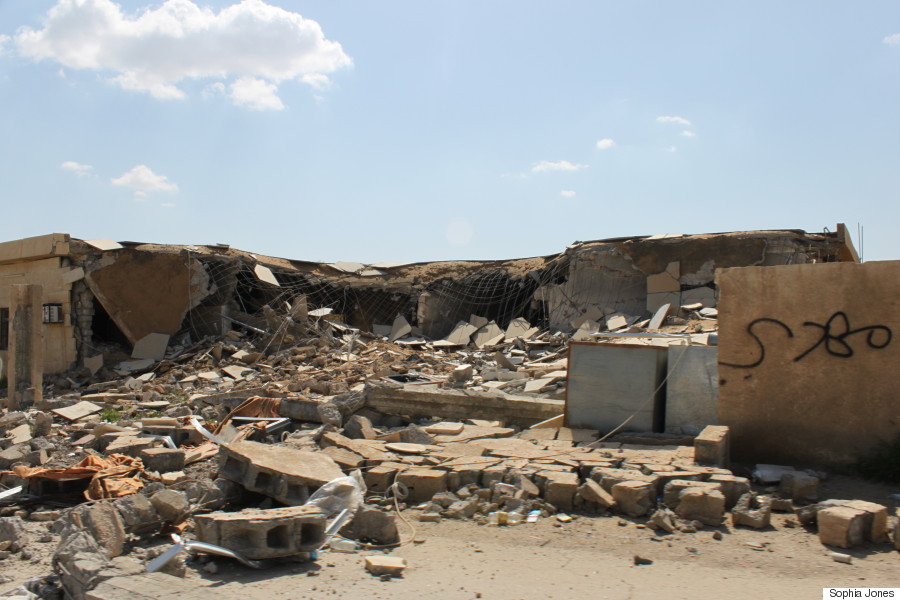 Destruction from clashes between the Islamic State and Shiite militias outside of Tikrit on March 26.
Sheikh Akram al-Kaabi, leader of major Shiite militia Harakat al-Nujaba, accused the United States of attempting to steal the victory from Iraqi fighters, despite the offensive slowing in recent weeks, and issued an alarming threat.
"They made a deal with the Iraqi government without asking the popular mobilization leadership [volunteer Shiite fighters] or ground commanders," he said, according to his official media department. "So, we say to them that our forces are staying and ready to target American forces. And we will eliminate them and their creation of ISIS on the ground in Tikrit."
There are roughly 3,000 U.S. troops and advisers in Iraq, some of whom are tasked with training Iraqi forces to fight ISIS. They are mostly on heavily secured bases, not on the battlefield.
Shiite militia fighters, both paid and volunteer, have dominated the fight for Tikrit. They number an estimated 30,000, said to be up to five times as much as Iraqi forces. While many Iraqis have hailed them as heroes, risking their lives to defend their country when the Iraqi military nearly crumbled, some militias have been accused of human rights violations and using scorched-earth tactics in Sunni towns.
In a Thursday interview in Samarra, Hadi al-Amiri, the leader of Iraq's most powerful Shiite militia, the Badr Organization, dismissed any talk that his forces had been asked to withdraw. But later in the day, he said his group was determining whether they would stay in the fight.
"If the Iraqi forces didn't need us, we wouldn't be involved," he told The WorldPost, adding that the U.S. airstrikes were not necessary because his forces could get the job done on their own. "Seriously, there's no need for this international alliance."
While he insisted he has had no direct communication with the Americans, he said he goes through Iraqi forces when he wants to relay or receive information from the U.S.
While Amiri makes obvious his disapproval of the Iraqi government's request for U.S. air support, he said he has to respect the decision, and admits the strikes could help the cause.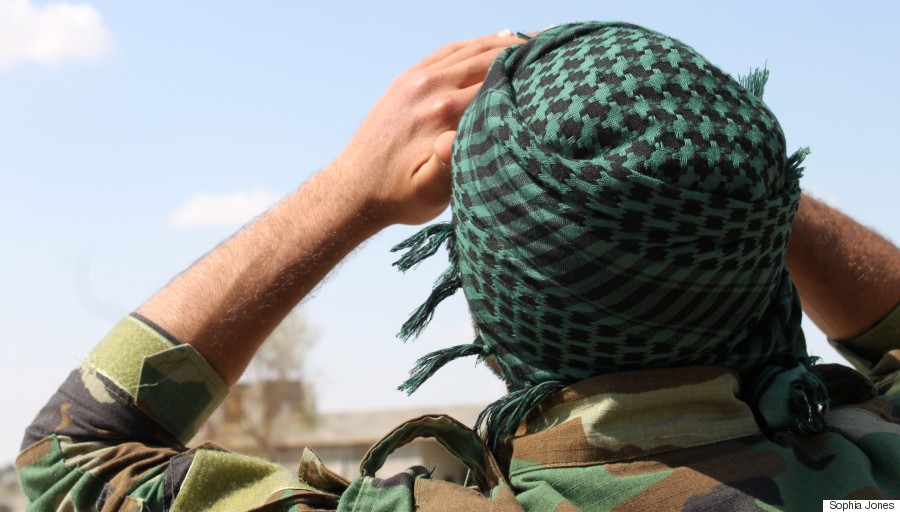 A young member of the Iran-backed Shiite militia known as the Badr Organization looks up at a drone in the sky over Tikrit on March 26.
But several miles from the frontlines with ISIS in Tikrit, one young fighter with the Badr Organization, who did not give his name, expressed surprising support for the U.S. strikes. Outside of a burned-out shop in Tikrit, away from his superiors, he recalled hearing the booms of U.S. airstrikes last night when he says he was inside of the city.
"I was very happy," he said. "I felt more secure." He looked up toward the sky at a drone overhead, and said he didn't know whether it was a U.S. or Shiite militia surveillance drone.
Some Shiite militias say they are entirely boycotting the fight, which could be part of the deal the U.S. struck to sign off on airstrikes without directly coordinating with Iran-backed forces. If more Shiite militias join the boycott, especially the Badr Organization, it could remove tens of thousands of fighters from the battle for Tikrit.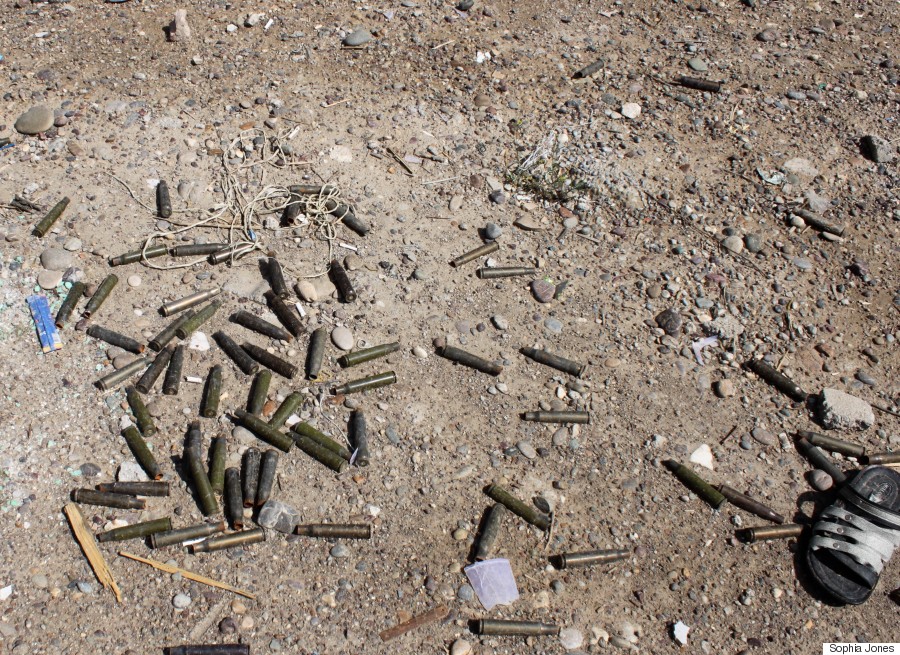 Chinese cartridge casings on the ground in Tikrit on March 26 that a member of the Badr Organization, a Shiite militia, said were from a recent clash with ISIS.
Naeem al-Ubody, a spokesman for the notorious Shiite militia Asa'ib Ahl al-Haq, told The WorldPost on Thursday that the fighting force is now boycotting the battle for Tikrit because they don't trust the U.S.-led coalition. The group is known for its attacks on U.S. and Iraqi forces during the Iraq War.
"We will resume participation in the battle once the U.S. stops bombing because we are capable without them," he said by phone.
Shiite militias Kata'ib Hezbollah and Saraya al-Salam (Peace Brigades) also confirmed on Thursday that they were also removing themselves from the battle in protest.
But on Thursday, there was little indication that Shiite militias were no longer dominating the battle for Tikrit, apart from a few convoys of Iraqi special forces headed toward the city.
Conspiracy theories abound in Iraq that the United States created or supports the Islamic State group. Just a short drive from Tikrit's frontline, amid a slew of spray-painted phrases by different militias, four words stand out: "USA, Israel, Daesh [ISIS] = terrorism."
An Iraqi journalist contributed reporting from Tikrit.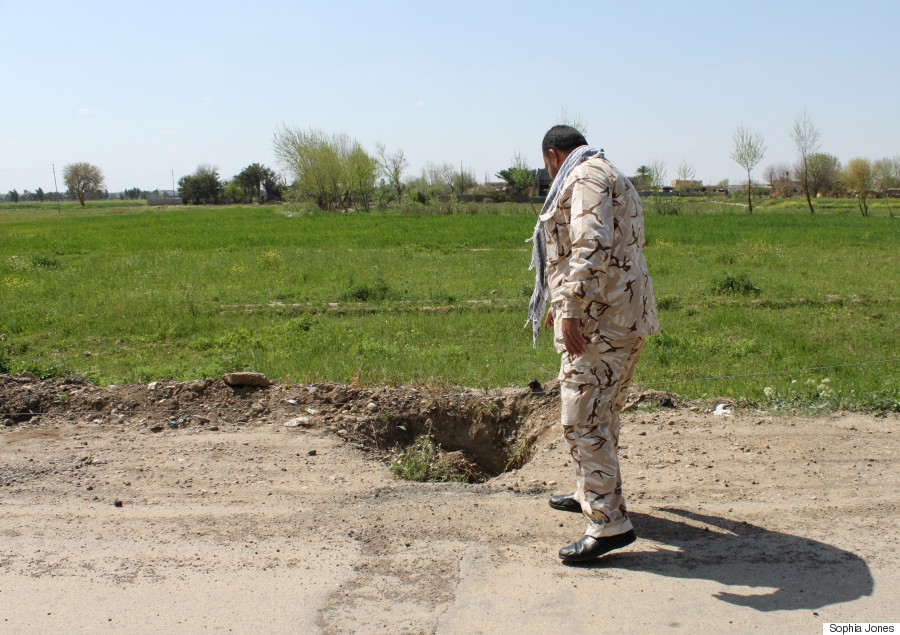 A member of the Iran-backed Shiite militia known as the Badr Organization eyes a large hole in the ground caused by an IED in Tikrit on March 26.