ISTANBUL — Thousands of men, women and children gathered in Istanbul's historic Taksim Square on Sunday for the annual gay pride festival only to face water cannons, rubber bullets and tear gas.
"Where are you, my love?" sang one group of LGBT rights activists, waving rainbow flags and holding hands, swaying to the popular Turkish love song. "I am here, my love!"
Moments later, Turkish riot police aimed a water cannon into a crowd of people (including this reporter) sending them running for safety as water pounded them from behind. Belongings flew off with the force of the water as people struggled to stay on their feet — a scene that caused several young police officers to laugh openly, mocking the drenched protesters.
It was just one of many assaults Sunday against peaceful gay pride participants, reportedly the first time in 13 years that the annual festival was forcefully dispersed.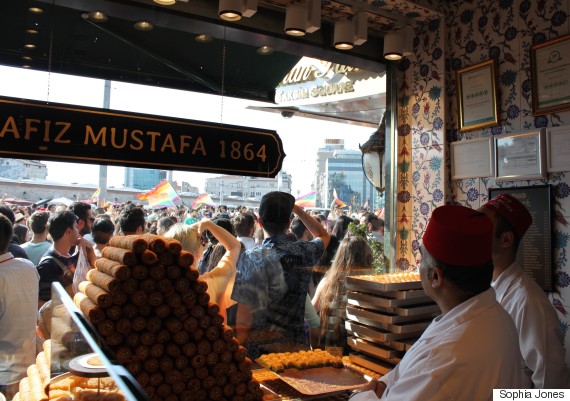 Employees at a sweets shop where protesters were hiding from riot police look out onto Taksim Square.
"This event happens every year!" cried out Nukhet Aytac, 57, as she sought shelter from riot police in a sweets shop. "They have no right to do this! It's against human rights."
Like many people at Sunday's planned parade, Aytac, a retired businesswoman, also participated in the infamous 2013 Gezi Park protests in which police and security forces violently dispersed thousands of people protesting the planned demolition of the Gezi Park, an oasis of green in the middle of Istanbul. The demonstration turned into a massive weeks-long event calling for an end to police violence, encroaching authoritarianism and crackdowns on freedom of speech. An estimated 3.5 million people took part.
For many Turks, Gezi symbolizes protest against injustice. And Sunday was no different.
Many people expressed confusion as to why the peaceful parade was blocked by police forces after more than a decade of successful gay pride marches. Just the week before, on June 21, a smaller transgender pride parade took place in roughly the same location without encountering police force.
Police brutality under current president Recep Tayyip Erdogan, who was prime minister for over a decade, has been a major source of anger amongst many Turks who say the democratic country is slipping deeper and deeper into dictatorship.
While Turkey's June 7 parliamentary election, in which the government failed to win enough votes to change the constitution to grant Erdogan sweeping powers, gave many people hope, protesters expressed concern that change wasn't exactly around the corner.
"As you can see, not much has changed," said Ozgur Arik, a 38-year-old university lecturer in fine arts, as a police officer interrupted, telling him to move away from the square. "We want to hope but we can't see this hope becoming reality right now."
Arik had joined the peaceful gay rights protest with a simple goal. "I'm supporting the struggle for the acknowledgement of their existence," he said.
Ozge Gozke, a member of the all-volunteer Istanbul Pride Week Committee, said they had tried to formally apply for a protest permit through the government but faced serious backlash because the parade was planned during the Muslim holy month of Ramadan.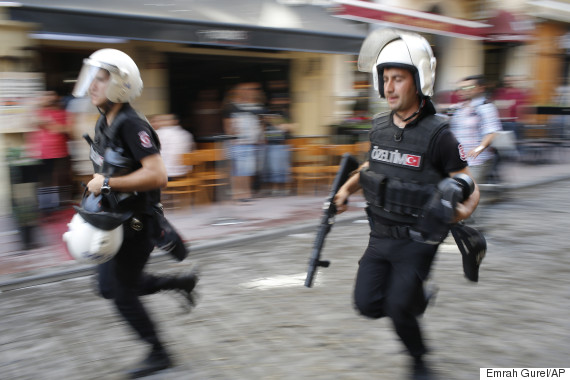 Turkish police run to disperse participants of a Istanbul's gay pride event.
Gozke said she felt safe heading to Taksim because several Turkish opposition figures were taking part in the march. The American, French and British consuls general also attended, according to photographs posted to Twitter.
But she believes the parade was dispersed for other reasons. "We're more visible this year and our project is political," she explained by phone.
Many members of Turkey's LGBT community say homophobia — often expressed by shocking acts of violence — is an everyday reality. Activists like Turkey's first transgender parliamentary candidate say their main goal is to push for legislation that protects their community. At the moment, Turkey's constitution does not mention LGBT people.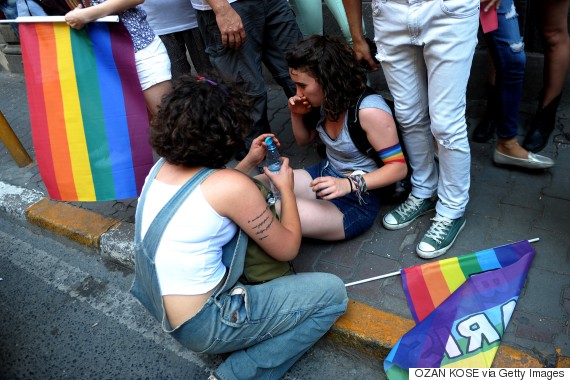 An injured woman lies on ground after Turkish riot police used tear gas during Istanbul's gay pride parade.
"I can't even walk hand in hand with my girlfriend," Bilgesu Dogrusoz, a 21-year-old English teacher and a student of English and Italian translation, told The WorldPost. "Our society is so homophobic and religious."
But things are looking up, she insisted, explaining that the Gezi protests helped ignite a movement to support LGBT rights.
She and her girlfriend said the U.S. Supreme Court decision in favor of same-sex marriage, though halfway around the world, gives them hope.
"I'm so happy," Dogrusoz said, talking loudly over whistling and cheering protesters. "I hope to move there with my girlfriend so we can marry and have a child, too."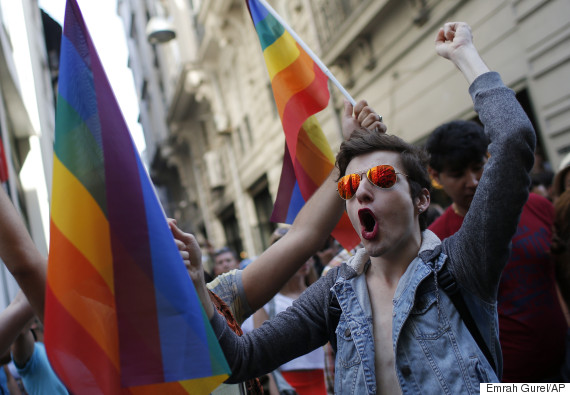 Participants in Istanbul's gay pride event chant slogans after police dispersed them.
Despite being squashed by police forces, Sunday's pride festival was one of hope and acceptance for Turkey's LGBT community and its growing group of allies. Even after police dispersed crowds from Taksim Square, people poured into side streets singing, dancing and chanting.
In conservative, often closed-minded Turkey, where just across the border in Syria extremist groups are throwing believed gay men off rooftops, Istanbul's gay pride parade is loud and proud.
As armored police vans inched closer, one brightly dressed group chanted together in Turkish: "The world would be shaken if the faggots were free."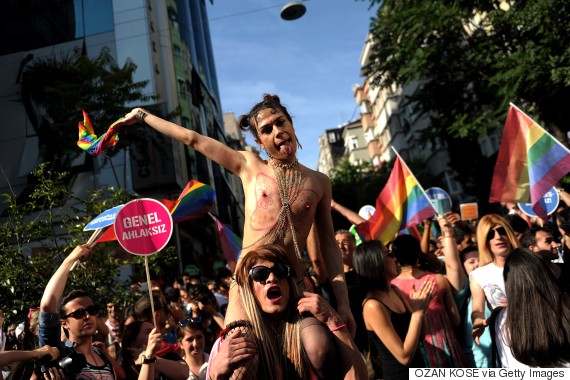 People shout slogans and wave rainbow flags during the gay pride parade in Istanbul's Cihangir neighborhood near Taksim Square.
Hazal Arda contributed reporting from Istanbul.