ISTANBUL — Three generations of men in Ilya Avramoglu's family have devoted their lives to women's undergarments.
But after 78 years in business, their Kelebek Corset Shop is fighting an uphill battle to stay open. The tiny shop has survived eight decades of gentrification, violence against minorities, and the rise of huge stores with entire departments devoted to underwear.
Now its unassuming middle-aged Jewish Turkish owner — an unlikely panty connoisseur — is struggling to thwart an eviction order he says is fueled by anti-Semitism.
"We have good days and bad days," Avramoglu says, speaking for his community that makes up a tiny percentage of the Muslim-majority country. "Today is one of the bad days."
Kelebek is on Istanbul's bustling Istiklal Avenue. The emergence of big-name stores, posh cafes and crowded bars has undone much of Istiklal's old-world charm, but Kelebek seems to have defied time. It smells like an old book.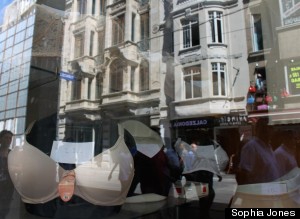 The Kelebek Corset Shop.
Back when the shop was just starting out, Istiklal was one of the few places women could buy handmade undergarments like bras, slips, girdles, corsets, panties and garters.
In the store windows, Avramoglu displays the oldest style of undergarment sold at Kelebek.
"It's called the 'scandal corset,'" he says without batting an eye. "Women would wear them without panties."
Then he pulls out a no-frills bra, simple and beige without underwire. It's a style from before he was born, popular among older women who still buy the same bra they've worn all their lives. The next bra he shows is a little different.