Credits
Kathleen Miles is the executive editor of Noema Magazine. She can be reached on Twitter at @mileskathleen.
America's prisons are dangerously overcrowded, and the war on drugs is mainly to blame.
Over 50 percent of inmates currently in federal prison are there for drug offenses, according to an infographic recently released by the Federal Bureau of Prisons (see chart below). That percentage has risen fairly consistently over decades, all the way from 16 percent in 1970.
The second-largest category, immigration-related crimes, accounts for 10.6 percent of inmates. This means that people convicted of two broad categories of nonviolent crimes — drugs and immigration — make up over 60 percent of the U.S. prison population.
U.S. Prison Population As Of Jan. 25, 2014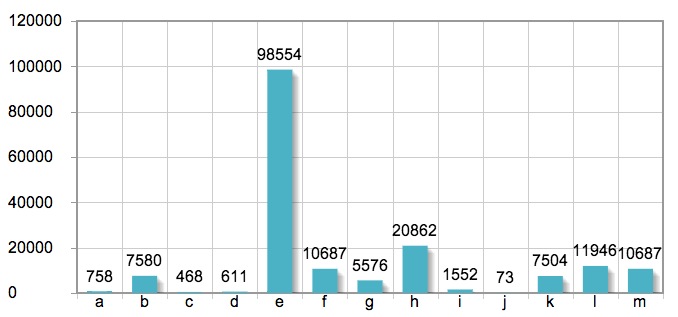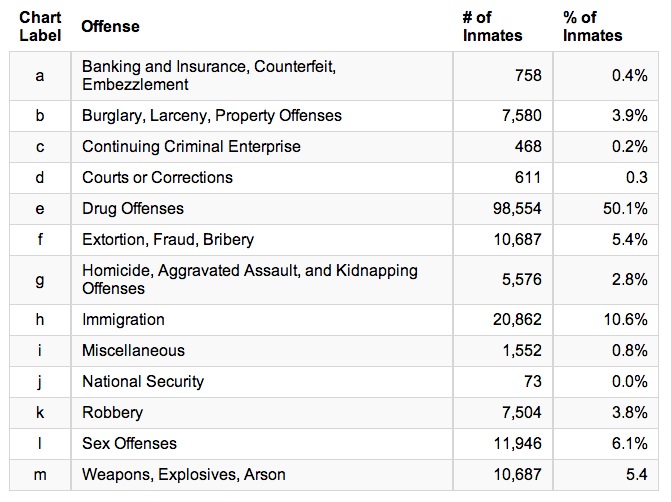 Data is limited due to the availability of offense-specific information.
And what was the drug of choice for those convicted of drug offenses? Marijuana, according to the U.S. Sentencing Commission (see chart below).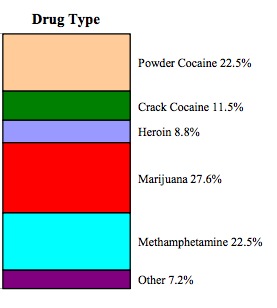 Between October 2012 and September 2013, 27.6 percent of drug offenders were locked up for crimes related to marijuana, followed by powder cocaine (22.5 percent), methamphetamine (22.5 percent), crack cocaine (11.5 percent), heroin (8.8 percent) and other (7.2 percent), according to the Sentencing Commission.
As the number of people convicted of drug offenses has gone up, the federal prison population has increased — almost 790 percent since 1980, when there were only about 25,000 inmates, according to a 2012 Congressional Research Service report. Today, there are more than 215,000 inmates in federal prison, the BOP reports.
The facilities haven't caught up. They're so crowded that it's endangering the lives of inmates and corrections officers, BOP Director Charles Samuels Jr. recently testified. To manage this population, the bureau is putting two or three bunks in a cell, and converting television rooms and open bays into sleeping quarters. Still, "challenges remain as the inmate population continues to increase," Samuels said.
In recent months, the Obama administration has portrayed the country's tough drug policies as unjust and pledged to seek early release or lighter initial sentences for low-level, nonviolent drug offenders. Lawmakers in the House and Senate have introduced identical bills that would cut the length of mandatory prison sentences for certain drug crimes — now set at 5, 10 and 20 years — in half.
In December, President Barack Obama commuted the sentences of eight federal inmates who were convicted of nonviolent crack cocaine offenses. Six of them were serving life sentences.
America's "war on drugs" has aimed to eradicate drug abuse through strict laws and harsh enforcement within and beyond U.S. borders. The policies date back a century, though the term was only coined in 1971. And for years now, that war on drugs has been considered a failure. Illegal drugs have become cheaper and more concentrated, which suggests the world supply is actually increasing. According to United Nations estimates, global consumption of opiates, cocaine and marijuana increased by 35 percent, 27 percent and 9 percent, respectively, between 1998 and 2008.