ISTANBUL — Turkey's June 7 election will elect 550 members of parliament, but it's really all about one man who isn't even on the ballot: President Recep Tayyip Erdogan.
The election could make history as Erdogan pushes for unprecedented power. Erdogan ran for president last summer, faced with the end of his three-term limit as prime minister, and now seeks to change the constitutional order. Under Erdogan's vision, his newly elected position as president, a mostly ceremonial role, would become the most powerful ruling position in Turkey.
While Erdogan is constitutionally required to remain above party politics as president, that hasn't stopped him from campaigning as if he's running for office himself. With enough votes, Erdogan and his Islamist-leaning Justice and Development Party (AKP) could create a super-presidency in which he could rewrite the constitution in his favor.
Turks will take to the polls June 7 to determine their country's future. Here's a breakdown of the major issues surrounding this landmark election in Turkey:
Erdogan's Strongman Rule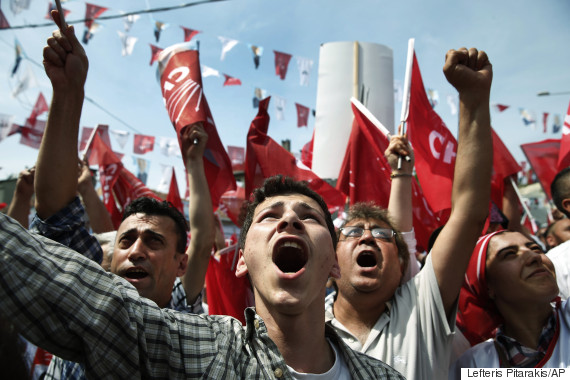 Supporters chant slogans while others wave flags and banners as they watch Turkey's main opposition Republican People's Party (CHP) leader Kemal Kilicdaroglu, delivering a speech during his election campaign in Istanbul, Turkey, Sunday, May 24, 2015.
When Erdogan unveiled his plans for a super-presidency, most Turks were far from surprised.
Once viewed as a model Muslim leader who believed in democracy, he's now slammed as verging on dictatorial, with people seeing Turkey's judiciary as corrupt, its government as increasingly authoritarian and its president as quick to attack the press.
Critics often point to how Erdogan blocked and censored social media such as YouTube, Facebook and Twitter to cover up a corruption scandal.
Many secular Turks are up in arms over his religious fervor that often influences politics. (Erdogan recently said gender equality was "against human nature," reportedly slamming feminists who dismissed the "concept of motherhood," which he said Islam defined as a woman's leading role.)
Recently, Erdogan faced public outcry after building a $615 million palace with over 1,000 rooms on protected land — now a symbol for what many government critics say is a blatant disregard for the law. The election will determine Erdogan's political destiny.
"Unlike the two previous elections, where the outcome was almost preordained, this time around, there is very significant uncertainty as to the post electoral outcomes," Sinan Ulgen, an Istanbul-based visiting scholar with Carnegie Europe, explained to The WorldPost. "We know AKP will win, but there is uncertainty as to what sort of government will emerge."
Regardless of whether AKP gets the two-thirds majority of Parliament seats needed to change the constitution to form a presidential system, or the three-fifths majority needed to submit the constitutional change to a referendum, Turkey's government could drastically change.
"For the first time since AKP came to power in 2002, there is now a possibility that Turkey may end up with a coalition government," Ulgen continued, "which would herald an end to 13 years of single-party government."
The Economy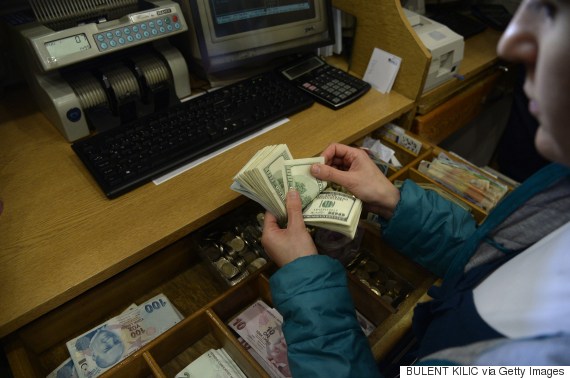 A clerk counts U.S. dollars at a currency exchange office in Istanbul on Jan. 23, 2014.
While AKP's main political platform used to focus on the economy, with Erdogan beloved by his support base for creating much-needed job opportunities and boosting infrastructure, now the party finds its economic policies at the center of debate.
The Turkish lira, the national currency, has slumped to record lows this year as the country faces economic stagnation and low investor confidence. Meanwhile the unemployment rate, hovering around 11 percent, stands at a five-year high.
Opposition parties are harnessing this criticism and focusing their campaigns on what they say are their own economic solutions for the country.
The main opposition party Republican People's Party (CHP) has vowed to fight for "a livable Turkey" in which the minimum wage would be raised from roughly $356 a month to $564, while also promising to build a mega-city linked to Black Sea and Mediterranean ports to increase regional trade. The pro-Kurdish Peoples' Democratic Party has also focused on a new economic plan plan with a $677 minimum wage.
A survey by Metropoll Strategic and Social Research Center in April showed 57 percent of voters disapproved of how the government handled the economy, with a record low approval rating of 33.5 percent.
The Kurdish Question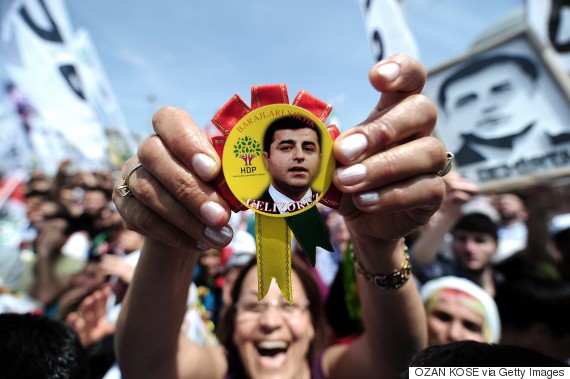 Supporters chant slogans while others wave flags and banners as they watch Turkey's main opposition Republican People's Party (CHP) leader Kemal Kilicdaroglu delivering a speech during his election campaign in Istanbul, Turkey, on May 24, 2015.
Erdogan's political future could all come down to the votes of one minority group — the Kurds.
To win seats in the Parliament and offset AKP's plan to change the constitution, the pro-Kurdish Peoples' Democratic Party (HDP) must win 10 percent of votes. If HDP cannot garner 10 percent of the votes, it will be forced to hand over the Parliament seats to AKP. It will be a close race.
The Turkish state has long struggled with the Kurdish question, after three decades of insurgency by the Kurdistan Workers Party (PKK), designated as a terrorist group by Turkey and the United States. Over the years, 40,000 people have been killed in hostilities, the majority of them Kurds. Many Kurds hope to reinvigorate the peace process, and fight for greater freedoms and rights they say they have been long deprived of by the Turkish state.
Erdogan's AKP has taken away more religiously conservative votes from the Kurdish community in past elections, catering to its devout support base. Now, many of these Kurds are planning to vote for the pro-Kurdish HDP over Turkey's failure to act during the battle for Syria's Kurdish town of Kobani against the Islamic State group.
While Kurdish politicians have long put all their focus on Kurdish identity in hopes of attracting voters, HDP is now running as a national party. This election, the primarily Kurdish party hopes to expand its pool of potential voters by catering to Turkey's minorities, leftists and Kurds, as well.
"It's a new habitat, clearly," Garo Paylan, an Armenian campaigning for HDP, said during an interview with The WorldPost, explaining that Armenians, who are predominantly Christian, and Kurds, who are Muslim and often conservative, aren't natural political partners.
"When they live in other gardens, nobody touches each other," he says, speaking symbolically about the political climate. "But now that we're in the same garden, we're trying to live together."