ERBIL, Iraq — On most days, Youssef Suleiman and his family of six can be found crowded around their television in a sprawling refugee camp on the outskirts of this Iraqi Kurdish city. Their tiny, white U.N. tent resembles nothing of their former life in northeastern Syria, where they lived comfortably, supported by Suleiman and his numerous business endeavors. Now, the television — often blaring Arabic soap operas and Kurdish music videos — is their only escape from the mind-numbing boredom and poverty of the camp.
But on Tuesday, as the family sat cross-legged in front of the screen, a Kurdish news station brought them devastating news: Syria's war had come to Iraq, it said. And it was only 45 minutes away.
Like over 200,000 other Syrians who have fled east to Iraq's semiautonomous Kurdish region, Suleiman decided he'd had enough of the middle-of-the-night explosions and crippling wartime unemployment plaguing his home country. Seven months ago, he sought safety in this refugee camp known as Kawergosk, now home to nearly 14,000 people and only one of a handful of camps in Iraqi Kurdistan.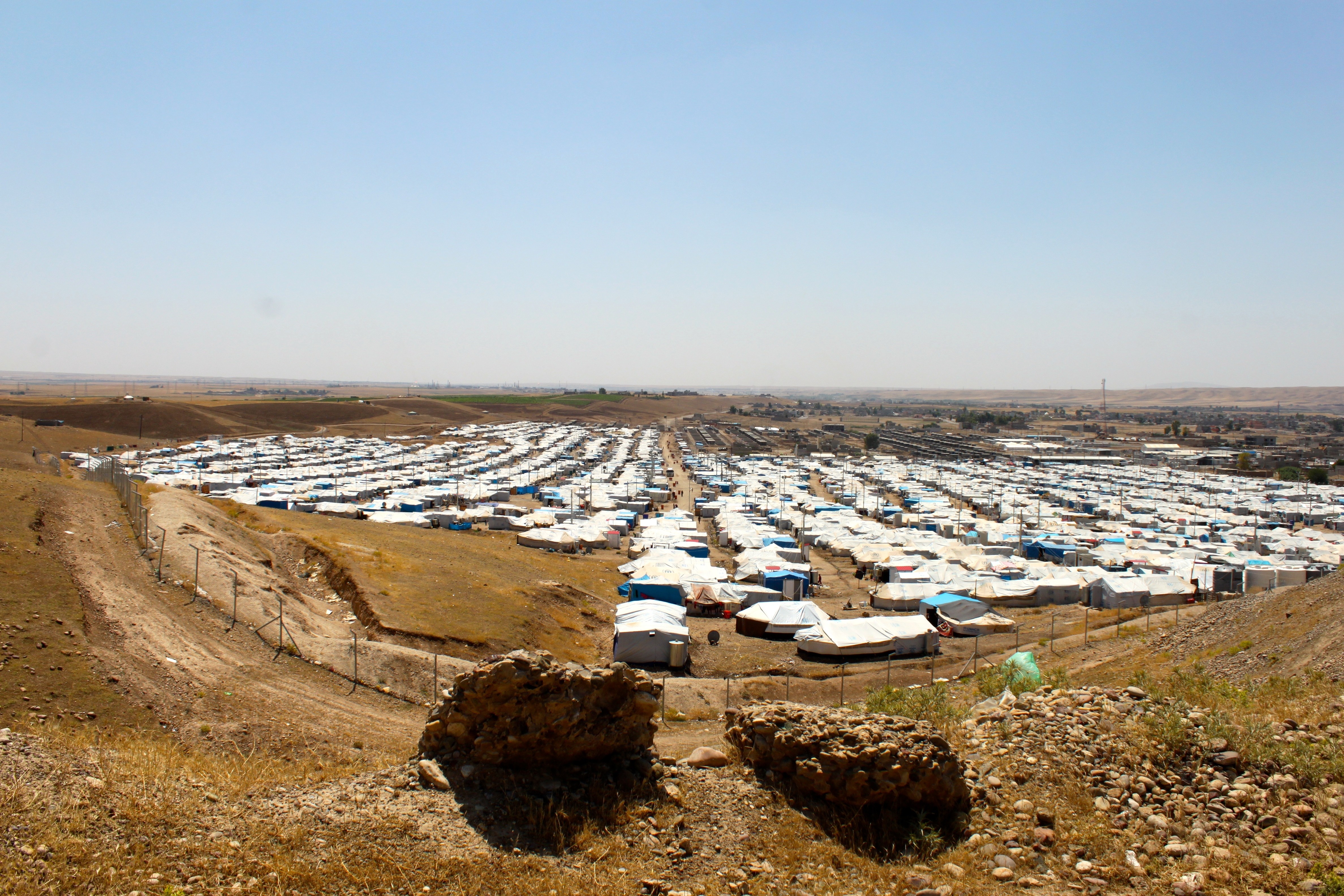 Kawergosk Syrian refugee camp near Erbil, Iraqi Kurdistan, is home to nearly 14,000 people, many of whom are Syrian Kurds from northeastern Syria. (Sophia Jones/The Huffington Post)
Last week, the Islamic State in Iraq and Syria, a hardline extremist group seeking to establish an Islamic caliphate across Syria and Iraq and decried by even Al Qaeda for its unabashedly ruthless tactics, took Iraq's second-largest city, Mosul. It's just a quick drive from Kawergosk. As the Islamist group gains more ground in Iraq and reports emerge of mass atrocities, Syrians here are wondering if they've left one war for another.
"I was shocked and horrified," Suleiman said as his wife and children sat quietly, listening. His horror is only outmatched by his exhaustion. He's a man tired of running. "How can they control such a huge city so close to here?" he asked.
In many Kurdish areas of Syria, Kurdish fighters are bitterly battling groups like ISIS that attempt to siege their cities. Suicide bombs now rock Kurdish cities like Qamishli, where Suleiman is from, and ISIS has reportedly kidnapped Kurdish students. The threat of looting and destruction always looms. It's just one complicated sliver of the Syrian civil war that has claimed well over 160,000 lives, according to some estimates. The U.N. has stopped counting.
Families in Kawergosk spoke in hushed tones Sunday of this week's atrocities reportedly committed by ISIS in Syria, and now, Iraq: executions, rapes and strictly enforced Islamic law. ISIS said Sunday it had killed 1,700 Iraqi government soldiers, posting photos online showing bloodied corpses lined up neatly in freshly dug trenches.
For now, heavily guarded by well-trained and fiercely loyal Iraqi Kurdish fighters known as Peshmerga, Syrian Kurds say they feel safer in Iraqi Kurdistan. But with ISIS seemingly only gaining strength in Iraq as it seeks to cement its regional dominance, some Kurdish refugees from Syria say it's only a matter of time before Iraq looks like Syria.
The only possible positive outcome many Kurds see from the bleak situation in Iraq is the glimmer of hope for a Kurdish state completely independent from Baghdad. Earlier this week, when Iraqi forces in Mosul received word that ISIS was coming, tens of thousands of Iraqi soldiers and security forces fled for their lives, dumping their uniforms and equipment in the dirt on the side of the road. The Peshmerga, though, have remained steadfast, and have even advanced over some disputed areas like the city of Kirkuk, claimed by Iraq but now controlled by the Kurds.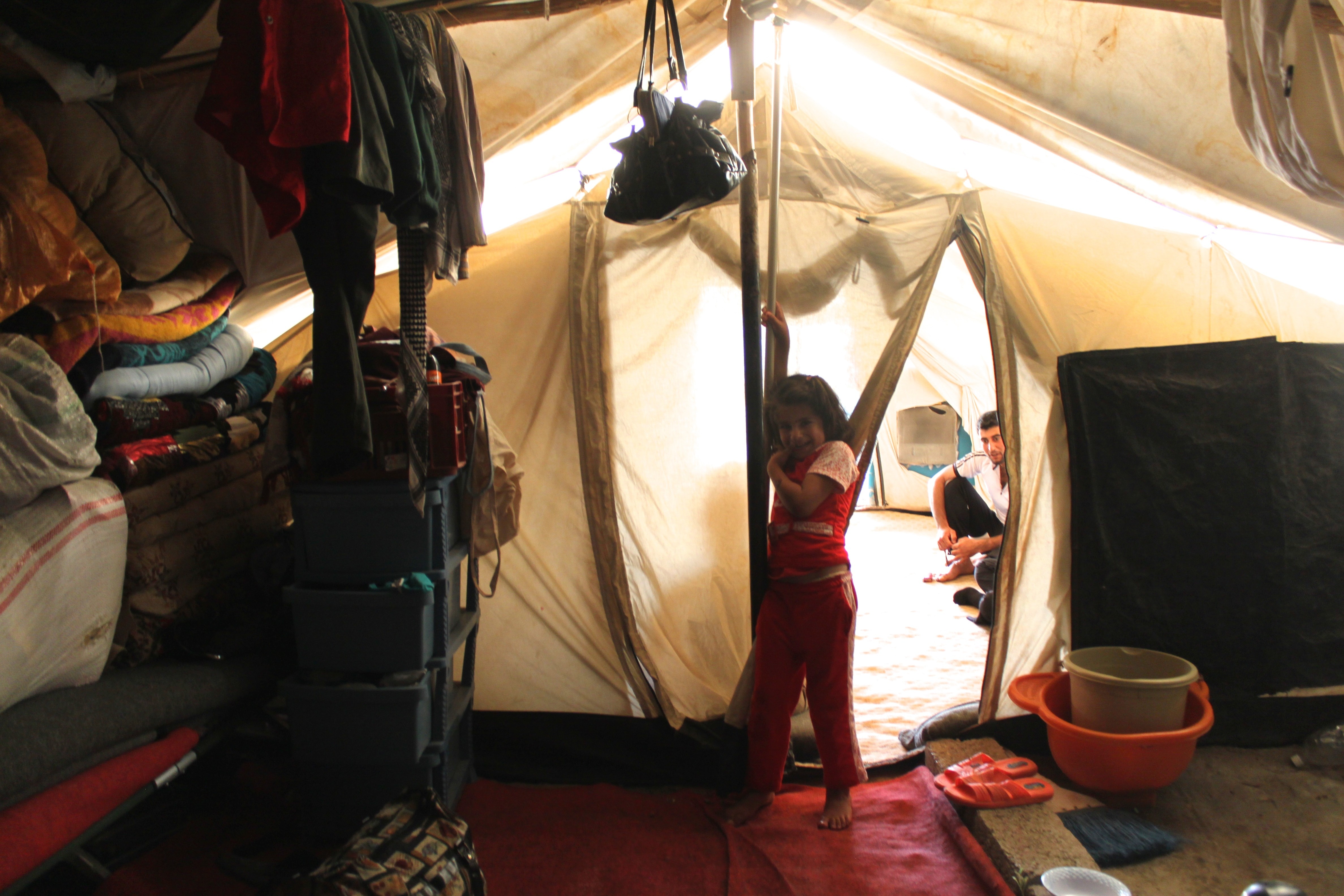 A young girl plays in one area of her family's cramped tent in Kawergosk Syrian refugee camp, Iraqi Kurdistan, as the adults discuss recent gains by the extremist group ISIS in northern Iraq. (Sophia Jones/The Huffington Post)
Many Kurds here have raised eyebrows over why it was so easy for ISIS to take Mosul. Although theories vary, some say that ISIS is working with both the Syrian regime and remnants of Saddam Hussein's Baath party.
"It was hard to believe," said Kalil Othman, a camp manager for the NGO Save the Children, as he spoke of ISIS's swift siege of Mosul. "It's a joke. If ISIS is this strong, they'll control Syria and Iraq."
Now, ISIS is on a fierce drive south, gaining control of several cities and battling for others. On Sunday night, bombs rocked the capital, Baghdad, and the U.S. embassy evacuated much of its staff there.
"What is there to say?" a mother who goes by the name Aisha said as her young children pulled at her clothing, tired of the endless waiting game in the baking heat and the constant smell of sewage water. "It's terrifying. We left because of ISIS. We're afraid they'll come here."
Aisha's son, just old enough to walk, emerged from behind a drawn curtain holding a butcher knife he found in the corner next to the tiny portable stove. She sighed and grabbed it out of his hand — everything is within his reach in the cramped tent.
Aisha said there are two things she's worried about this week: How to buy enough baby formula for the hungry infant next to her, who her mother carried across the Syrian border mere weeks after the baby's birth, and where she'll flee next if ISIS gains ground and decides, after all, to come her way.
Tonight, scores of families several towns over will sleep in the desert after fleeing ISIS, just as Aisha and her children did five months ago.
With additional reporting by Abdulla Hawez in Erbil.