GAZA CITY — It was late Saturday morning when Aisha, 2, and Fatima, 4, left their bedroom and walked downstairs to their grandmother's apartment. Minutes after they left, the family says, an Israeli tank shell crashed through the girls' bedroom wall, landing right next to a stroller. They say they didn't receive any warning.
But the girls' family was lucky. Unlike with many strikes in Gaza, the shell did not explode and no one was injured.
"Maybe it was a mistake," said Ismael, a member of the extended family, who was visibly confused as to why their building was targeted. "They're just randomly bombing!" said one elderly female resident as neighborhood kids pointed to a gaping hole in the fourth floor.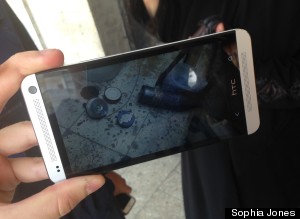 A picture of the Israeli tank shell that crashed into Aisha and Fatima's bedroom.
Since Israel began its offensive against Gaza more than two weeks ago, with the stated aim of destroying Hamas' tunnels and halting the militant group's rocket fire, it has bombarded the area with land, air and sea strikes. At least 693 Palestinians, most of them civilians, have been killed. As the death toll continues to rise, many Palestinians here insist Israel isn't doing enough to avoid killing noncombatants. They say many civilians often have no idea their building is about to be targeted, or that the warning comes too late.
"They bomb many people without warning," Hilmi Abu Toha, a young father, said as he stood in front of his destroyed three-story building. "This is a civilian building. How would we shoot rockets from this building?"
Israel, which has been hit by more than a thousand rockets and has lost more than 30 people in the conflict, says that it adequately warns civilians before striking, either with phone calls, text messages, pamphlets, or a "knock on the roof" by a non-explosive missile to indicate a strike is imminent. It recently released videos that it says show F16 fighter jets calling off airstrikes at the last minute after pilots saw civilians.
Israel also slams Hamas for firing rockets and storing weapons in crowded civilian areas. It maintains that the militant group uses civilians as human shields, forcing them to stay in areas under evacuation and stand on roofs to deter airstrikes. Though Palestinians in Gaza interviewed by The WorldPost said Hamas did not stop them from evacuating areas, many said the group did ask families to ignore Israel's warnings.
"The IDF has no intention to harm civilians," Peter Lerner, a spokesman for the Israeli military, said in an email. "Any instance in which non-involved Gaza residents are harmed is a tragic byproduct of Hamas attempts to maximize local casualties."
"When arms depots or military targets are deployed within residential areas, the IDF calls residents with a warning minutes before the strike, in order to provide residents time to evacuate," he continued. "If residents fail to comply, a small non-explosive munition is used to convey the seriousness of the warning, prior to the strike. Finally, only after visual confirmation that civilians have exited the premises does the IDF approve the strike."
But in dozens of interviews, survivors from Israeli strikes mocked and criticized Israel's insistence that it actively tries to avoid killing civilians. Instead, they said, civilians are being targeted as a form of collective punishment. Strikes have recently hit hospitals, a center for the disabled, and even a school run by UNRWA, the U.N. agency that aids Palestinian refugees. In many cases — like the recent attack that killed 25 members of four households in southern Gaza — there are few survivors or none at all.
Amal, an elderly Palestinian woman, was breaking the Ramadan fast outside her home in northern Gaza on the first day of Israel's offensive when she and her family were hit by an airstrike. They received no warning, she said recently while looking after her injured 5-year-old grandson, Kenan, at al-Shifa Hospital in central Gaza City.
Kenan's father and 21-year-old sister died in the attack. His 5-year-old cousin, Nour, who was recovering in a bed next to him at the hospital, lost both of his parents.
"Either they thought it was suspicious that there were so many people, or they just wanted to kill as many people as possible," Amal said, looking at the two boys, their stitches fresh and their fingernails still caked with dried blood.
Delal al-Attar, a young mother from al-Atatra in northern Gaza, said that people who live several blocks away from her received leaflets and phone calls about shellings, but that she never received either. Late last week, she sought shelter at a school in Gaza City run by UNRWA. The 69 UNRWA shelters are now full, housing more than 100,000 internally displaced Palestinians, according to UNRWA spokesman Christopher Gunness.
"I just didn't think they would attack us," al-Attar said, holding an infant dressed in a white polka-dot dress.
Palestinians also said they haven't received warnings when the Israeli military hits vehicles, in what are often targeted assassinations.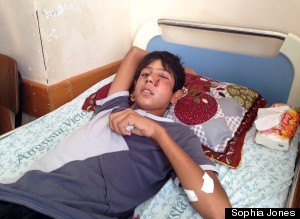 Muhammad Abu Taweela rests in his hospital bed at al-Shifa Hospital recovering from shrapnel wounds.
Muhammad Abu Taweela, 16, said he was playing with friends outside his house earlier this month in Shijaiyah — a district in eastern Gaza City that was hammered by airstrikes on Sunday — when a nearby vehicle was hit with a drone without warning. Shrapnel from the strike was lodged in his face, and many of his friends were also injured in the attack.
"I felt air blowing on my face," he said, remembering the moment of the strike. "I felt my cheek getting bigger. I was trying to understand what was going on." His father, sitting quietly next to him, said he can't believe his son survived. "I expected it to be much worse. I expected him to be killed."
Civilians living in homes that have been targeted say Israel often gives warnings to their neighbors, nearby relatives or friends. If those people are sleeping, can't reach the residents by phone, or just can't run fast enough, families often have no idea they need to evacuate.
Toha, the young father whose building was destroyed, said he doesn't understand why the Israeli army called his neighbors instead of him.
"I have a phone. We all have phones," he said, looking around at some of the other tenants. "But the Israelis called one house over. They came and knocked hard on our door."
Dr. Nasser al-Tattar, head of al-Shifa Hospital, said he received a warning earlier this month about an imminent strike from his nephew, Mohammed, who lives in a house nearby.
"They said, 'We are going to bomb Dr. Nasser's house, tell the neighbors to evacuate,'" Mohammed recalled, standing next to his uncle's destroyed home, the first floor cardio clinic now just rubble. "'You have 10 minutes,' they said. So I ran and told everyone."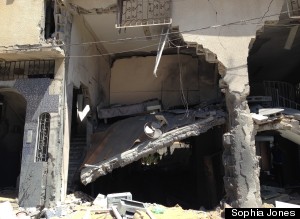 The remains of the home of Dr. Nasser al-Tattar, the head of Gaza City's al-Shifa Hospital, after an Israeli airstrike.
Thanks to Mohammed's ability to get to the house quickly, no one was injured or killed.
For the many Palestinian civilians in Gaza who have survived Israeli strikes and are now homeless, there's nothing "surgical" — a term Israel uses to describe its strikes — about the attacks that have killed their family members, friends and neighbors.
"There is no reason," said 17-year-old Mustafa Amir, who fled here last week from Beit Lahiya in northern Gaza, in reference to the strikes.
The Israeli military called his sister, who was sitting next to him at the time, and told her they had a few minutes to leave their house before it was hit, he said. He left with the clothes on his back, and everything else in his home was destroyed.
"Nobody in my family is Hamas," he said, fiddling with his silver watch, one of the only belongings he has left. "Both my neighbors were targeted on either side of my house in different attacks. And they received no warning."
Moushira Jammal contributed reporting from Gaza City.