HONG KONG — Groups opposing the ongoing occupation of Hong Kong's key roads dismantled barricades on Monday and clashed with pro-democracy protesters who have occupied the streets for weeks. Following skirmishes and police intervention, many of the protesters were replacing and strengthening barricades with saran wrap and masking tape, hunkering down for what increasingly looks like a prolonged struggle for control of the streets. "To some extent, the barricades here are our bargaining chip with the government," said John Yeung, a 22-year-old college student who has participated in the pro-democracy protests for the past 10 days. "If we lose here, the government won't fear us anymore."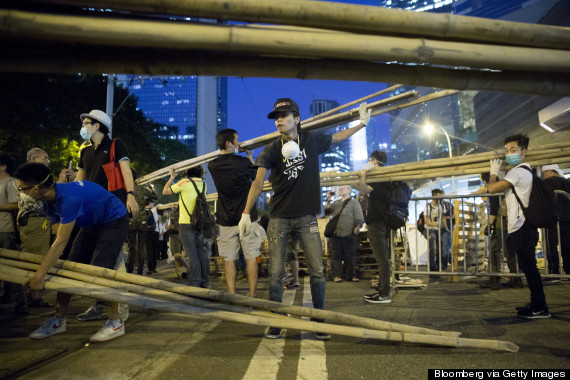 On Monday night, Hong Kong demonstrators sought to reinforce barricades in central Hong Kong with bamboo poles. (Photo by Bloomberg via Getty Images)
For the past two weeks, student-led protests have paralyzed key roads in Hong Kong, with demonstrators demanding that the Chinese government stop screening candidates for local elections. Police attempts to clear the crowds with tear gas led to a surge in the number of occupiers, who have since turned major sections of Hong Kong into pro-democracy campgrounds.
But the toll on small businesses in the area has soured public opinion, especially among workers in industries that have seen major disruptions due to the protests. On Monday, a small group of local taxi drivers joined the anti-occupy crowds, claiming that the protests have taken a large bite out of their income as traffic jams multiply and residents opt to travel via the subway.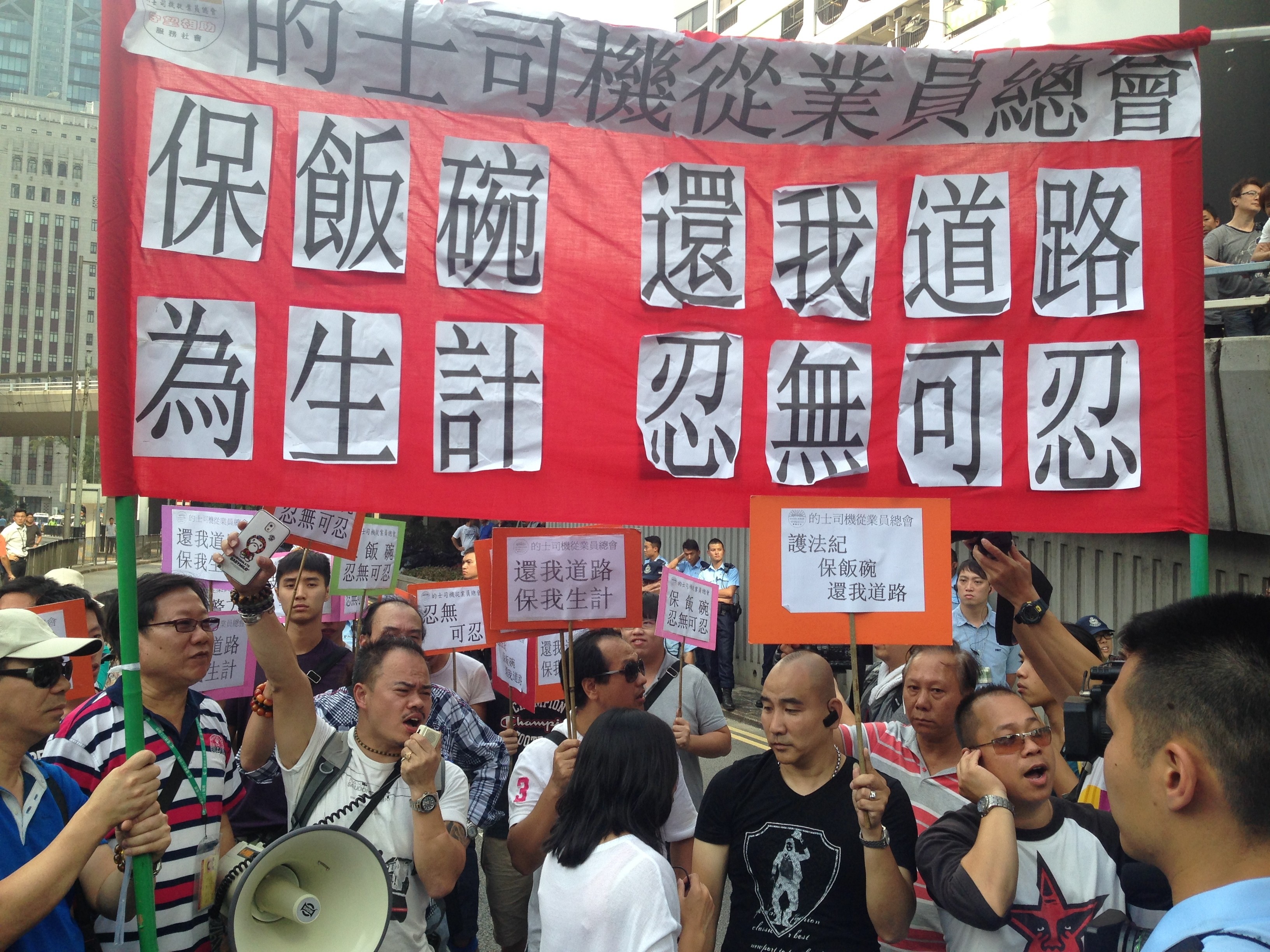 A few dozen local taxi drivers rallied against protests that they say have made a serious dent in their livelihood. (Photo by Matt Sheehan)
"Before it took less than 10 minutes to get from Wan Chai to Central, but now it takes an hour," said Cheung Chung-lit, a local taxi driver who says his income has dropped 30 percent since the protests began. "How can I earn a living only doing a few hours' worth of work?"
But pro-democracy demonstrators see a more sinister source for the crowds who dislike them. Many protesters claim the violent groups are populated by hired hands, some from mainland China and some involved with Hong Kong's notorious Triad gangs, organized crime syndicates that control many legal and illegal businesses in the city. Police have said several violent instigators are tied to Triad gangs, but no link has been proved between those people and the local or mainland government.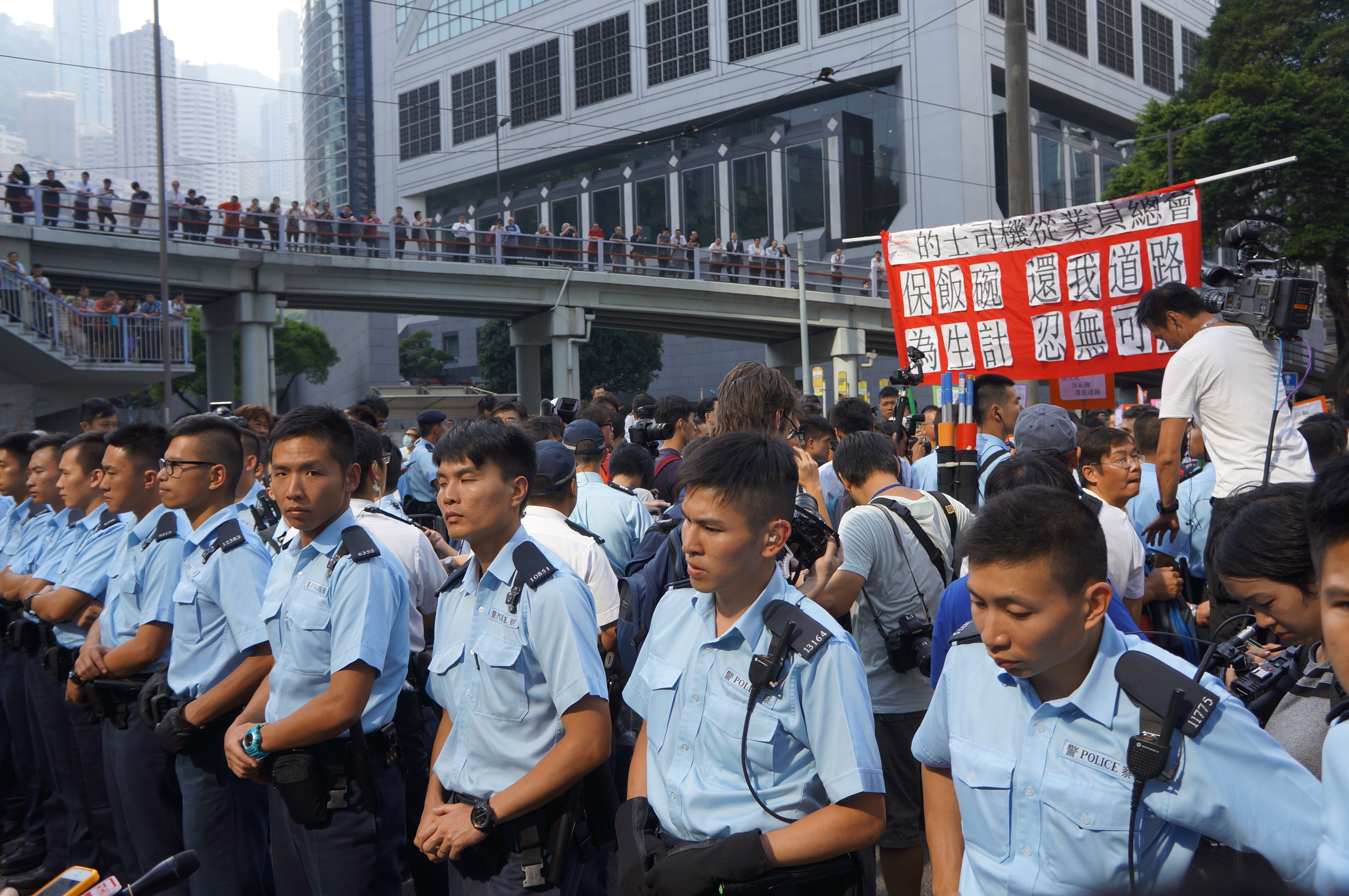 Local police placed themselves between protest groups on each side during a tense standoff. (Photo by Jill Mao)
Phillip Kwong, a protester manning the barricades on Queensway Road, used one word to describe the protest by the taxi drivers: "Garbage."
"I believe some of the taxi drivers have had their incomes decreased due to the road block, but what we majority of people think is those people are paid by the government to come here to protest," said Kwong. "They're well-organized … [and they] come here to make a mess so the government or the police have the chance to clean up the barricades." On Monday, demonstrators said groups of men wearing surgical masks had thrown water bottles at the protesters and demolished several barricades. Video taken by Anthony Tao, founder of the China-focused blog Beijing Cream, shows mask-free men dragging away metal barricades and dismantling supply tents while a group of students sits in the middle of the road to prevent any cars from passing. Earlier in the day, police had themselves removed some barricades on the outskirts of the demonstration site.
In the past week, pro-democracy demonstrators vocally criticized local police, claiming they have been passive in the face of violence against protesters. But according to Tao, law enforcement officials moved quickly to prevent violence on Monday. "Police were on the scene very fast in multiple places," Tao said. "They deserve a lot of credit for getting between the two sides and keeping the peace."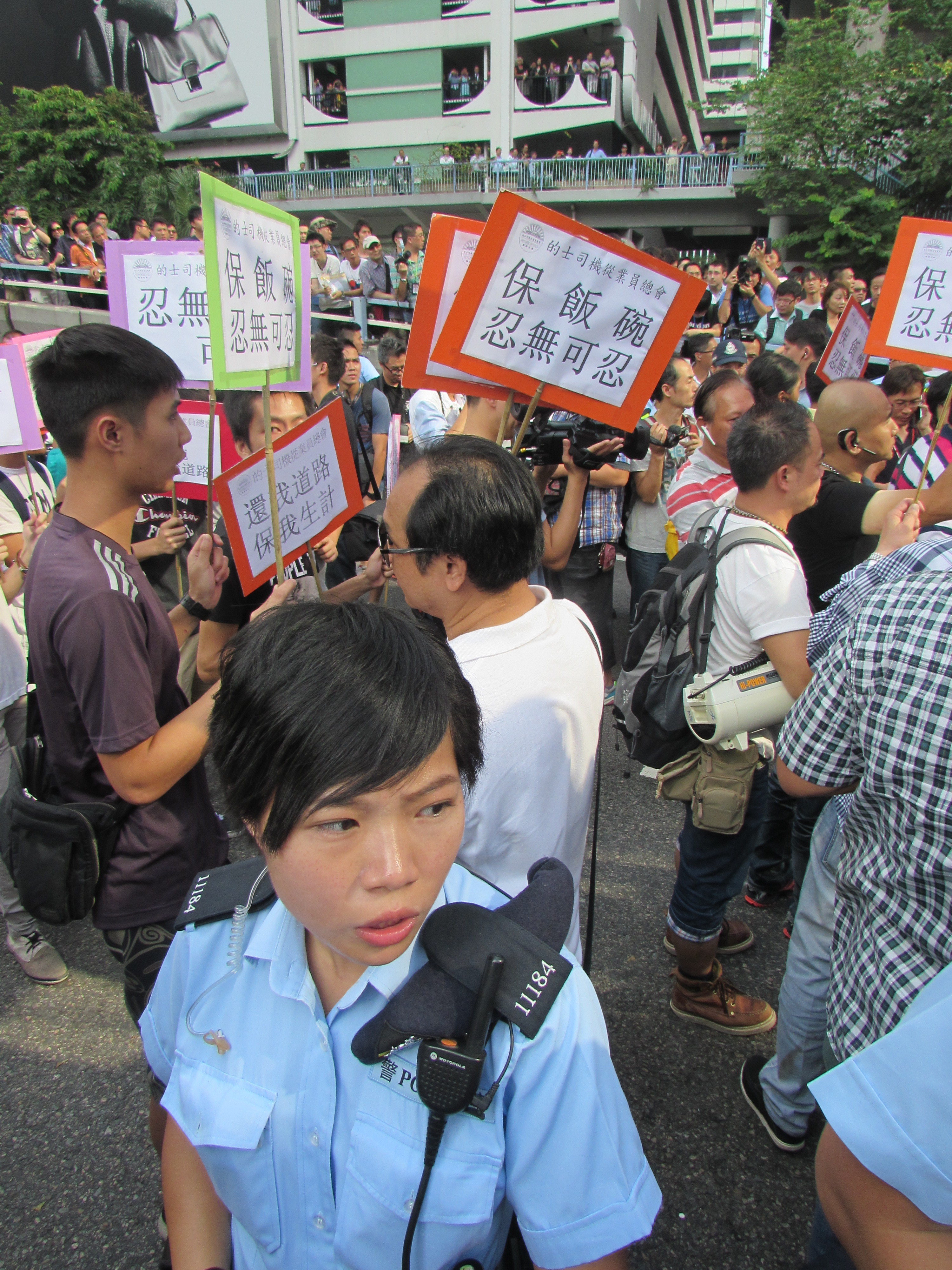 Hong Kong police have struggled to maintain the peace between pro-democracy protesters and locals who say the demonstrators have upended their lives. (Photo by Matt Sheehan)
That is an increasingly fragile peace with tensions mounting between protesters demanding an end to Chinese government interference in Hong Kong elections and locals who say their lives and businesses are being disrupted for a political pipe dream. Some restaurant owners and taxi drivers in affected areas report losses of 30 to 50 percent of their normal income, as many in Hong Kong adjust their daily routines to deal with the blocked roads. Pro-democracy protest leaders have offered to unblock certain key roads in exchange for the government removing fences around a main demonstration site next to the local government headquarters. On Monday the government rejected that offer, saying it could not afford further disruptions in the area surrounding the government compound.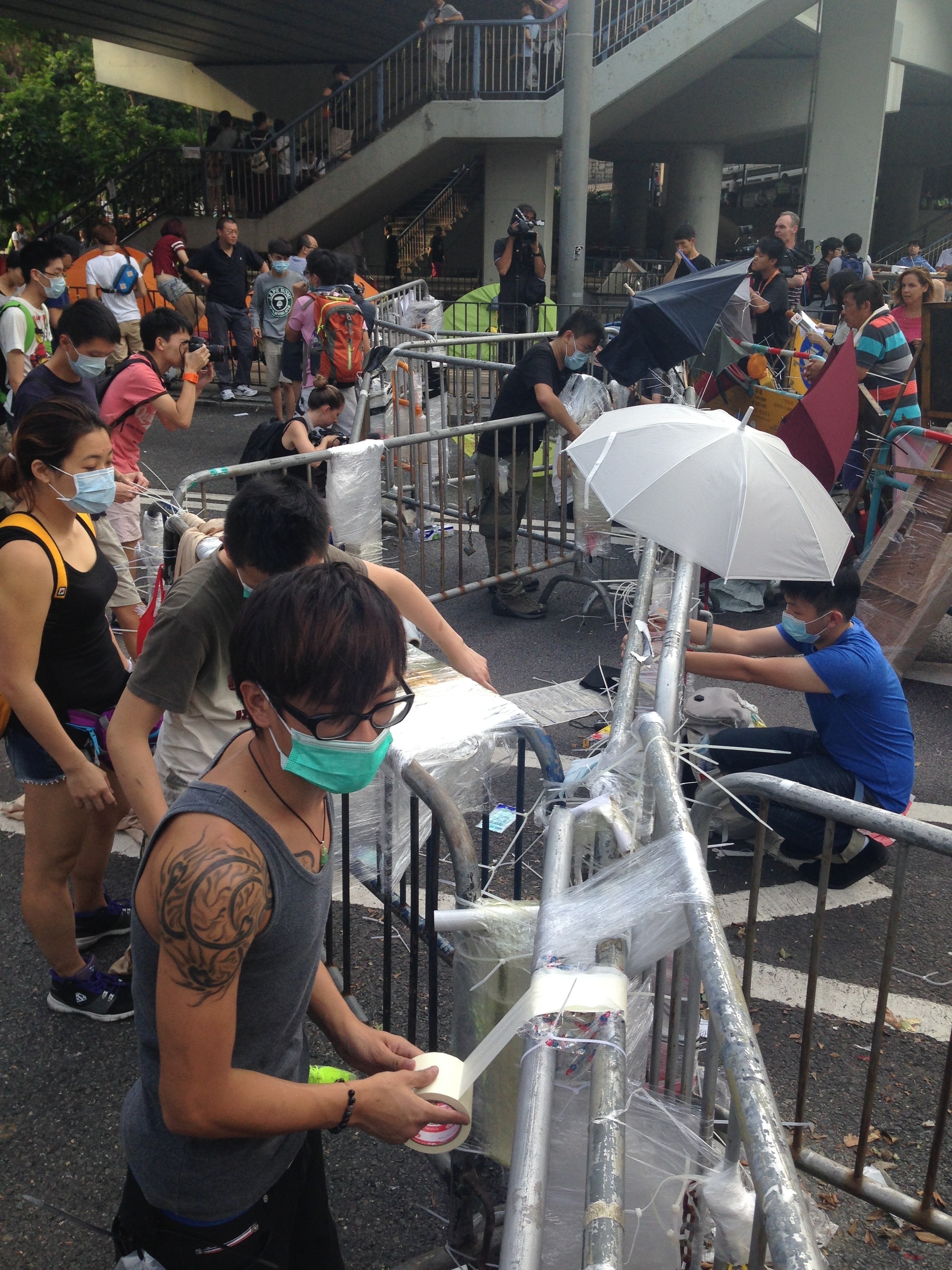 A protester links barricades together with saran wrap after anti-occupy groups demolished nearby blockades. (Photo by Matt Sheehan)
As the sun set on Monday's demonstrations, protesters reinforced their barricades in anticipation of future clashes. But with local residents, analysts and protesters nearly unanimous in agreeing that Beijing won't give ground on election reform, Hong Kong residents, many of whom sympathize with the protesters' cause, are questioning what results the current clashes will yield.
"Beijing's not backing down, so what's your ultimate goal? You've gotta have an idea of where you want to take this," said Phillip Chiu, a local businessman who was watching the demonstrations. "Right now it's just causing nuisance to a lot of people with no end game. They've got to have a better plan."
Jill Mao contributed reporting from Hong Kong.