Cleanup crews and local officials are scrambling to confront challenges ranging from chemical residue to protesting families five days after a chemical storage facility exploded in the northern Chinese city of Tianjin.
Fires continue to smolder at the site of the blast that has already taken 114 lives with 70 more people missing, and nearby residents have been evacuated in anticipation of changing winds and rainfall. Officials believe the warehouse that exploded was home to over 700 tons of sodium cyanide, a substance that can produce deadly toxins when it comes into contact with water.
At a press conference Monday, He Shushan, deputy mayor of Tianjin, told reporters that most of the sodium cyanide will be cleared from the site by Monday evening, while military officials guaranteed that there would be "no secondary damage to the people" outside of the evacuation zone. That proved little comfort for area residents who feared the worst.
"I asked my in-laws to take my daughter home. I don't want them to stay here," Tian Binyan, a migrant worker, told CNN. "I'm worried. I heard it's going to rain later and that would make the air toxic."
As cleanup crews hustle to clear the blast site, local officials face mounting frustration from two main groups: nearby homeowners demanding compensation for their property, and the families of firefighters desperate for information about their loved ones.
Both Sunday and Monday saw protests by residents — some with their heads still wrapped in bandages — demanding to know how a chemical facility was located so close to their homes and calling on the government to purchase their damaged homes outright.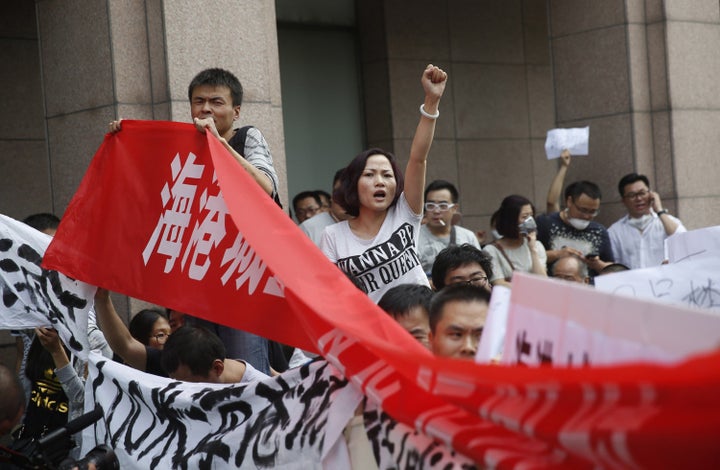 Even more emotionally fraught have been the protests by families of firefighters. Many of the firefighters who responded to the blaze were contracted by the local port authority rather than the military. That could potentially put them "outside the system," meaning they would be excluded from the compensation and recognition granted to official military firefighters. The South China Morning Post reports that on Sunday, about 40 family members of firefighters marched to the local government offices demanding information and equal treatment for their family members.
Yuan Chenggang, father of a missing 18-year-old firefighter, vented his frustration.
"We've been here for four days, but still haven't met anyone who can tell us anything useful," he told the Post while outside the local government headquarters.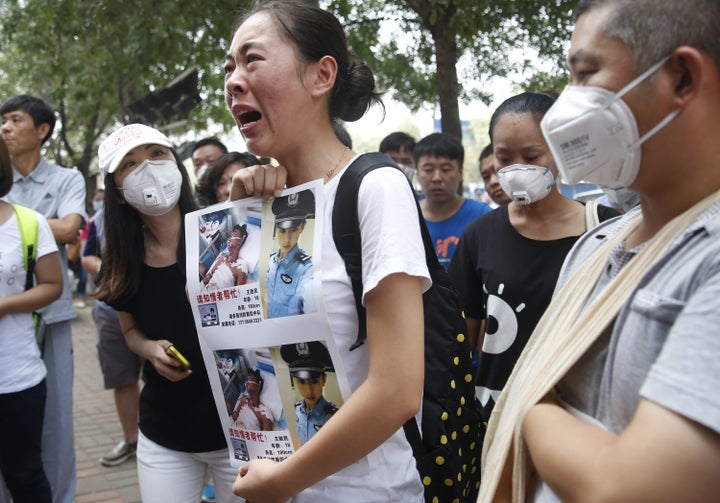 On Monday, local and national authorities attempted to address these issues. In a press conference, authorities said 85 firefighters remained missing, 72 of whom had been contracted by the local port. In a rare impromptu interview in Tianjin, Chinese Premier Li Keqiang told Hong Kong's i-Cable news that every firefighter's sacrifice would be equally recognized.
"For our heroes, no one is 'outside the system,'" Li said. "Regardless of whether they're firefighting officers or non-military firefighting workers, we will treat them the same."
Even as officials moved to calm anger over compensation to families and residents, Chinese media began reporting on the official ties of Ruihai Logistics, the owner of the chemical warehouse that exploded. On Sunday, the investigative media outlet Caijing quoted industry insiders who claimed that Ruihai's listed stockholders are merely a front for the real owners — one of whom, sources claimed, is the son of the former head of the port's public security bureau.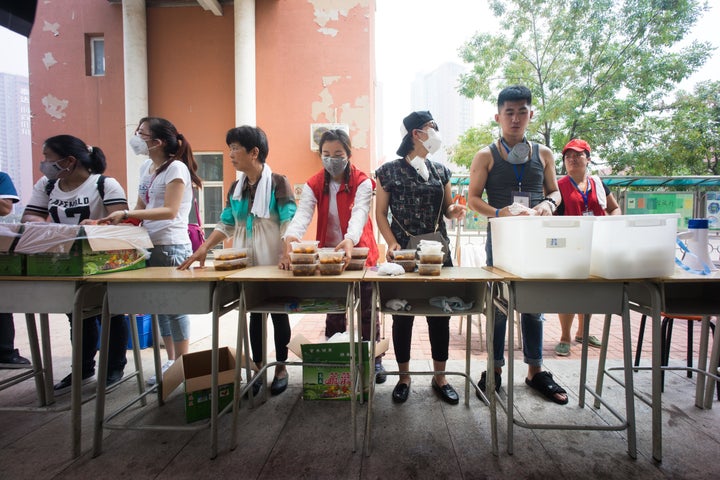 Those accusations have yet to be confirmed, but they are feeding speculation that preferential treatment or corruption may have helped lay the groundwork for the massive blaze. Chinese authorities have pledged a full-fledged investigation, citing President Xi Jinping's ongoing corruption crackdown as evidence that any malfeasance will be punished.
For now, however, most of the punishment has been directed at newspapers and social media accounts accused of "spreading rumors" about the blast. China's Internet regulator said it has suspended or revoked the licenses of 50 websites for claiming there's been looting at malls, or for reporting death tolls of more than 1,000 people. Chinese authorities have taken a hard line on "rumors" in recent years, attempting to confine reporters to using official channels. In the days following the explosion, an academic monitoring Chinese social media reported a tenfold increase in censorship.