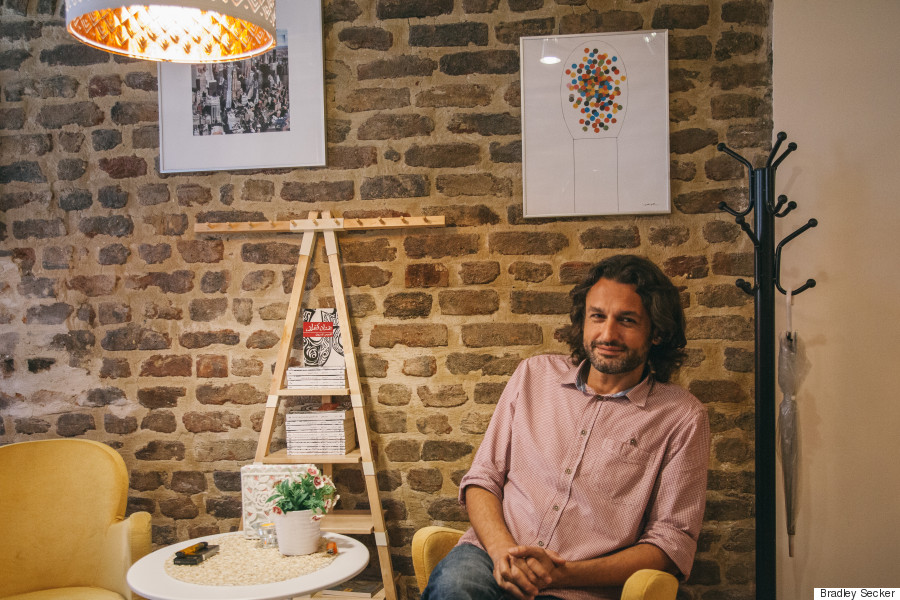 Samer al Kadri, the owner of Pages bookshop, a rare establishment where customers can find a range of books in Arabic, Turkish, French and English.
ISTANBUL — Syrian book publishers Samer al Kadri and Gulnar Hajo believe in the power of a good book.
But in Turkey, a book written in Arabic is hard to come by, despite the estimated 2 million Syrian refugees now taking shelter in the country.
That's why the couple, both refugees from Damascus, opened their own Arabic-language bookstore in Istanbul on Friday — the first of its kind, to their knowledge.
"The Arabs, particularly the Syrians, they need and want a place that is for them," al Kadri said, sitting in a canary yellow chair at Pages, his cozy new bookstore. "Culture can only start from reading."
Like thousands of other Syrians, it's been a long and trying journey from Damascus to Istanbul for the couple and their children.
Three years ago, intelligence forces belonging to the Syrian regime came looking for al Kadri at his publishing house, Bright Fingers, in Damascus. Al Kadri recalled that he had been outspoken against government repression, which he says is what got him into trouble.
"If we don't speak, who will speak?" he said.
Luckily, al Kadri was in Abu Dhabi for work at the time, or he likely would have met the same fate as countless Syrians who have disappeared forever after being detained by the regime.
His family didn't waste any time — they knew that was their cue to leave Syria. They packed their bags and headed to Jordan, then, a year later, on to Istanbul. As the family fled to safety, Al Kadri's dream of opening a bookstore went with them. On Friday, as Pages officially opened its doors to the public, the dream was realized.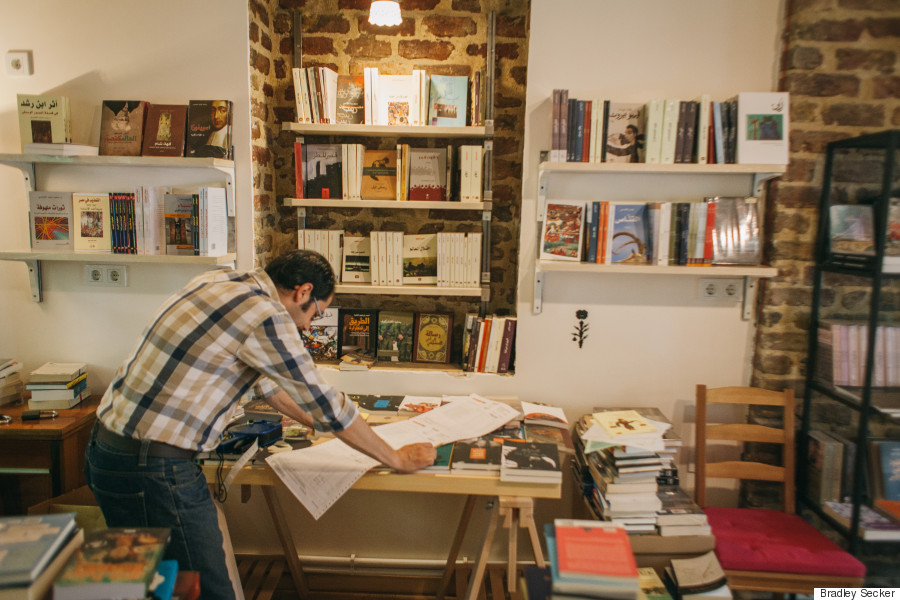 Rawad Saman, left, an employee at Pages, prepares the stock and displays a day before the official opening.
The family has had to rebuild their lives as well as their business here in Istanbul, where costs are higher than they used to be back home. Now, al Kadri and Hajo import texts from Lebanon, where they are twice as expensive as they were in Syria before the war. They print their own books in Istanbul at a printing warehouse they found close by.
Al Kadri explained that just a few years back, "everything was printed in Syria. All the writers were Syrians. All the illustrators were Syrian."
Now, his former staff of 12 employees, including himself and Hajo, are scattered around the world, most having been forced to flee to Turkey, Germany, Holland, Sweden, the United Arab Emirates or Jordan. The Pages staff in Istanbul consists of just one other person.
"Our governments in the Arab world don't support publishing," al Kadri said. "They don't want anyone to understand, just to live."
He added that before the war, most of the main publishing houses in Syria were closely tied to people within the government intelligence community, who tended to support the publishing of religious texts.
"Banning books is normal for us here, it's funny, even a little absurd," leading Syrian novelist Khaled Khalifa told The New York Times in 2008, just a few years before Syria's revolution and subsequent war broke out. "Here, we know people in the censorship office. So you might call them: 'Why the hell did you censor my book?' And he'll respond, 'Why the hell did you have to write about this?'"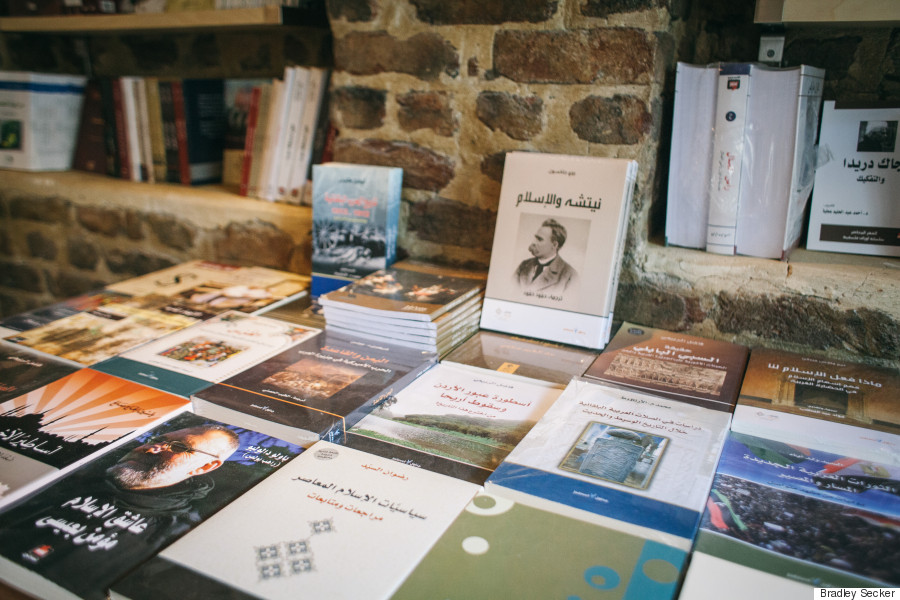 Books on display on the first floor of Pages.
But here at Pages, Syrians don't have to worry about censors — or the regime's barrel bombs and the other horrors of war.
Al Kadri and his wife hope the green-painted building, nestled on a quiet street next to a thousand-year-old church turned mosque turned museum, will become central to the many Syrians who now call Istanbul's historic Fatih district home.
"It's not only a bookshop," Hajo told The WorldPost by phone from Beirut. "It is also a place for the Syrians to see each other and exchange their ideas and culture."
The 220-meter space is spread out over four floors and will include texts in Arabic, Turkish, French and English, for purchase or for borrowing at a lower price.
On one shelf readers can find Superman is an Arab: On God, Marriage, Macho Men and Other Disastrous Inventions. On another: The Resurrection of the People, a book on revolution.
An entire floor at Pages is devoted to children's books. Bright Fingers specialized in writing, illustrating and printing books for youth, particularly those that encouraged self-expression, acceptance and understanding.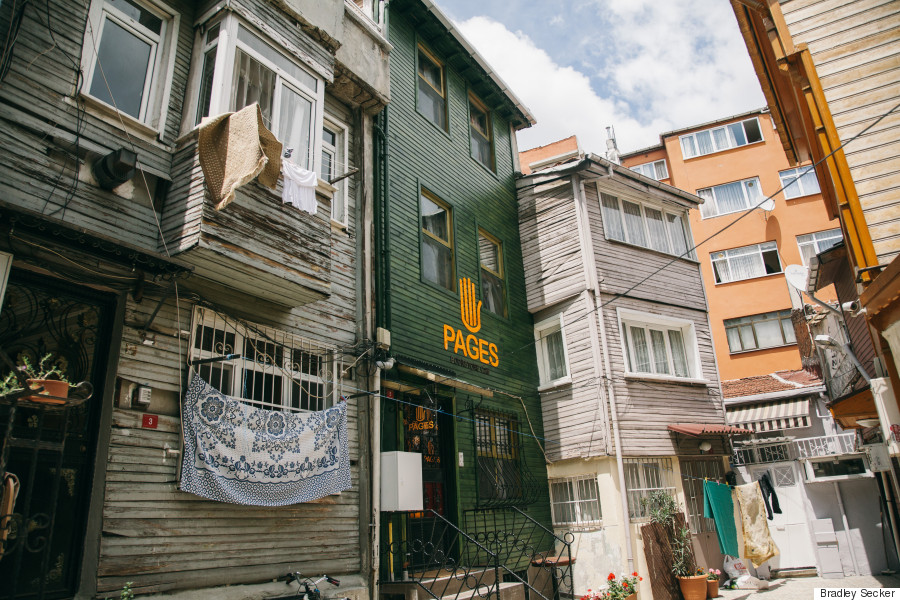 Pages bookshop and cafe, in a fully restored traditional building in Fatih neighborhood.
"Every child knows his or her dream, and we make books about it," Hajo explained. As an author and illustrator of children's books, she often holds workshops with Syrian children in Beirut, though she's based in Istanbul. The workshops focus on books and artwork as a form of therapy.
"I always let them live, if only for an hour, as normal children," she said. "When we read a book or draw, we speak about our dreams and the future."
Hajo and her husband plan to hold regular workshops at Pages, both for children and adults, as well as art exhibitions, speaker appearances, film screenings and musical performances.
"We are not just suffering people," she said defiantly. "We are not just people who survived."
"This bookstore will help Syrians keep their identity."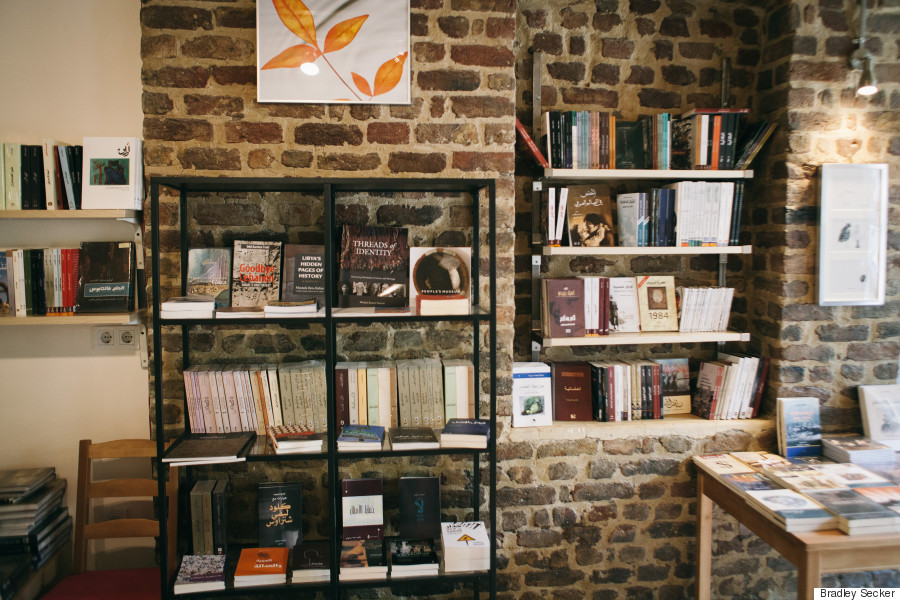 Books on display on the first floor of Pages.
Hiba Dlewati contributed reporting from Istanbul. Photographs by Bradley Secker.