ISTANBUL ― It would have been easy to mistake this cosmopolitan Turkish city for a war zone last night: Political upheaval, bloody clashes and the deafening sound of sonic booms from fighter jets flying low overhead.
As the sun rose after what was a sleepless night for many, relief washed over much of the country that the attempted coup ― carried out by elements within the Turkish military ― did not succeed. But there was also an undeniable sense of uncertainty in a country already wracked by polarizing politics and terrorist attacks.
"I congratulate all citizens who resisted the coup attempt," Turkey's Prime Minister, Binali Yildirim, said Saturday, insisting that the situation was "completely under control" after a night of shocking bloodshed.
"Right now, we're focused on catching the perpetrators and bringing them to justice," he added.
At least 265 people were dead as of Saturday afternoon, according to a Turkish government official, 104 of them described as "assailants." Some 1,440 were left wounded and 2,839 detained.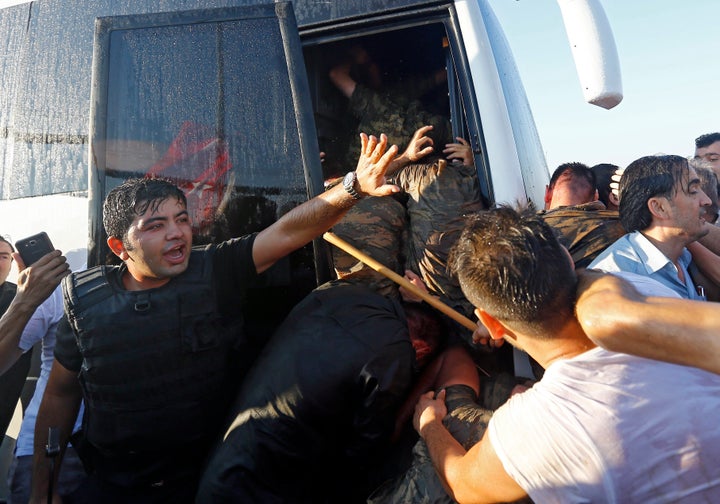 Turkey says the coup attempt was carried out by members and supporters of the Gulen Movement, a Sunni Muslim group led by Erdogan's arch-rival, Fethullah Gulen, who currently lives in self-imposed exile on a compound in Saylorsburg, Pennsylvania. A Gulen-linked group called the Alliance for Shared Values has denied involvement in the coup attempt. 
Fears are now rising that President Recep Tayyip Erdogan will carry out harsh reprisals against opponents and try to consolidate power in the aftermath of the turmoil. Turkey is still reeling from terrorist attacks carried out by the self-described Islamic State and by Kurdish militants. 
Many Turks were out for blood after Erdogan, who said he dodged an assassination attempt on Friday, called on Turkish citizens to fill the streets in protest.
One unverified video shared widely on social media appeared to show a lone police officer protecting a petrified soldier, accused of supporting the coup, from an angry mob. Other videos online appeared to show military tanks mowing down pro-government protesters.
Violence peaked early Saturday morning. At one point, a fighter jet shot down a military helicopter reportedly flown by pro-coup forces that was attacking the parliament complex in Ankara while legislators hid in a parliamentary shelter. 
"It was frantic," one employee of Istanbul's Haydarpasa Numune Hospital, who asked not to be named, said of last night's rush to save lives. "Still, there are wounded people who haven't been able to get any treatment."
On Twitter, the hashtag #idamistiyorum, meaning "I want the death penalty," went viral, with many demanding the ultimate punishment for those they deemed traitors.
Yıldırım said Saturday that while Turkey's constitution forbids the death penalty, the country will "consider legal changes" in light of the coup attempt. Early on Saturday, Erdogan described the failed overthrow as treason and pledged a harsh outcome for those behind it.
"They will pay a heavy price for their treason to Turkey," he said.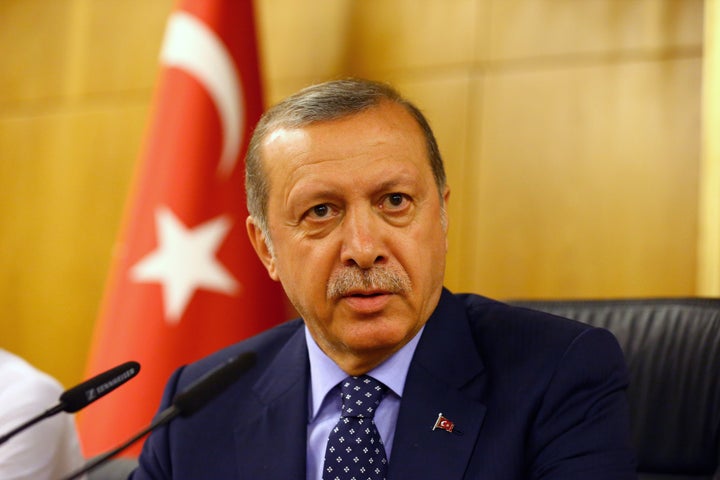 Erdogan ― still a popular, although increasingly controversial political leader ― has long been attempting to shift more authority toward his office, and has pushed for a revised constitution that would establish an executive presidency in Turkey.
Erdogan's Justice and Development Party (AKP) won majority rule in Turkey's elections last November, reviving the prospect that the president would strengthen his grip on the country's political landscape. Six months later, Erdogan ousted prime minister Ahmet Davutoglu, evidently out of concern that his once-ally could place a check on his own power.
Opposition politicians and analysts have viewed Erdogan's aspirations to a U.S.-style executive presidency as a worrying sign of his increasingly authoritarian streak. In recent years, Erdogan has cracked down on dissent within Turkish media, built a lavish palace for himself and arrested Gulenist rivals.
Analysts predict that the attempt to overthrow Erdogan could end up serving as a way for him to further consolidate authority. Erdogan for years has endeavored to exert control over the military, typically seen as a check on the executive, and to eradicate the Gulen Movement, which has gradually built up a presence in the Turkish police and judiciary force.
Prime Minister Yildirim warned on Saturday that any state supporting Gulen will be at war with Turkey. The announcement puts pressure on the United States, where the cleric resides. U.S. Secretary of State John Kerry invited Turkey to provide evidence of a connection between Gulen and the coup attempt, saying that American authorities would "make judgments" after reviewing such a case. 
Turkish authorities reportedly ordered 2,745 judges and prosecutors be detained, according to Turkish broadcaster NTV. Some Turks fear a mass crackdown is now inevitable, targeting anyone deemed a government opponent.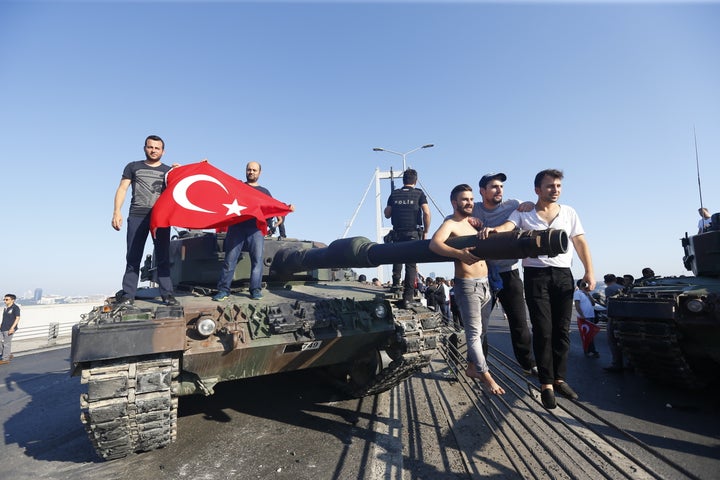 Yet, despite stark polarization in Turkey, many political parties and individuals normally critical of Erdogan and the Turkish government came out in full force against the coup attempt.
The same media outlets that Erdogan very recently tried to rein in put up intense resistance to the soldiers in the coup attempt, broadcasting the unfolding events live at great personal danger. And though Erdogan has often tried to block Turkish citizens from public protests, massive crowds of people welcomed him when he landed at the airport in Istanbul in the early morning hours.
Emre Kizilkaya, a journalist for the Turkish daily newspaper Hurriyet, said that the mass outcry over the coup attempt, especially coming from people normally highly critical of the government, shows the "resilience of Turkish democracy."
He was at Hurriyet's office when armed men barged in. 
"I tried to remain calm but it's not easy when you have a first lieutenant raiding your office, sending his team, armed with machine guns, to bring everyone to the ground floor and [saying] 'never hesitate to shoot,'" he said.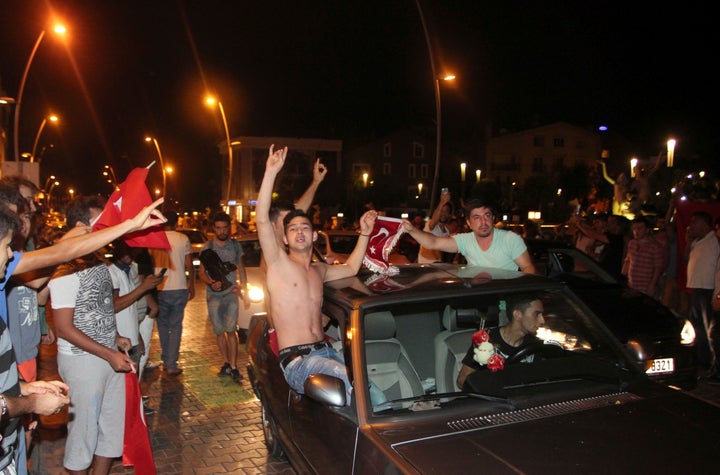 Even the pro-Kurdish opposition party ― the People's Democratic Party, or HDP ― came out against the coup attempt.
"The only solution is democratic politics!" read a statement from Selahattin Demirtaş and Figen Yüksekdağ, the party co-chairs. "In [these] challenging and critical days which Turkey goes through, whatever its reason might be, no one should put himself in the place of the people's will."
But Demirtaş also issued a firm warning, saying drastic measures need to be taken to quell the "politics of polarization" and violence within the country.
"A progressive democracy does not appear by itself, just because the coup attempt was unsuccessful," he said.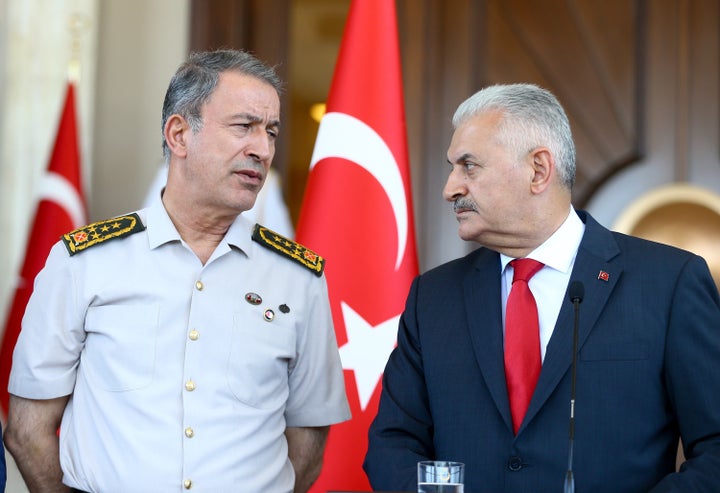 In parts of the city, life went on as normal, with only hints of something amiss.
In one store in Beyoglu, on the European side of the city, families calmly shopped for groceries as they do most days. But in the vegetable aisle, the usually full cases were empty, save for a few beat-up onions.
On Istiklal Avenue, Istanbul's most famous and heavily trafficked street, vendors sold Turkish flags to Turks and foreigners alike.
A vendor sells Turkish flags on a surprisingly bustling Istiklal Ave less than 24 hours after a failed coup attempt. Most shops are open and people are lounging in cafes drinking coffees. Surreal. #Istanbul #Turkey @theworldpost

A photo posted by Sophia Jones (@sophiamariejones) on
And at a nearby coffee shop, young Turks sipped coffees in the afternoon heat, as if it was any other summer Saturday. But today, the coffee there was free.
"Turkey is in a bad situation," said 24-year-old Nuri, a barista, brewing a free cup of coffee for a customer. "We are all together."
"I am very worried," he said, saying he woke up, in shock, to the booms of fighters jets passing in the night sky. "I am very sad and scared."
Karel Barbur contributed reporting.