REYHANLI, Turkey — Northern Syria is on the brink of disaster as widespread fuel cuts threaten mass power outages, water shortages and hospital closures. "If this goes on for a few more days, there will be a humanitarian catastrophe on all fronts," Hossam Ali, a doctor at a hospital in Aleppo, frantically told The WorldPost by phone. The hospital has spent two weeks without access to new shipments of diesel and has depleted its stores, he said. "We need electricity." Civilians living in rebel-held territory across much of Aleppo, Idlib and suburbs of Latakia and Hama in northern Syria already face the constant threat of crude barrel bombs and other attacks from the Assad regime. Now, they have to worry about surviving without fuel as well. "Barrel bombs happen every single day in Aleppo," Ali said, his voice desperate. "Just four days ago, two barrel bombs dropped right next to the hospital. And now, we don't have any fuel left in storage."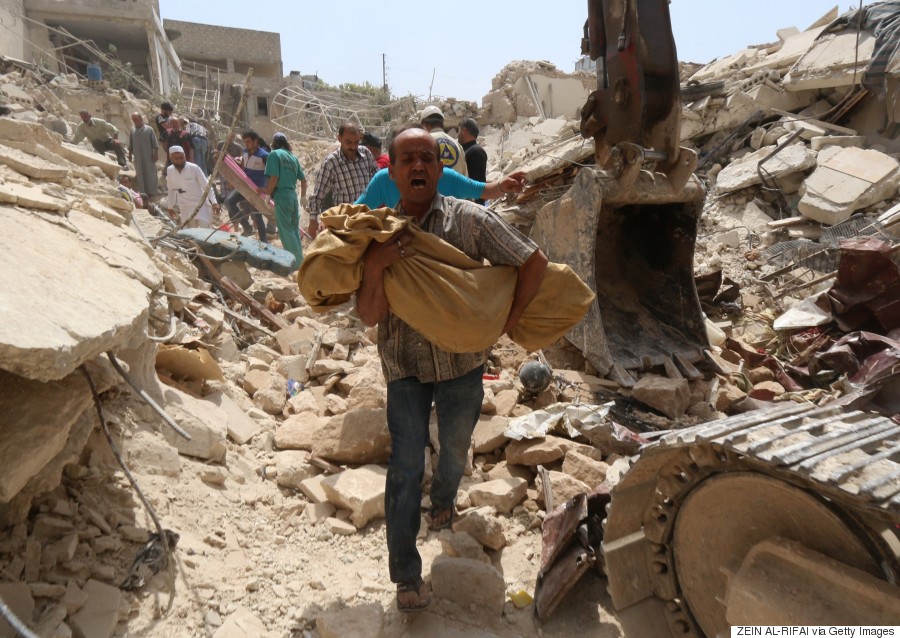 A Syrian man carries a body after it was removed from the rubble of buildings following a reported barrel bomb attack by government forces on the Qadi Askar district of the northern Syrian city of Aleppo on May 20, 2015.
Without fuel, water can't be pumped, agricultural equipment can't run, generators stop working and vehicles to transport food and other goods are useless. But what's behind the fuel cut is unclear. Many Syrians insist the Islamic State is strategically blocking oil sales as a way to quell attacks by other rebels who rely on ISIS fuel and to weaken popular support for the Free Syrian Army. Others say roads in northern Aleppo that have been blocked due to clashes between the extremist group and rebel factions aligned with the Free Syrian Army may be interrupting trade routes.
The so-called Islamic State, a group condemned by Muslims around the world for what they say is a violent interpretation of Islam, dominates Syria's crude trade. The group makes huge profits from rebel forces it fights as well as the Syrian regime, both heavily reliant on ISIS oil.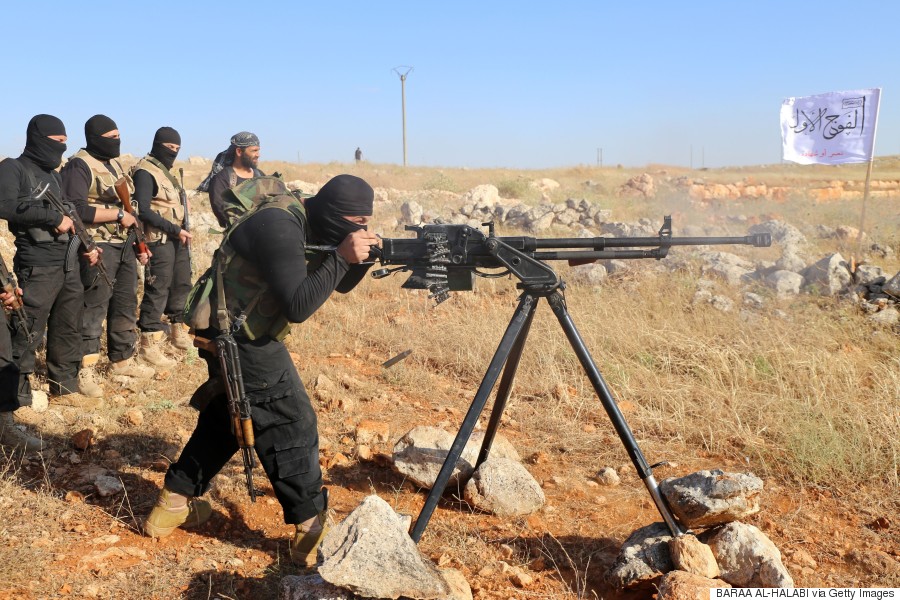 Rebel fighters from the 'First Battalion' under the Free Syrian Army take part in a military training June 10, 2015, in the rebel-held countryside of the northern city of Aleppo.
Hospitals across Syria's north have issued dire warnings this week on social media asking for help to avert a total shutdown of services. Some medical facilities — perhaps dozens, according to several doctors and press releases — have already closed their doors. One doctor in Reyhanli, just across the Turkish border, said only 20 patients a day are able to enter cash-strapped Turkey from Syria for emergency treatment because the Bab al Hawa border between the two countries is officially closed. The rest are referred to other medical facilities in Syria that still have some fuel reserves left.
Turkey already hosts an estimated 2 million or more Syrian refugees. In the past 10 days alone, some 23,000 Syrians have fled clashes and air strikes to Turkey, putting even more pressure on the Turkish government to support the ever-growing refugee population. One rehab center in Reyhanli that often treats victims of barrel bombings said it was expecting patients from northern Syria soon, since Syrian medical facilities can't treat them without fuel. Without electricity, doctors are forced to perform surgery in darkness. Infants, kept alive by incubators, are at risk of dying. Patients on ventilators won't be able to breathe if the power cuts out. "Everything relies on diesel," said Yasser Sayyed, a human rights lawyer in Reyhanli. "From bakeries to water supplies, nothing is working." To make up for the shortage, civilians and fighters alike are rationing the diesel they have left — only using what they have to in order to get by. One liter of fuel is now worth a thousand Syrian pounds, roughly $5.30, in some parts of northern Syria, according to Sayyed, when it used to be roughly 100 Syrian pounds, or 50 cents. "It's a strategic move on their part," Sayyed said, referring to ISIS. "Everything is prone to closing in liberated areas. This could be a form of revenge."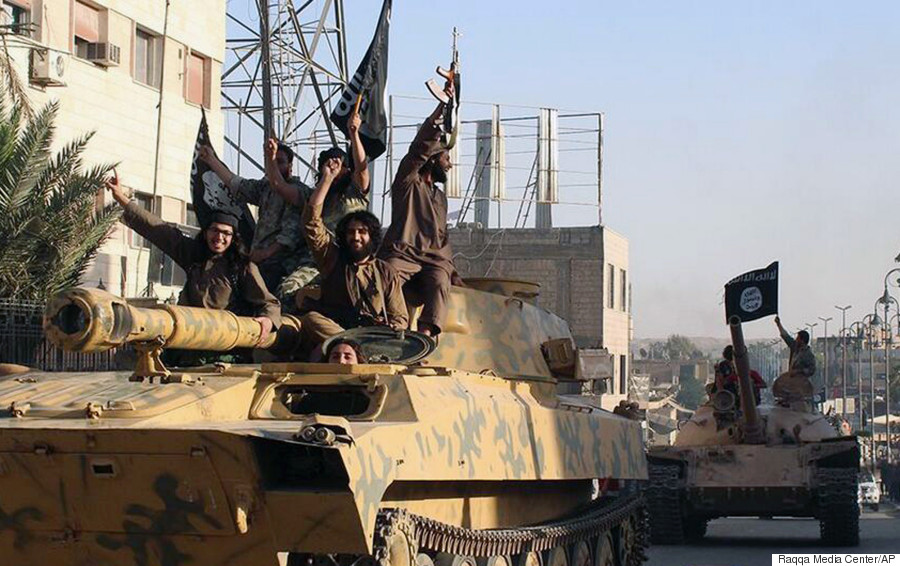 This undated image posted June 30, 2014 by the Raqqa Media Center, a Syrian opposition group, which has been verified and is consistent with other AP reporting, shows fighters from the al-Qaeda linked Islamic State. Militants from the splinter group held a military parade in their stronghold in northeastern Syria, displaying U.S.-made Humvees, heavy machine guns and missiles captured from the Iraqi army for the first time since taking over large parts of the Iraq-Syria border. Some Syrian doctors want the Turkish government to open the border in order to allow desperate patients to seek medical attention in Turkish hospitals. They have also reached out to aid agencies in Turkey to coordinate fuel transportation from Turkey to Syria. The IHH Humanitarian Relief Foundation, a Turkish organization headquartered in Istanbul, has already delivered four days' worth of diesel to the Bab al Hawa Hospital, giving the hospital what little was left in their storage facilities in Syria, according to one hospital board member. But such aid deliveries will only go so far if the fuel cuts continue. "If the problem is due to roads being cut off because of clashes, then both sides need to come to a solution to allow fuel to pass through," said Mahmoud Aswad, an orthopedic surgeon based in southern Turkey who coordinates with doctors in Syria. "But if ISIS is doing this on purpose, I don't see a solution. We're talking about a true catastrophe."
Hiba Dlewati contributed reporting from Reyhanli.
CORRECTION: This article has been updated to correct the spelling of Mahmoud Aswad's name.