Credits
Kathleen Miles is the executive editor of Noema Magazine. She can be reached on Twitter at @mileskathleen.
Outsiders stereotype Los Angeles as car-addicted, polluted and lacking in public transit. But the City of Angels has undergone major changes over the past few decades.
LA is moving toward a greener future, friendlier to pedestrians, metro users and bicyclists. There are various development projects planned, particularly in downtown and Hollywood, which are becoming more dense and vertically-built. These projects preserve historic architecture while adding apartments, parks, retail and entertainment.
These 20 architectural renderings give us a glimpse into a stunning Los Angeles of the future…
1. Park 101Park 101 would cover a portion of the 101 freeway in downtown with a park. As it's currently envisioned, Park 101 would connect the Civic Center (south of the freeway) with Olvera Street, Chinatown and Union Station (north of the freeway). In August, the LA City Council unanimously approved a motion to seek funding for the proposal. There are also proposed plans for parks built on top of freeways — called cap parks — in Santa Monica, Hollywood, Glendale and Ventura.
Before: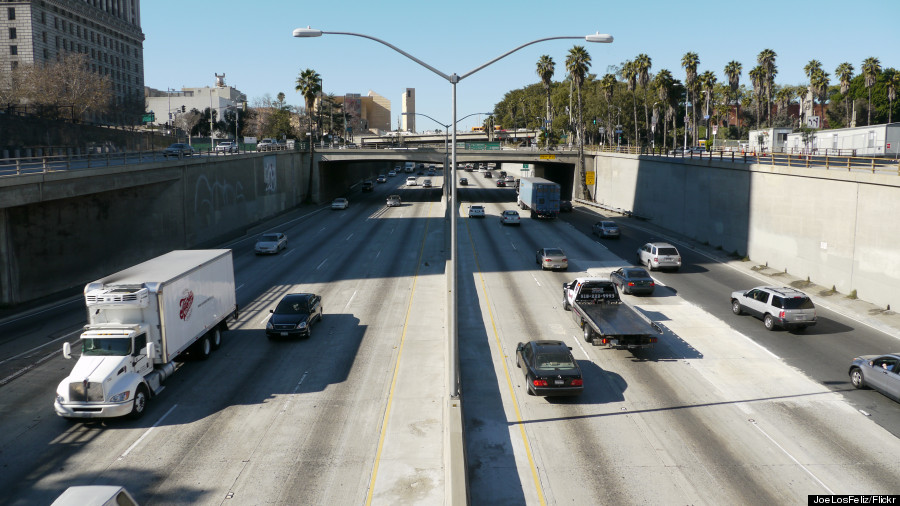 After: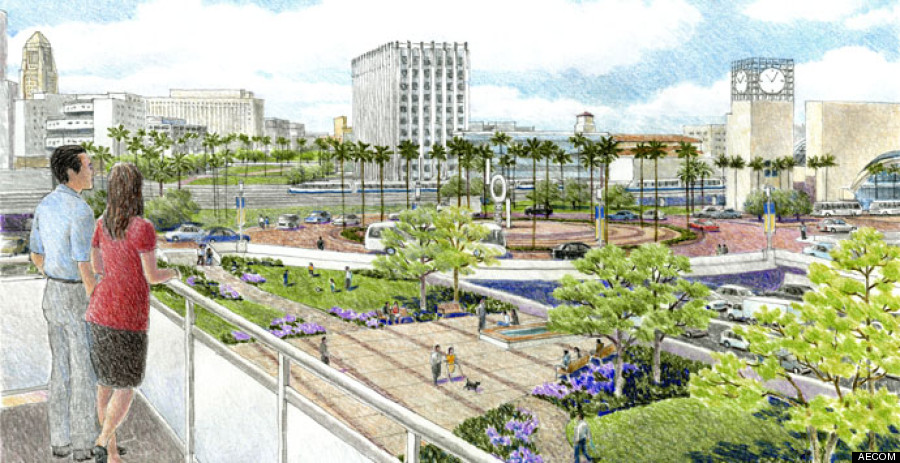 2. Greenway 2020The Greenway 2020 project aims to create a continuous 51-mile corridor that will run along a restored LA River by 2020. "Instead of crowded streets and honking horns on your morning commute, imagine chirping birds, flowing water and numerous coffee shops along the way to work," the project site reads. The river will also become a recreational destination for kayaking, fishing, picnicking and even yoga classes or bike-in movies.
Before: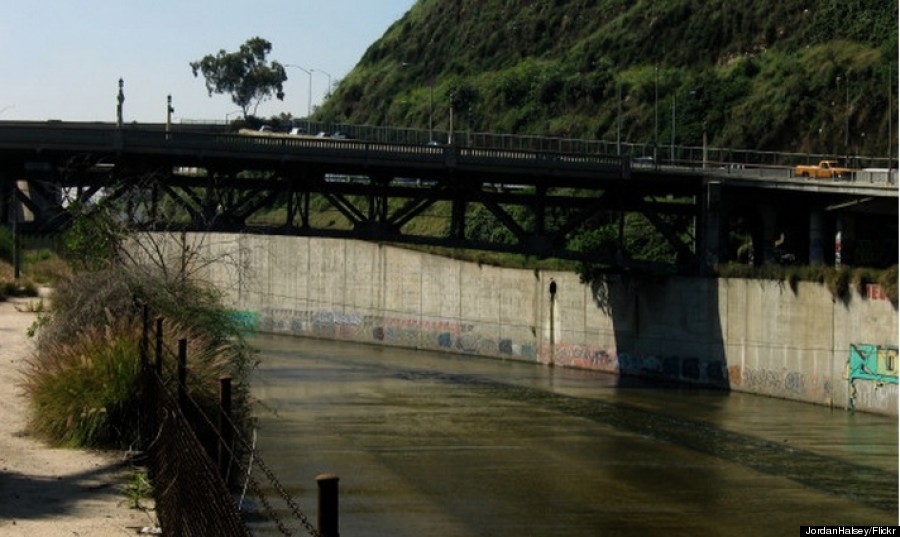 After: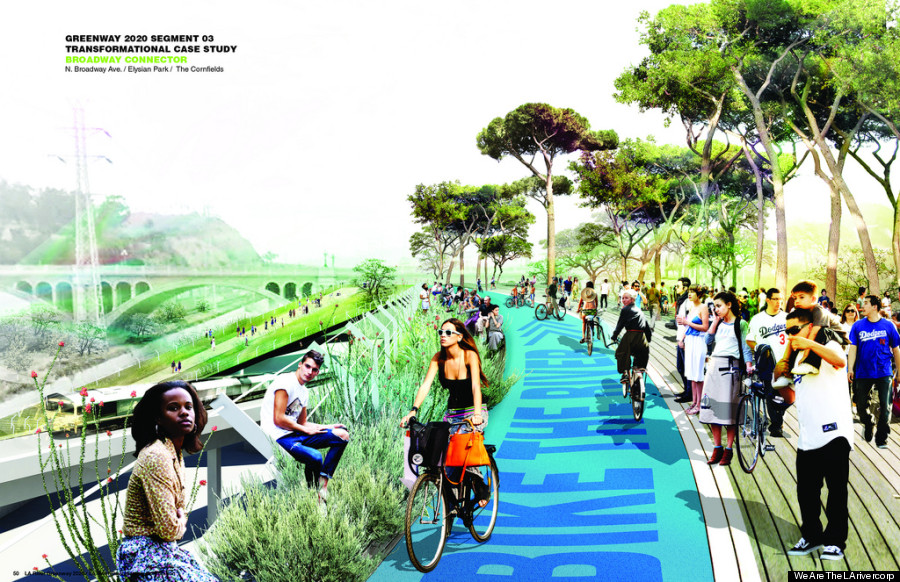 Courtesy of Port Architecture and Urbanism, LLC in partnership with LA River Revitalization Corporation
3. High-Speed RailThe California High-Speed Rail is a planned high-speed bullet train that would run from Los Angeles to San Francisco in under three hours. Initial funding for the over-300-mile-long project was approved by California voters in 2008, and, although there have been legal setbacks, the state legislature overwhelmingly supports the project. California high-speed rail officials said Dec. 5 that engineering work, hiring and property buying are on pace and that construction will begin in January or February using federal money. The rail is expected to be completed in 2029.
Before: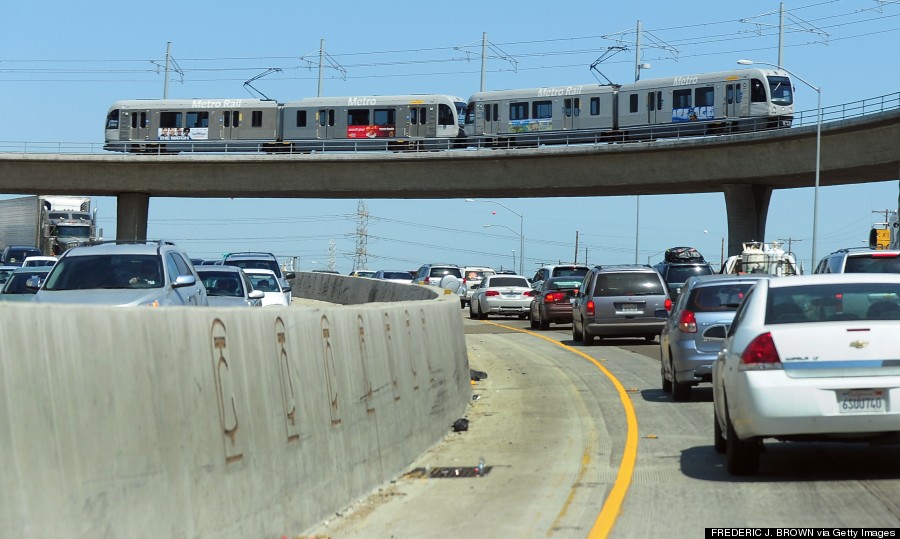 After: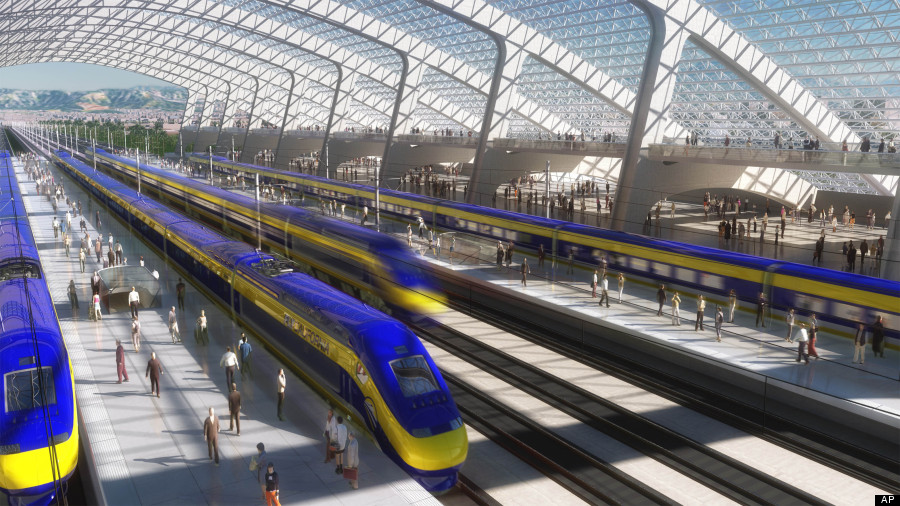 4. Subway to the Sea & Expo Line ExtensionThe Purple Line Extension, also known as the Subway to the Sea, will bring the subway westward from Koreatown to the Miracle Mile, Beverly Hills, Century City, Westwood and, depending on funding, possibly to the sea. Construction on the purple line will begin in 2014 and is expected to reach Westwood in 2035. The metro will also be expanding the Expo Line light rail in Culver City westward to the ocean, making a downtown-to-the-sea ride possible; construction is past the halfway point and is expected to be complete in 2015 or 2016.
Before: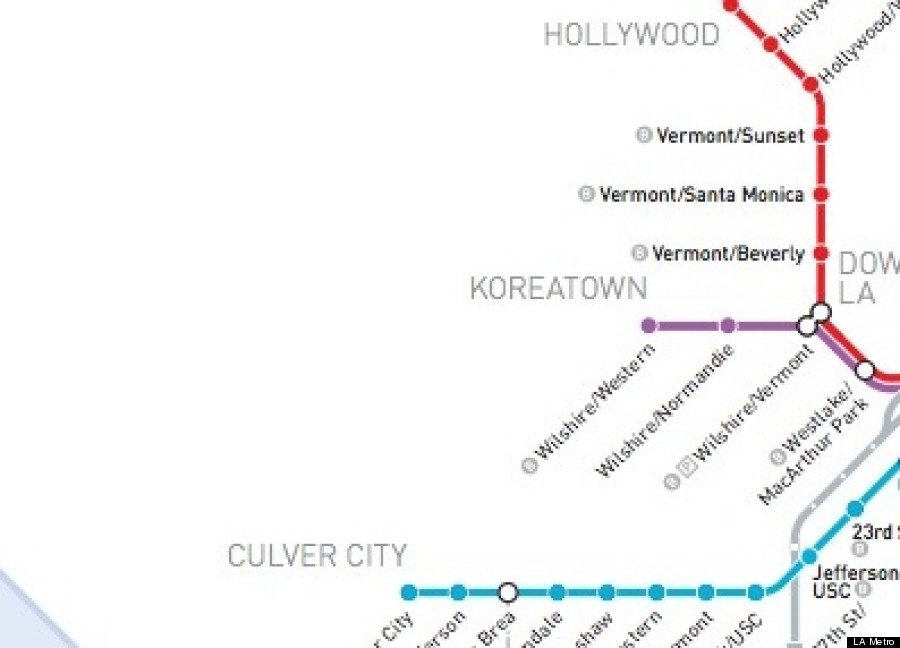 After: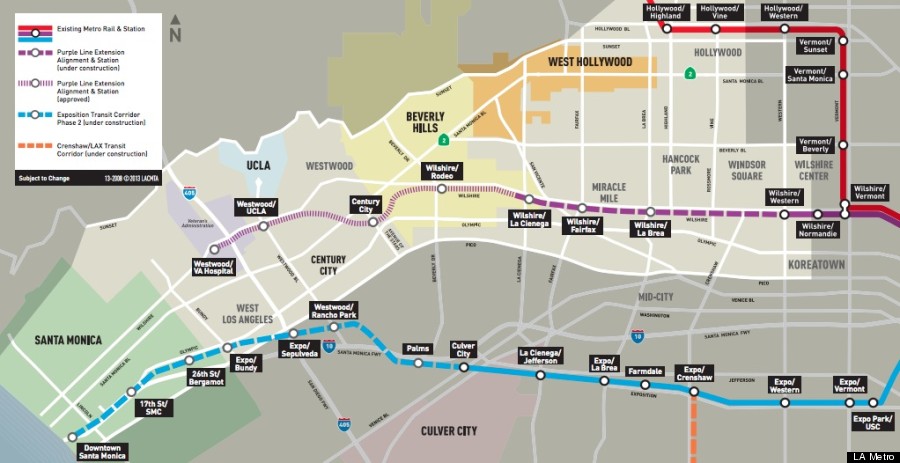 LA Metro is considering several redesign plans for Union Station. The plans are meant to improve passenger concourse experience, consolidate bus activity and possibly incorporate a future high-speed rail line. They also include preservation of the historic station, more open green space and improved pedestrian and bike paths. The Union Station Master Plan process involves lots of public input. The Metro is expected to pick a plan in spring 2014.
Before: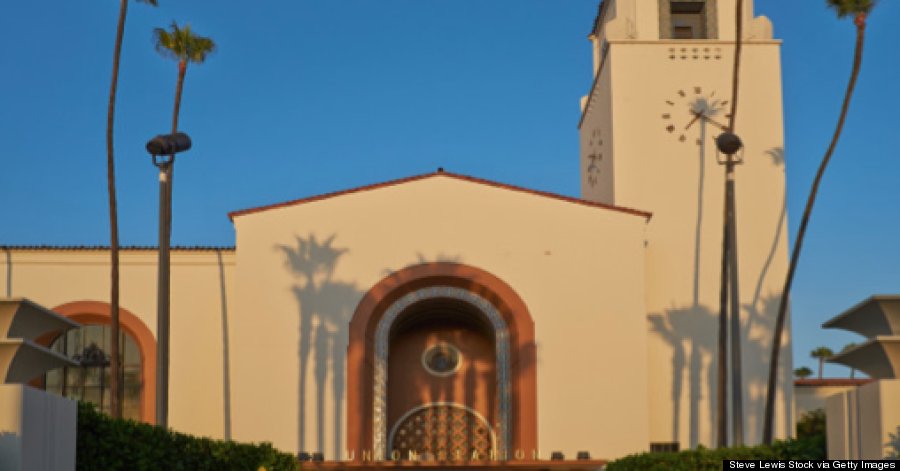 After: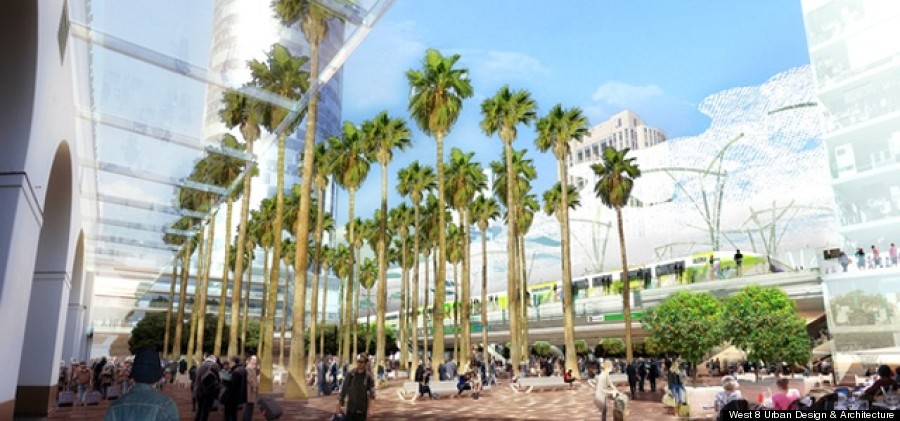 Downtown LA's 80-year-old Sixth Street bridge is at risk of falling during an earthquake, so last year the city announced a competition to replace it. The winners, HNTB, Michael Maltzan Architecture and AC Martin Partners, will build the bridge displayed below. They hope to add a space under the bridge for a market hall, restaurant, artist displays and film screenings. The $400 million dollar redesign is expected to begin in 2015, with completion scheduled for 2019.
Before: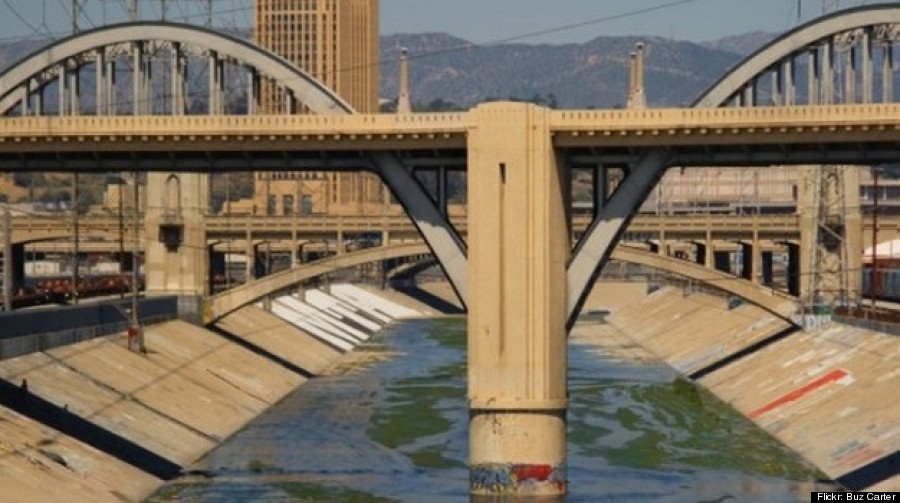 After: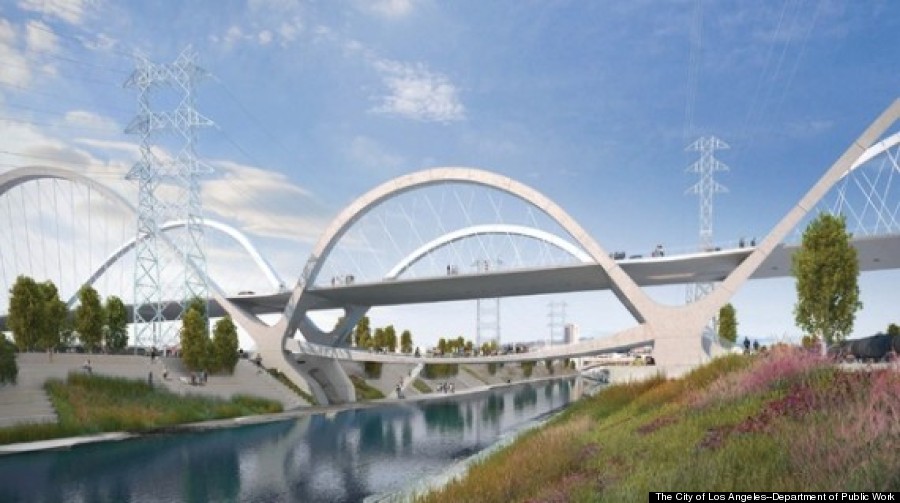 7. LACMA
Six years ago, LACMA director Michael Govan commissioned Swiss architect Peter Zumthor to design a major new building to replace part of the museum. Zumthor's proposed building, which he dubbed "Black Flower," will be more than 30 feet into the air, with 360 degrees of glass offering views of the city. The building will have seven separate "pods" and entrances on all sides. It will also feature a solar farm roof that will be one of the largest in any city, capable of providing more energy than it consumes.
Before: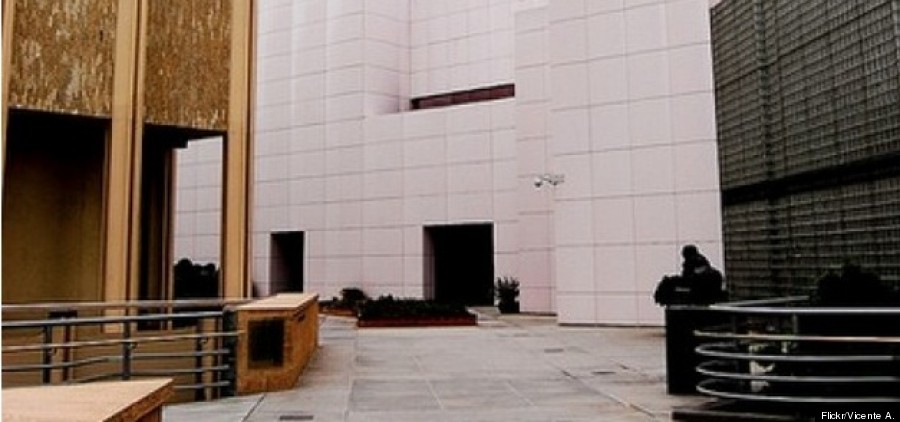 After: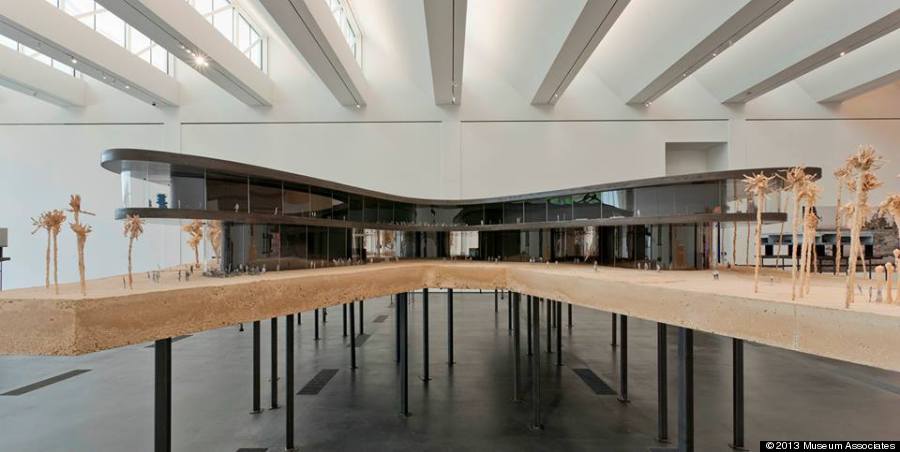 8. The BroadBillionaire philanthropist Eli Broad is building a $140-million contemporary art museum in downtown LA to house his impressive art collection. The block-long, three-story museum will feature a porous, concrete veil sheathed in glass that will provide both natural light and a view of some of the works from the street. People will even get to view art still in storage through portal windows into the museum's vault. The Broad will have free admission and is scheduled to open toward the end of 2014.Before: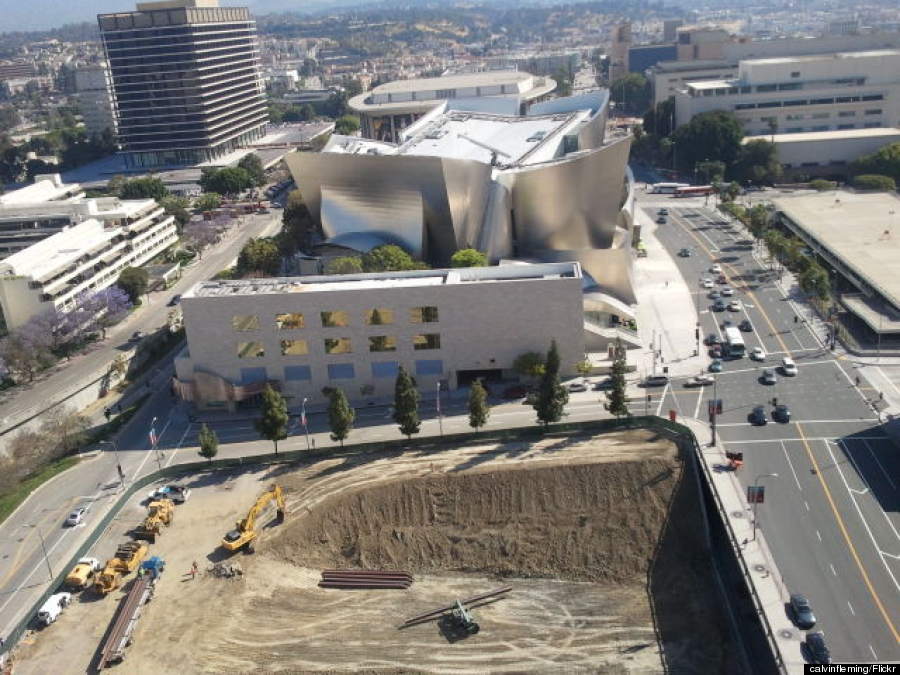 After: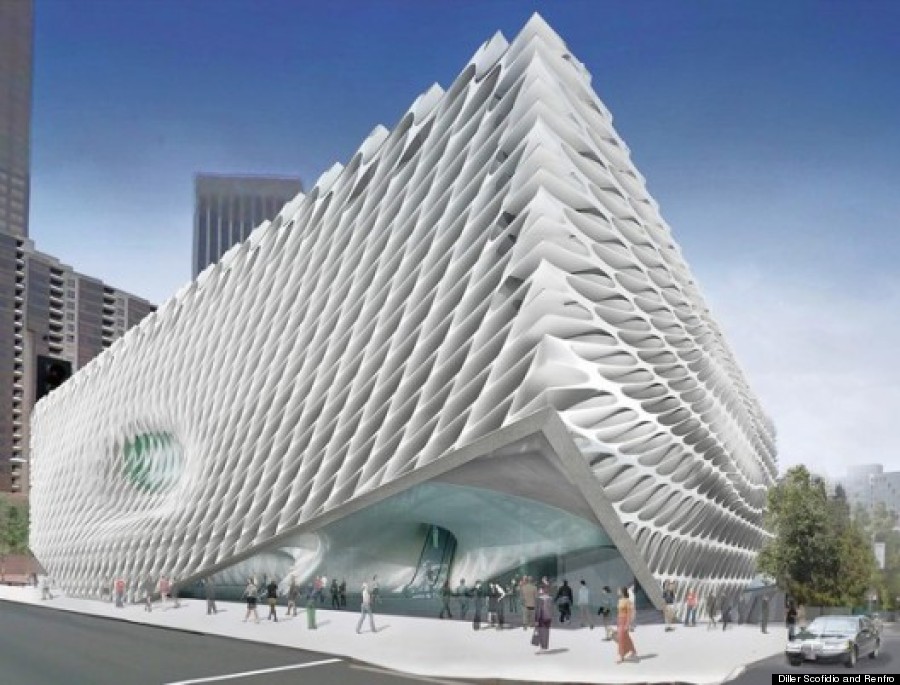 9. Bringing Back BroadwayDowntown LA's Broadway corridor is the largest historic theater district west of the Mississippi and is the birthplace of vaudeville. But recently, retailers have been struggling with a high vacancy rate. Bringing Back Broadway is a ten-year revitalization plan for the area launched by city leaders and residents in 2008. The plan aims to reactivate closed theaters, revive the area's historic streetcar and encourage cultural, entertainment and retail uses of vacant spaces.
Before: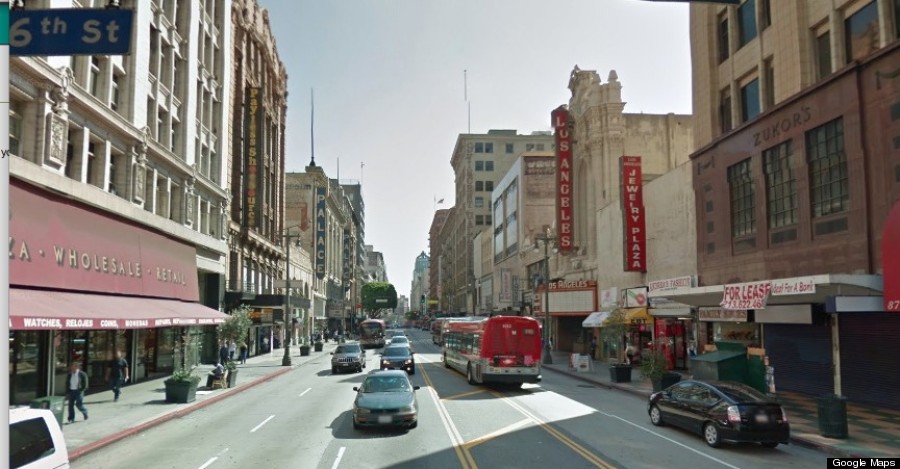 After: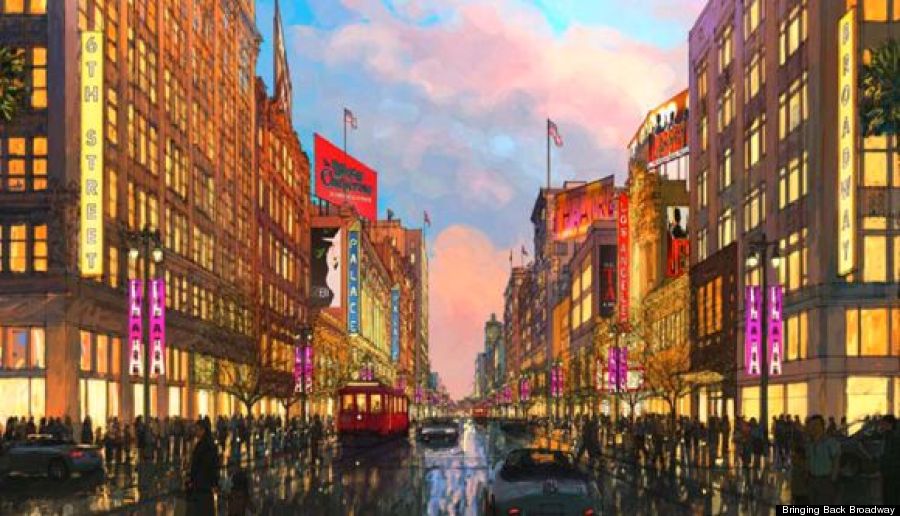 10. My FigueroaThe Figueroa Corridor Streetscape project is redesigning four miles of streets that stretch from downtown to South LA to better accommodate pedestrians, bicyclists and transit riders. The project, dubbed My Figueroa, includes better signalization and signage, high-visibility crosswalks, transit platforms and a three-mile bikeway. It also includes more trees, public art, bus shelters and bike racks. The $20 million project is funded by a Proposition 1C grant, which requires that construction be completed by the end of 2014.
Before: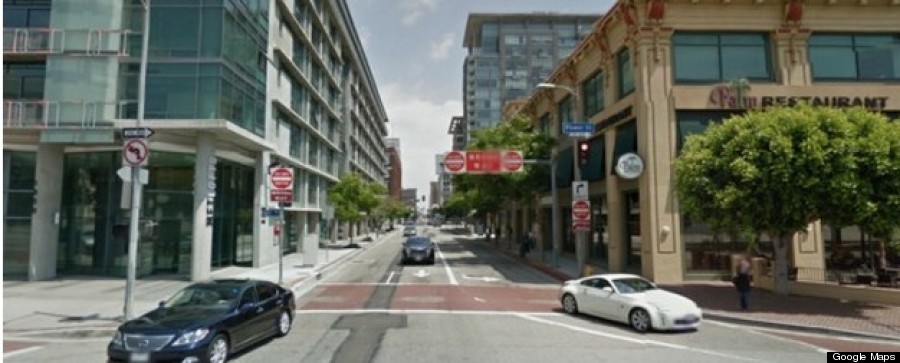 After:
11. Farmer's FieldLA Mayor Eric Garcetti and developer AEG are still working on making Farmer's Field — a proposed sports stadium, entertainment and new convention center — a reality. The proposed stadium, which could host an LA NFL team, would house up to 78,000 seats and feature a retractable roof. Farmer's Field would be located in downtown, at the current West Hall of the LA Convention Center, alongside the STAPLES Center and LA Live.
Before: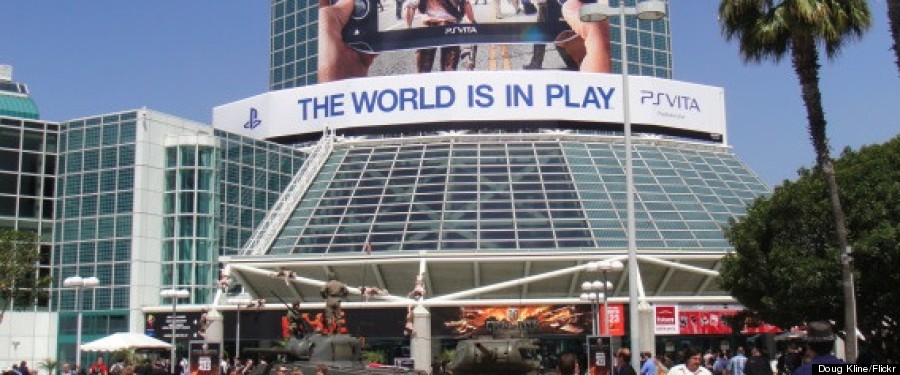 After: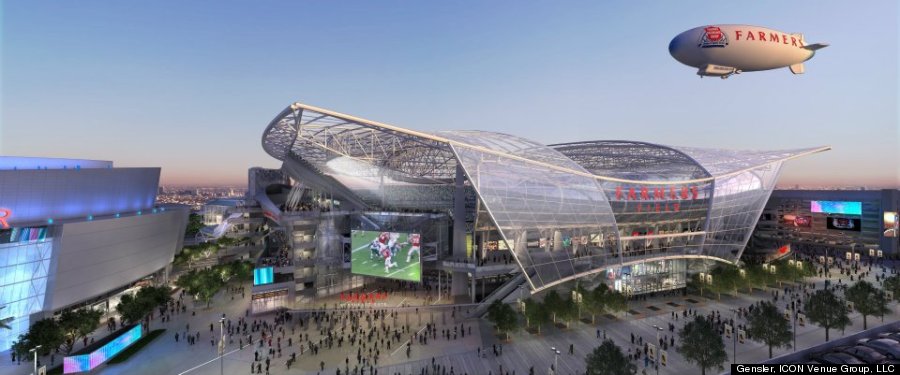 12. Grand Avenue
Downtown LA's Grand Park opened last summer, but the Grand Avenue project that was meant to bring foot-traffic to the area has been delayed for years. After submitting a Grand Avenue proposal in 2006, famed architect Frank Gehry, with development firm Related Cos., submitted a second proposal for the area to city and county officials in November. Gehry's $650-million proposal, a U-shaped plaza directly across from Walt Disney Concert Hall, includes shops, restaurants, terraces, pool decks, condos, apartments and a hotel. The goal is to break ground in 2015 and open in 2019.
Before: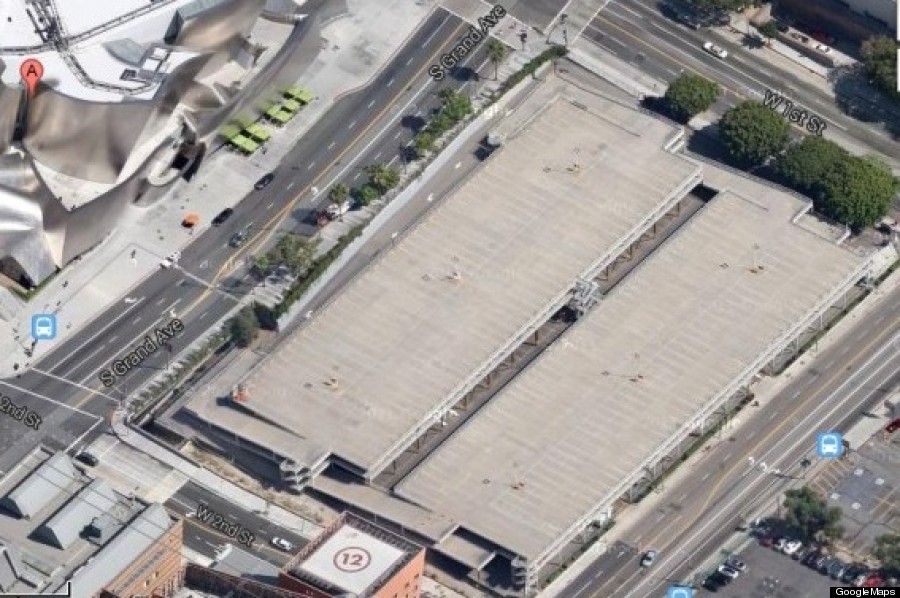 After: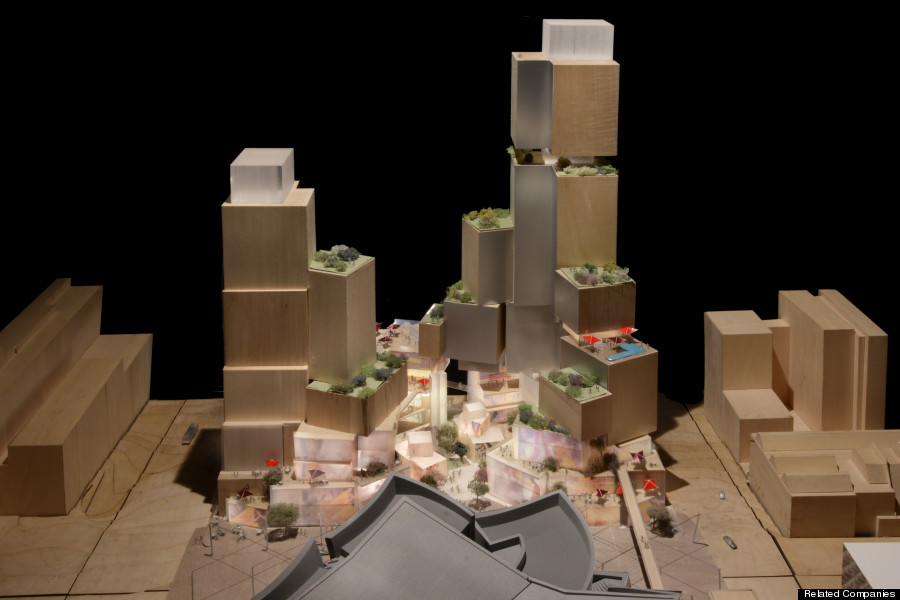 LA's new federal courthouse will look like a shimmering cube "floating" over a stone base. The futuristic building is designed to achieve LEED Platinum certification (an environmental building standard), partially thanks to a serrated façade that both maximizes views and reduces solar heat gain by nearly 50 percent. The building is under construction now and is projected to be completed in 2016.
Before: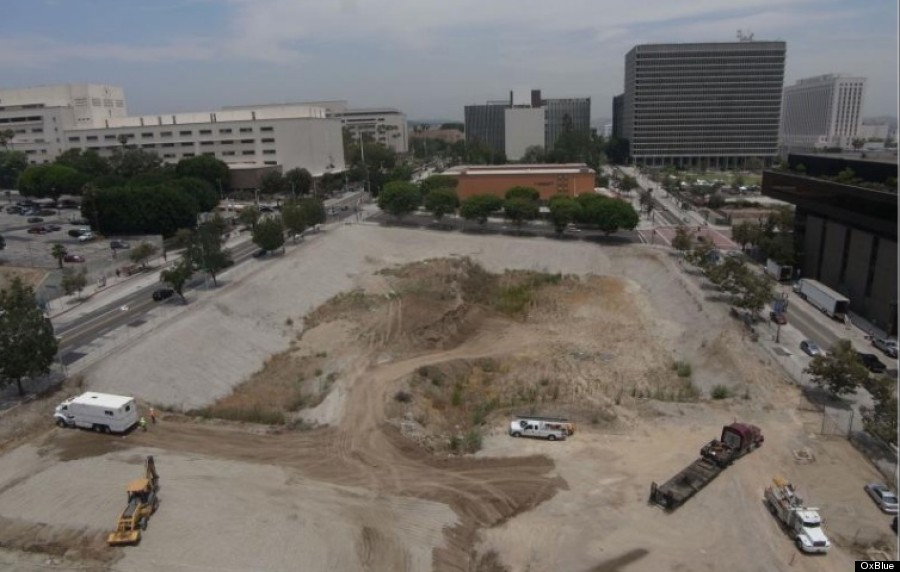 After: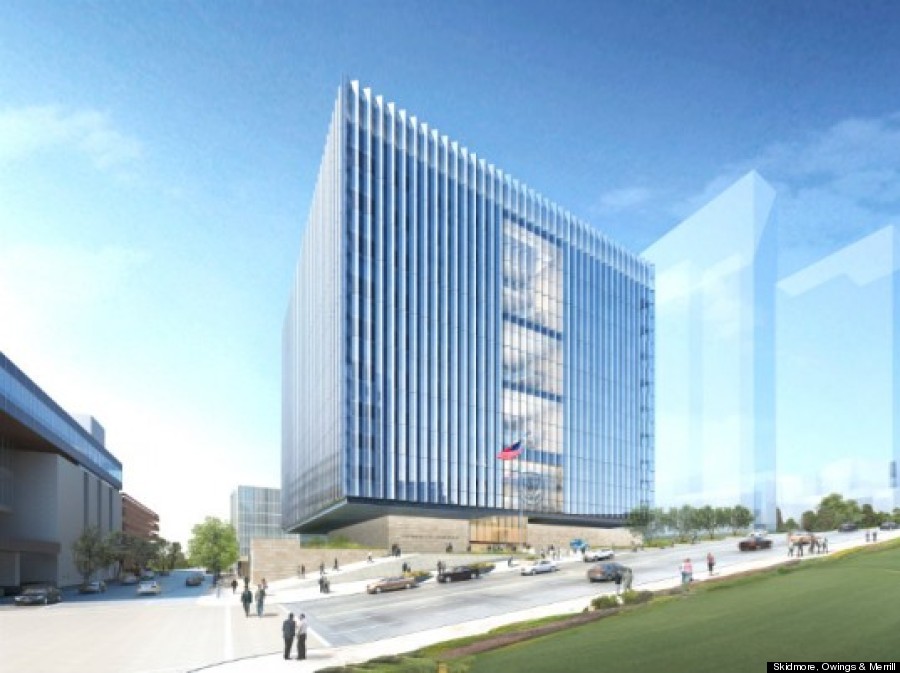 At 73 stories, the Wilshire Grand will become the tallest building in the West. Expected to be complete in 2017, it will replace the now-demolished 1950s Wilshire Grand Hotel. Korean Airlines and AC Martin Partners' design includes high-speed elevators that will send hotel guests to the 70th-floor "sky lobby" to check in to one of 900 rooms. The first three floors of the tower will be restaurants and shops, topped by 30 floors of offices.
Before: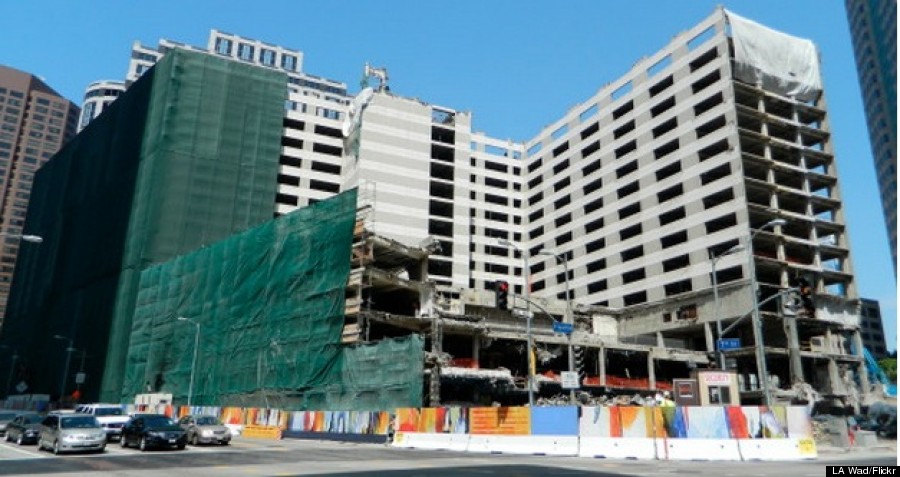 After: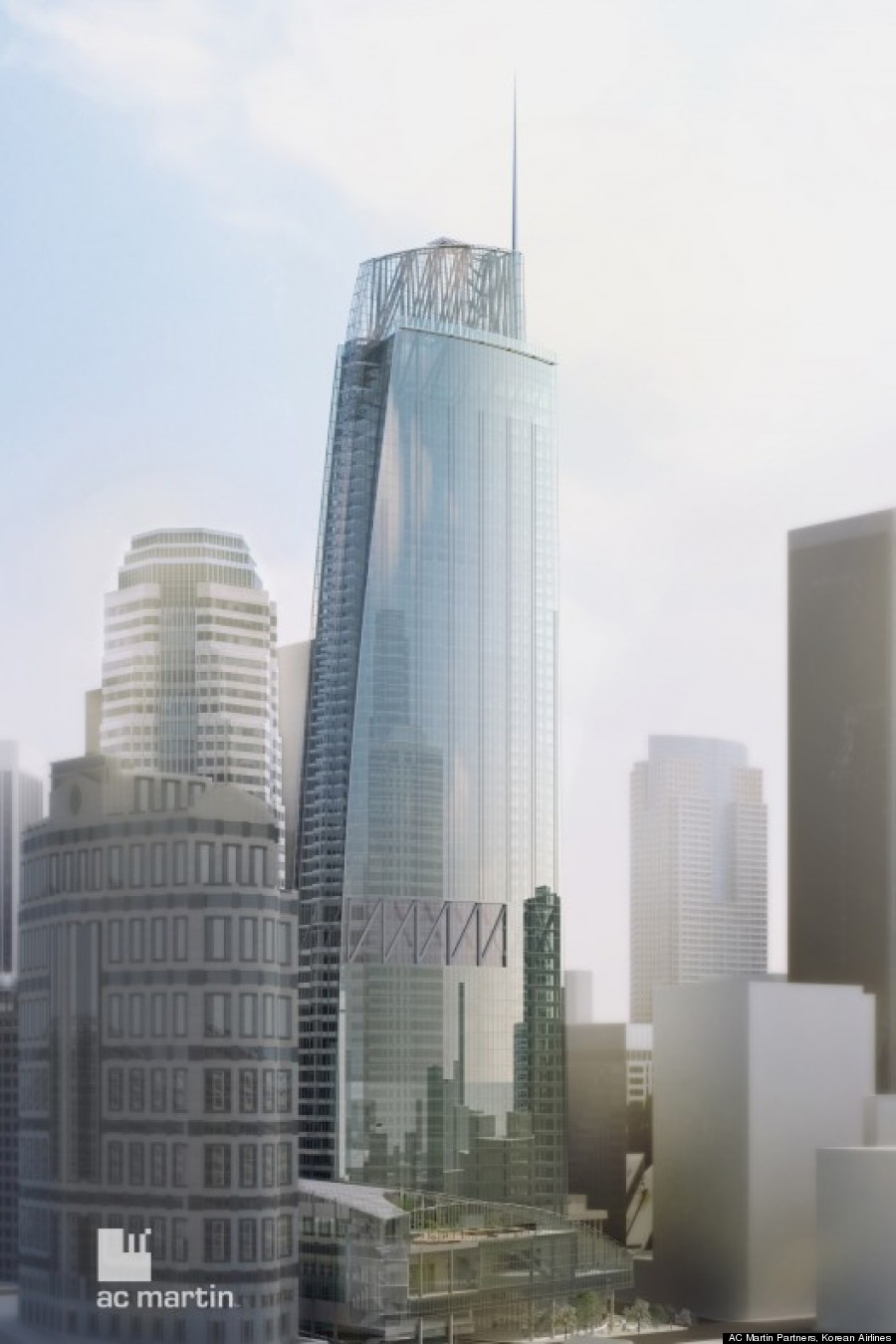 15. The BLOC
Downtown LA's Macy's Plaza is about to get a complete makeover and be renamed The Bloc. The new space will include outdoor restaurant seating, new retail tenants and more entrances around the building, including sidewalk-front escalators. The center's extremely outdated Macy's will reportedly be updated to flagship status, offering higher-quality brands. Construction is expected to begin in early 2014 and be complete in late 2015.
Before: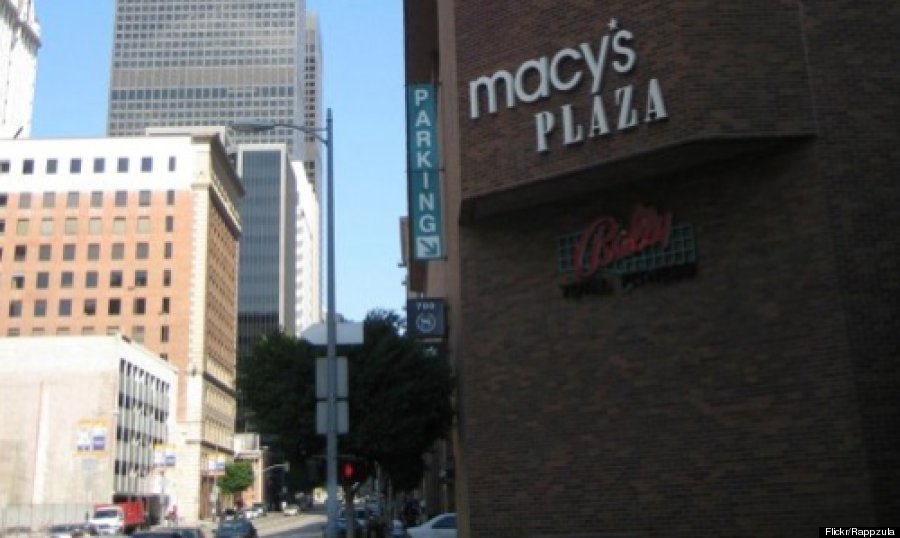 After: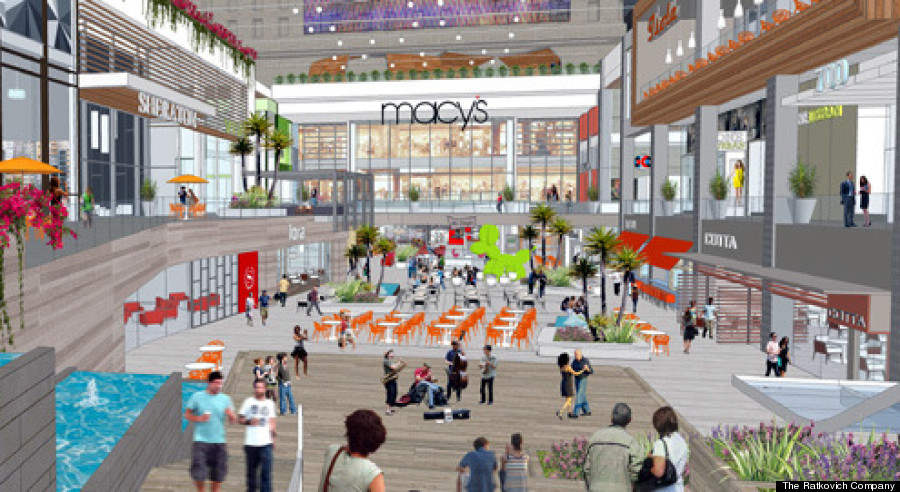 16. Hollywood Park TomorrowThe Hollywood Park Racetrack, which has seen better days since it opened in 1938, closed for good this year. Coming in its place will be a 25-acre project called Hollywood Park Tomorrow. It will include a 620,000-square-foot retail/entertainment center, 3,000 residential units, 75,000 square feet of offices, a 120,000-square-foot casino, a 300-room hotel and a four-acre civic site.
Before: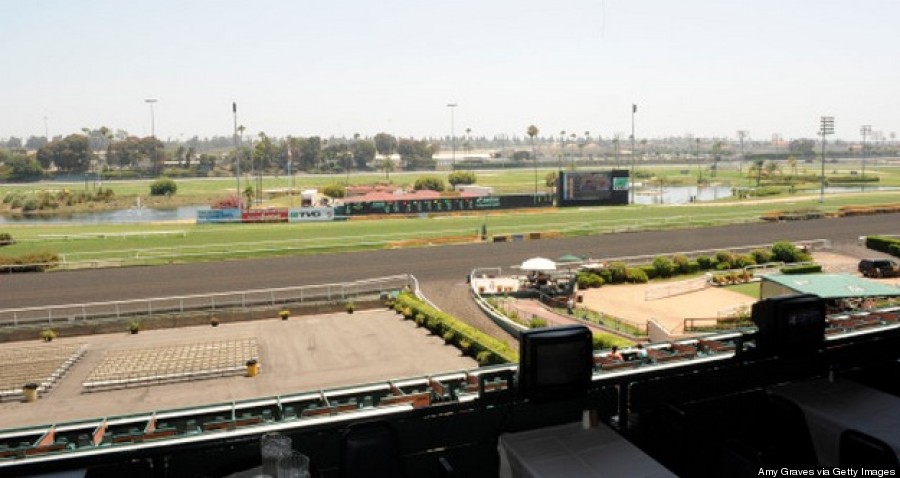 After: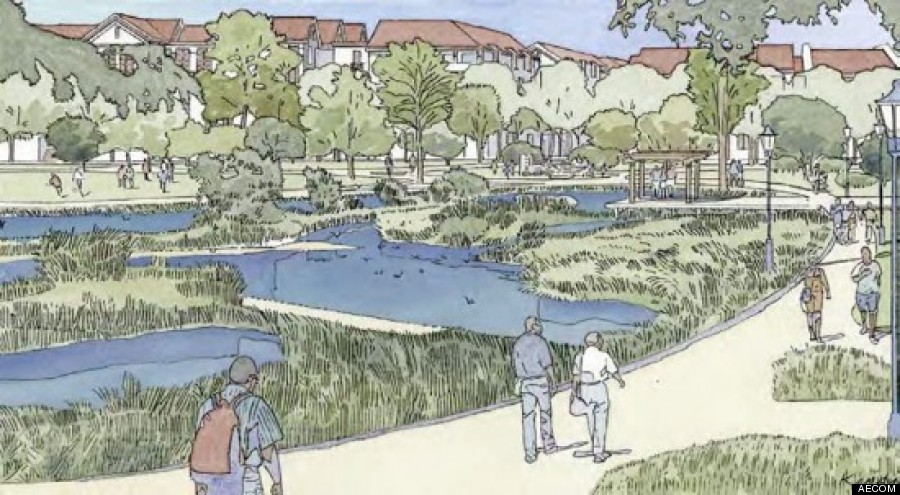 17. Millennium HollywoodMillennium Hollywood would be two mixed-use skyscrapers flanking the Capitol Records building. Construction is currently stalled by concerns about an active earthquake fault and by lawsuits from residents citing concerns about traffic and blocked views.
Before: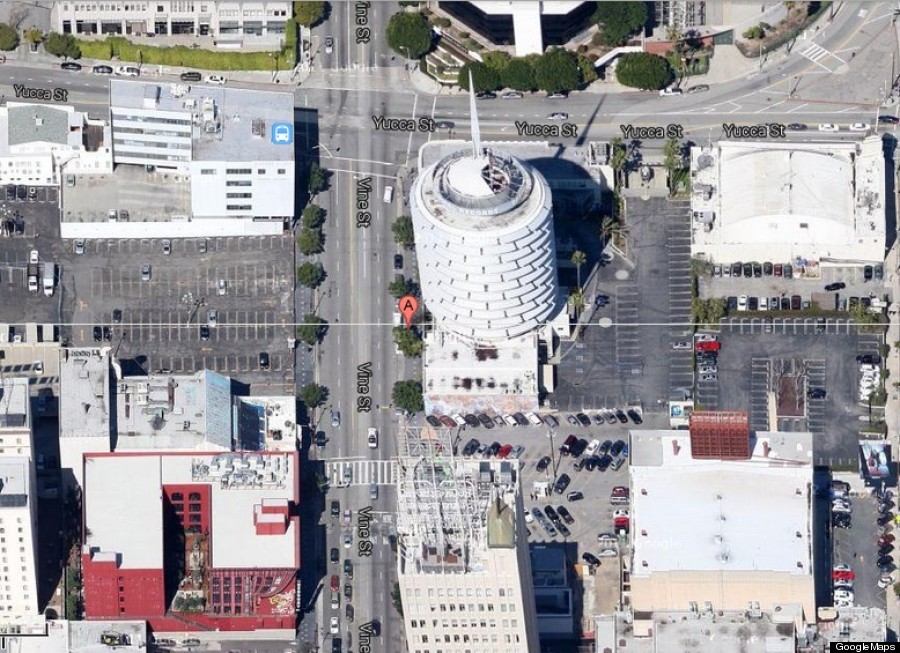 After: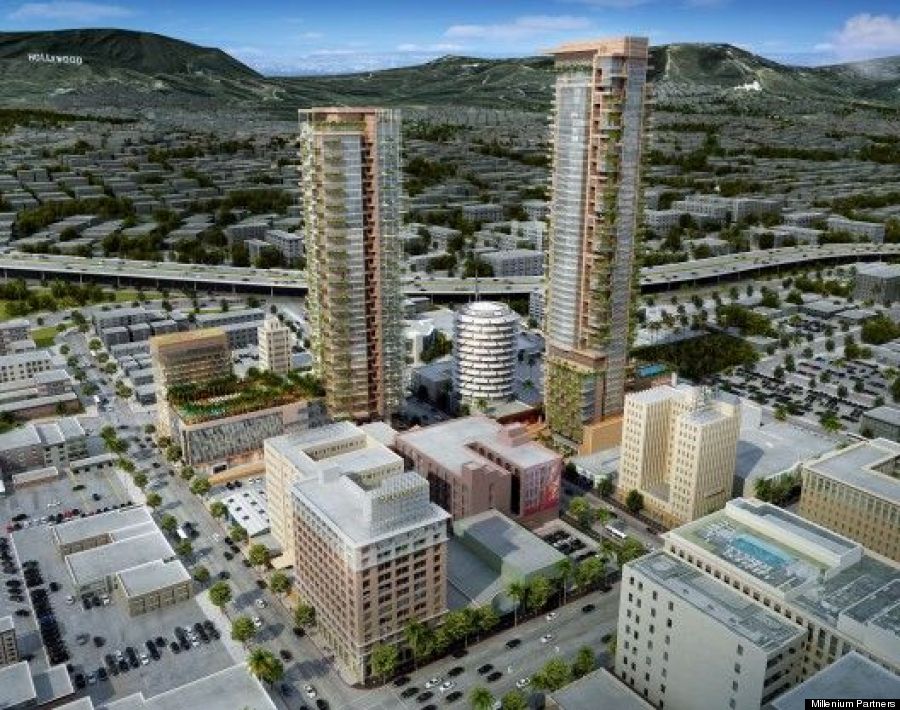 18. Columbia SquareThe historic CBS studios in Hollywood are being transformed into an indoor/outdoor 22-story residential tower with 200 apartments, 33,000 square feet of retail and restaurants, three renovated historic structures and two new office buildings. The entire project is projected to be complete in 2016.
Before: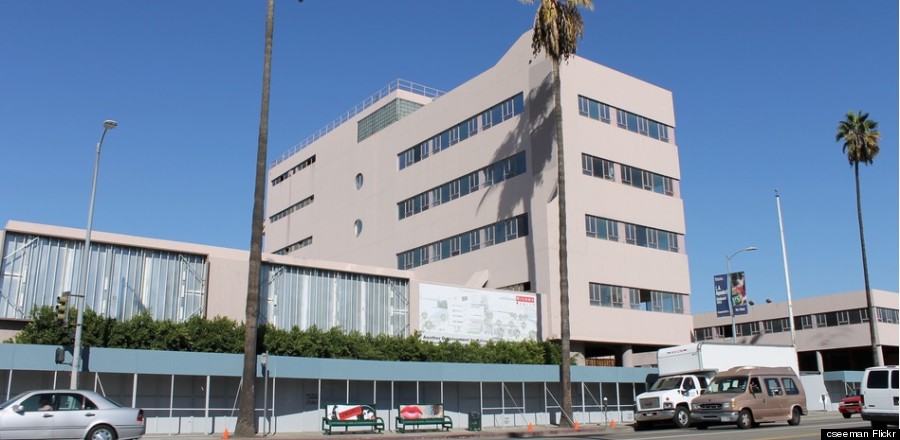 After: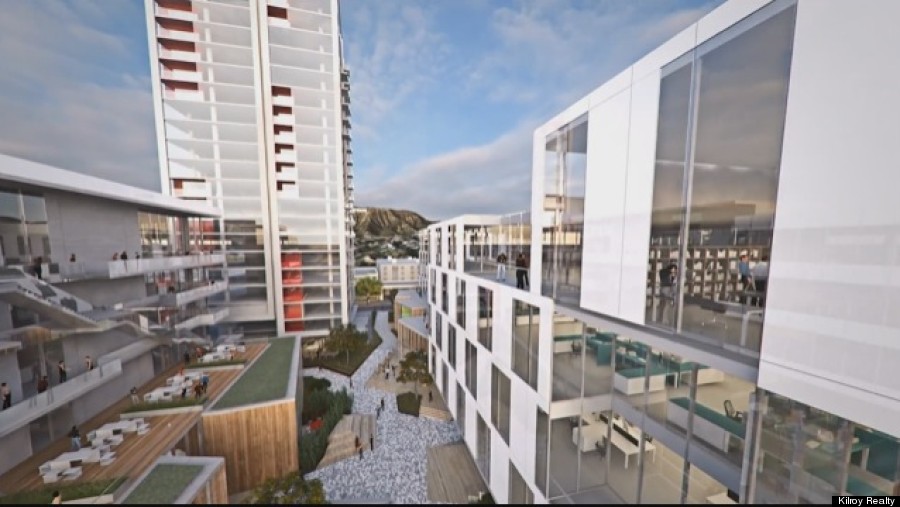 19. Jordan DownsJordan Downs, the Watts housing project, is scheduled to undergo a $1-billion overhaul to turn it into an "urban village" of shops, town homes, a park and gardens. The plan is to replace the current 700 units into 1,800 new apartments and streetscapes designed to attract higher-income people to live alongside some of LA's poorest.
Before: After: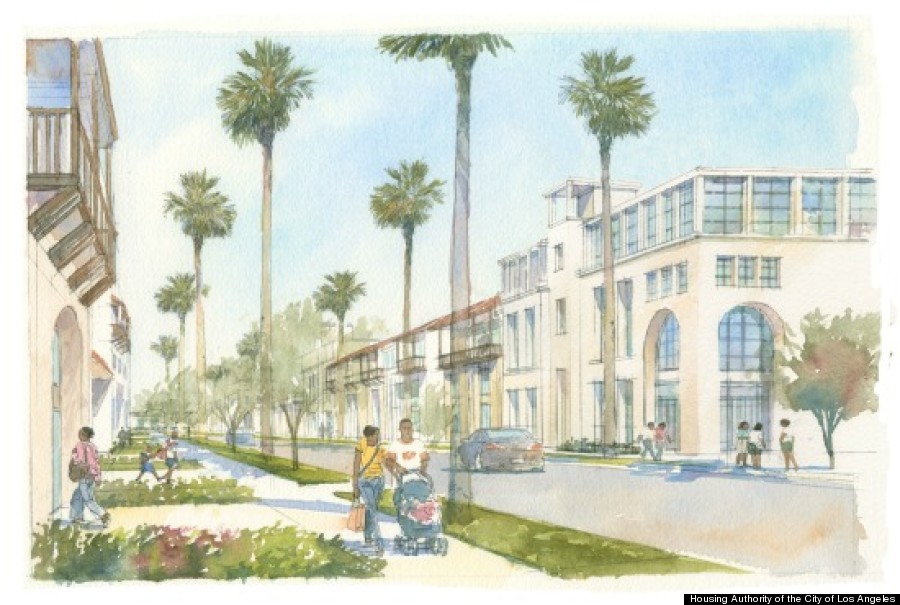 20. Century CityThe Century City Center will be a 37-story office tower. The area will also include gardens and a mobility hub to encourage employees to use public transportation. The building is designed to be the first high-rise in LA to achieve the highest environmental standard, called LEED Platinum.
Before: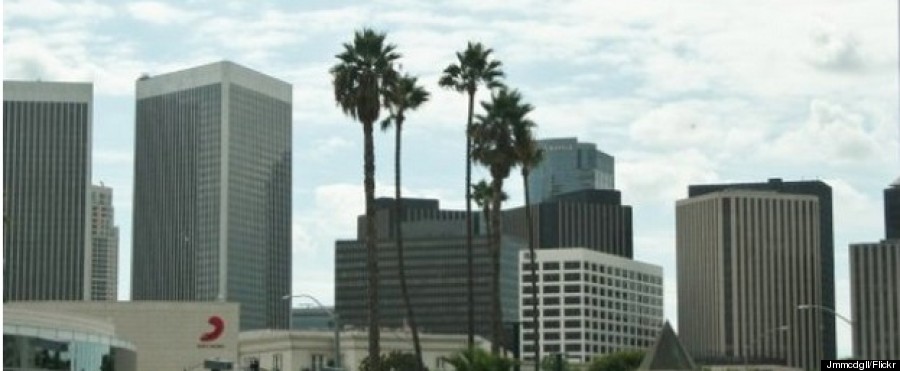 After: