MYTILENE, Greece — On a cold February day in Syria nearly four years ago, Edith Bouvier lay strapped to a stretcher inside a water pipeline turned smuggling tunnel as death drew closer.
"I thought we'd be killed," Bouvier recalls over the phone. "We thought it was the last moment."
Little did she know, the man who would soon save her would flee for his own life years later, seeking asylum in a Europe hellbent on keeping thousands of Syrians and other refugees out. 
Bouvier escaped with her life on Feb. 22, 2012, when Syrian regime forces bombed a makeshift media center in war-torn Homs. The attack killed acclaimed Sunday Times correspondent Marie Colvin and French photographer Remi Ochlik, leaving Bouvier alive but with a broken femur.
Days later, Syrian activists and local Free Syrian Army rebels banded together to pull off the seemingly impossible. They would evacuate Bouvier, who needed emergency surgery, along with French photographer William Daniels, Spanish journalist Javier Espinosa and wounded British photographer Paul Conroy, who had all survived the Feb. 22 attack.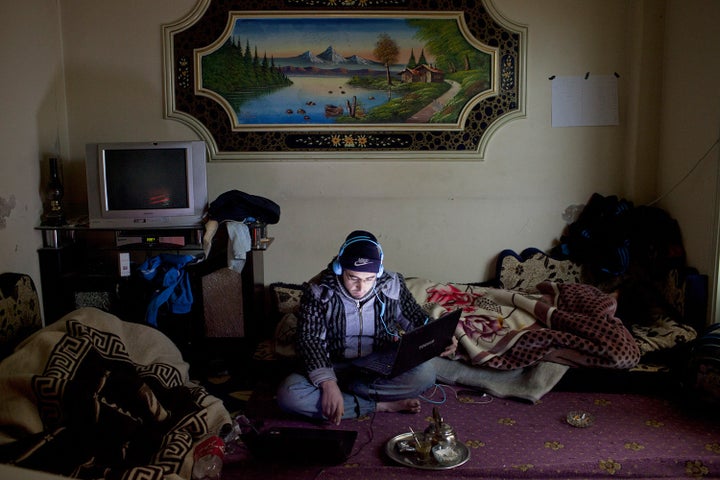 The plan was to leave the besieged Baba Amr district through the roughly five-foot-high tunnel from which they had entered. But as men crouched low and slowly carried the stretcher with Bouvier taped on top, sounds of gunfire and explosions echoed near the exit. The strangers tasked to save her weighed their odds of surviving and fled. One man handed the reporter his semiautomatic rifle before running back to Baba Amr. 
There was no way Daniels, who refused to leave Bouvier's side, could drag the stretcher himself or carry her on his back. They were stuck.
Then, a flicker of light. A headlight from the direction of Baba Amr. A young fighter had risked death and come back for them.
The man was named Taha, according to his own account of the escape, an account backed up by Bouvier. The laborer, then in his 20s, had taken up arms months earlier in defense of his neighborhood when the regime violently cracked down on peaceful protests.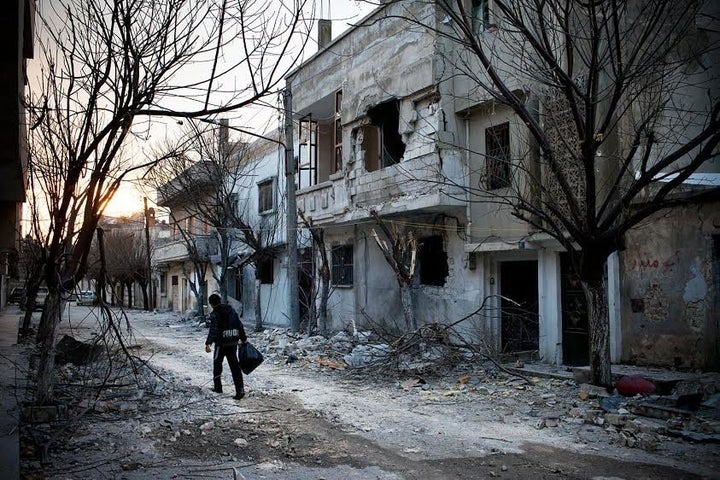 In the midst of all-out war, Taha decided to go back for the foreigners who had been left for dead. 
"I didn't even look at his face — I just jumped into his arms and he carried me," Bouvier remembers, still in awe at his bravery. "It's hard to describe an anonymous guy who would carry you [to safety] without even asking your name."
The WorldPost met Taha in Mytilene harbor on Greece's Lesbos island this August. He was stripped down to his undershirt, having been pulled out of the Aegean Sea by the Greek coast guard hours earlier after his boat took on water.
"I've seen death more than a thousand times," he said then, still wet but seemingly unshaken. "We have stories bigger than the sea."
Taha is one of hundreds of thousands of people who have braved land and sea to make it to Western Europe in the largest mass migration since World War II. 
If it weren't for a family friend calling him a "hero," Taha never would have volunteered to tell his story. 
"It was a duty that I had to carry out," he said with conviction. "I couldn't leave a wounded person behind."
"After the doctor treated her," he continued, a smile spreading across his face, "he said 'Welcome back' and she made all of us cry."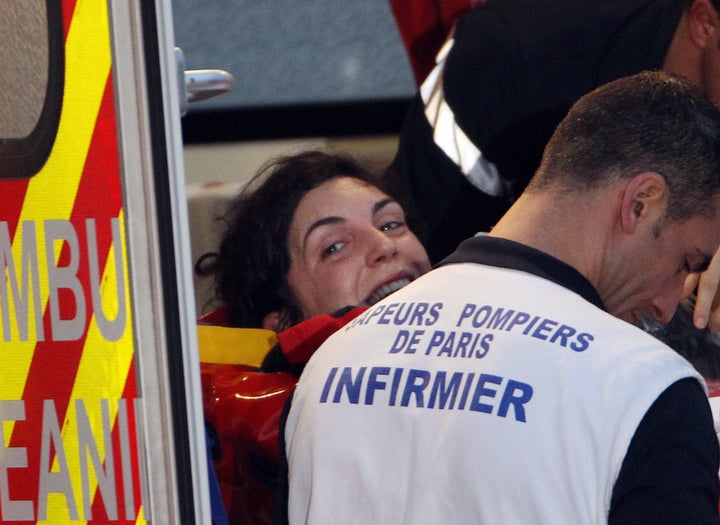 After helping to rescue Bouvier and Williams, who with the aid of dozens of Syrians would make it safely across the border to Lebanon on March 1, 2012, Taha continued fighting the Syrian regime. Soon, he said, he was not only wanted by the government, but also by the Islamic State, Jabhat al Nusra and other hardline fighters. 
Fed up with all the different actors dipping their hands in Syria, in a war he said became the "revolution of the dollar," Taha fled across the border to Turkey in search of work and a way to support his family.
While he found safety away from the bombs and the bounty on his head, Turkey barred him from legally working. He became nothing more than a "slave," Taha said, working hard jobs for barely any money.
"I feel like I'm suffocating," Taha cried out. "I just want to live. We were made to live."
Taha, unable to sum up his feelings of loss and disappointment, deferred to the words of Syrian poet Nizar Qabbani.
"The sweetest homeland, one can't stand living in such a homeland," the poem reads. "One can't stand dying in such a homeland. I've been sweating blood and paying the ultimate price to please the world."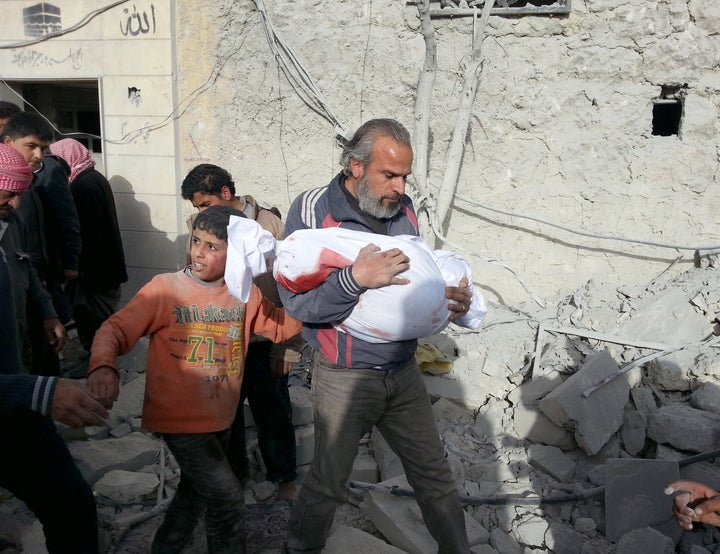 Taha would make it to Germany several weeks later after traveling through seven countries. He's now in the lengthy process of applying for asylum, which could be made even more difficult due to his involvement in Syria's armed hostilities.
Bouvier, safely back in France, becomes angry over the phone when talking about Europe's response to the refugee crisis. Germany, perhaps the European country hit hardest by the crisis, says it just can't cope with the number of refugees and migrants — a number expected to rise to 1.5 million by the end of this year. Anti-immigrant protests and violence have erupted in parts of the country. 
"I can't believe that we're considering them as the enemy," Bouvier bemoans. "We are blocking the entrance of our countries, but they have nothing. They deserve to be helped." 
And of Taha, she says, after a long pause, as if collecting herself on the other end of the phone: "I would love to meet him again."
Taha's last name and certain details regarding his identity have been withheld at his request, out of concern for his family's safety and others still inside Syria. 
Hiba Dlewati contributed reporting.