ISTANBUL — Voters issued an unexpected blow to Turkish President Recep Tayyip Erdogan in Sunday night's historic election by pushing his party out of its parliamentary majority, nixing his dream of creating a super-presidency.
But as Turkey dives into political uncertainty, with no single party leading, many Turks find themselves asking the same anxious question: Now what?
The election was widely seen as a test of Erdogan's rule, and perhaps the end of an era for his Justice and Development Party, or AK Party, which has led Turkey for 13 years straight.
Though Erdogan is adored by some Turks who say he built up the country, creating opportunity and solidifying rights for religious Muslims, many critics say he's become nothing but a strongman vying for yet more power.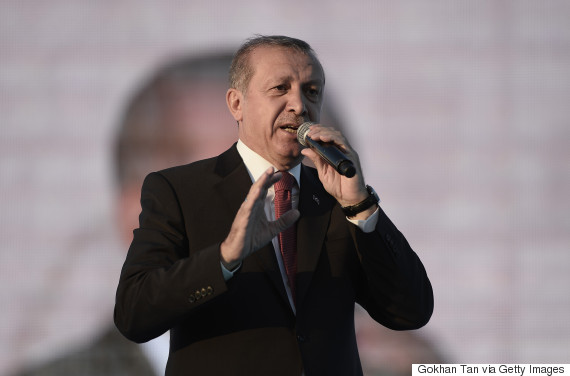 Turkey's President Tayyip Erdogan addresses his supporters on May 30 during a ceremony to mark the 562nd anniversary of the conquest of the city by Ottoman Turks in Istanbul, Turkey.
"AKP wanted to prevent democracy," said voter Gulumser Yildirim as she waited outside of a voting headquarters in the Kartal neighborhood of Istanbul. Tears of joy poured down her cheeks after hearing early election results.
"We are here to show that there are different cultures and people here," she added, expressing her support for the pro-Kurdish Peoples' Democratic Party (HDP) that came out as kingmaker, harnessing the votes of Kurds, minorities, leftists and LGBT voters.
But with surprise and joy also comes uncertainty, with Turkey headed toward real change for the first time in years.
Here's a breakdown of possible scenarios that could play out in Turkey:
Parties Form A Coalition GovernmentAK Party needed two-thirds of parliament seats in order to push forward Erdogan's plans to rewrite the constitution to give the president more power. The role of prime minister, Erdogan's former position, currently holds the most power. But since Erdogan served his three-term limit, he wanted to shift power to the presidency, a mostly ceremonial role, in order to remain as Turkey's ruler.
Surprisingly, the AK Party failed to get even a simple majority of votes.
All eyes were on HDP Sunday night, as the future of Turkey rested in the hands of the Kurdish-led party. It was a historic moment after over 30 years of bloody conflict between the Turkish state and Kurdish fighters aligned with the PKK.
Since the AK Party didn't secure enough votes, it must link up with at least one other party in order to form a coalition government.
Other possible coalition parties include: The leftist, pro-Kurdish Peoples' Democratic Party (HDP), the right-wing Nationalist Movement Party (MHP) and the main opposition Republican People's Party (CHP).
Akin Unver, a professor of international relations at Kadir Has University and political risk consultant, told The WorldPost that the "two most likely election scenarios" would be a nationalist coalition between AKP and MHP, or a liberal coalition between AKP and HDP. Another "likely scenario" would be CHP, MHP and HDP joining forces, which would tie together the major opposition parties and exclude AKP entirely.
While HDP and other opposition voters rejoice at blocking AKP's majority rule and Erdogan's power grab, some Turks say a coalition government spells nothing but trouble.
"I think it's a bad outcome," retired butcher Faruk Coban said in Erdogan's childhood neighborhood of Kasimpasa. "We've seen other parties rule and we were dissatisfied." Like much of AKP's support base, he applauded the party's infrastructure development across Turkey, and its Islamist-leaning religious stance.
"A single-party government would be much better," Coban said, sipping hot tea at a local cafe. Many Turks fear the thought of a coalition government, anxious about the possibility Turkey could slip back into the political chaos of the 1990s.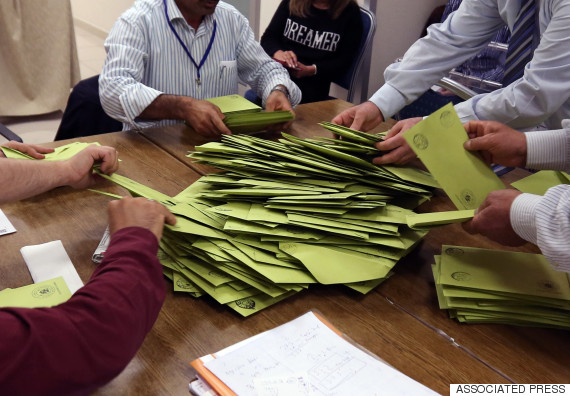 Polling station officials count the ballots, in Ankara, Turkey, on Sunday.
Turks Could Head To The Polls … Again
Forming a coalition government is easier said than done. Several of the parties fiercely oppose each other, and so far none of them have agreed to join forces. If parties can't form a government within 45 days, Erdogan could call for another election, earlier than normally scheduled, in which Turks would once again take to the polls to vote for members of parliament.
"The possibility of a government coming out of the current situation is very slim," a senior AKP official told Reuters. "With these results, an early election seems inevitable."
But Turkey expert Sinan Ulgen, a visiting scholar with Carnegie Europe, doesn't think Turks will have to head to the polls again.
"There's a real hunger on the side of the opposition parties that have been out of power for the last 13 years to be able to be part of a new government," explained Ulgen, who also heads the Istanbul-based Centre for Economics and Foreign Policy Studies.
That said, even if a coalition government is indeed formed, scrapping the need for early elections, its life cycle would be limited to perhaps a year to a year and a half, according to Ulgen.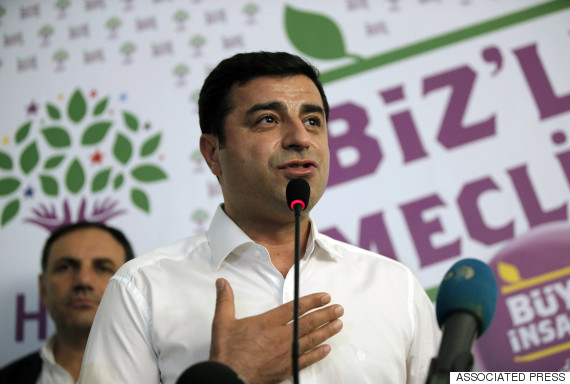 Selahattin Demirtas, co-chair of the pro-Kurdish Peoples' Democratic Party, (HDP) acknowledges his supporters during a news conference in Istanbul, Turkey on June 7, 2015 file photo, .
AKP Pushes For A Minority GovernmentIf the AK Party can't form a coalition government, another possibility is that it could push for a minority government in which it would have to rely on support from outside groups during votes of confidence in parliament.
"With any minority government, it would be a short-lived affair," Ulgen said. "It would entail a scaled-down reform agenda and possible modifications to the political party law, but nothing really ambitious. And then we'd head out to election in no more than six months."
But, according to Ulgen, this would be pretty unlikely.
"I would rule it out," he added. "There is no real incentive [for opposition parties] to support a minority government. It's much better for them if they become part of the coalition."
Whatever the outcome over the next few weeks or months, Turkey's election — with its 83 percent voter turnout — was a salute to the democratic process.
Two Kurdish women embrace in joyous sobs in Istanbul after hearing early results saying that the Peoples' Democratic Party (HDP) crossed the 10 percent threshold needed to gain seats in parliament and stop Erdogan's plans to change the constitution to grant himself unprecedented power.
Thousands of Turks volunteered as election monitors with groups like Oy ve Ötesi, founded by a Yale University graduate and a handful of other Turks, in order to curb widely feared election fraud.
Some civilians even chased after election vehicles with their own cars to make sure ballots weren't tampered with or destroyed in an election where every vote counted.
"This is what it means to protect your democratic rights in Turkey," nurse Fatos Duran said through laughter as she sped after a bus filled with bags of ballots, en route to the local election center. "You have to dare to get in trouble."
Hazal Arda contributed reporting from Istanbul.