"Water, boxed lunches, face masks! Water, boxed lunches, face masks!"
Just a few miles from the site of China's most dramatic industrial disaster in years, volunteers are busy handing out the essentials outside a school turned shelter. It's been almost 48 hours since a fire and an earth-shaking explosion at a chemical storage facility rocked the northern Chinese port city of Tianjin, killing at least 50 and injuring over 700.
The massive blast occurred late Wednesday night at a Ruihai International Logistics facility, lighting up the night sky and sparking fears of toxic fumes descending over the area. Over the last two days, thousands of volunteers, along with cars full of emergency supplies, have poured in to help.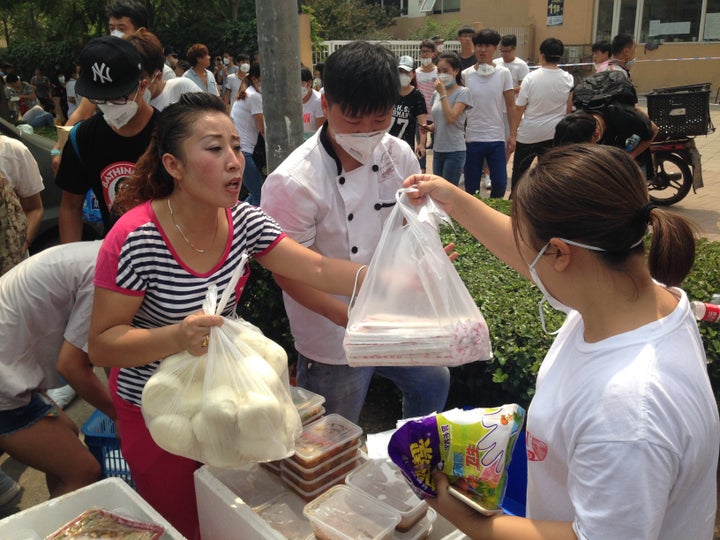 Post-disaster volunteering has become a special source of community bonding in China, particularly for young people. Earlier this year, when over four hundred people died in a cruise ship disaster in the central part of the country, locals organized free accommodation, meals and rides for families. Many twenty-somethings in Sichuan cite their time volunteering after the 2008 Wenchuan earthquake as a period that had a deep impact on them.
The enthusiasm for community bonding could also be a reaction to a spate of bad Samaritan scandals in which ordinary Chinese were seen ignoring the suffering of those around them. Those scandals hinted at deep tears in the country's social and moral fabric, leading many Chinese to seek solace in spirituality or community.
That desire was on display outside the main volunteer headquarters, where Guo Wei and a team of volunteers were registering those in need of shelter. A local elementary school served as the main shelter for families and those whose homes were damaged by the blast.
Guo, 28, who works in finance near the blast site, responded immediately following the explosions. After feeling the ground shake and seeing the news, he and a friend hopped in a car and headed to the site to give rides to the injured. Emergency responders turned the car away that night, but Guo returned the following morning and lent a hand where needed.
"There are so many people my age here because we're all part of one Chinese family," Guo told The WorldPost. "That makes me really happy. Every day we're signing up so many volunteers."