Credits
Nathan Gardels is the editor-in-chief of Noema Magazine.
This week the refugee crisis caused by Syria's horrific civil war moved to the next stage. Though prompted into action to curb the carnage, the U.S. and Russia are at odds over whom to bolster and whom to bomb. With no end to the conflict in sight, the influx of asylum seekers in Europe continues to swell and the prospect of permanent settlement there for the displaced grows. In even the most welcoming countries a political backlash is in the making. German Chancellor Angela Merkel's popularity at home is falling for the first time as compassion reaches its limits. In Sweden, the anti-immigrant right-wing party now tops the polls.
Alex Gorlach explains why many Germans are now doubting Merkel's refugee policy, including President Joachim Gauck, who has said that while "our hearts are wide open . . . our absorption capacity is limited." Akbar Ahmed chronicles Germany's long engagement with Islam going back to the likes of Goethe, and wonders if Merkel's kindness toward refugees is linked to that historical "soft spot." In a short essay that discusses how some Europeans feel their way of life is threatened by refugees and migrants, I recall the ideas of the great pluralist thinker Isaiah Berlin and cite the Slovenian philosopher Slavoj Zizek. "One of the great Left taboos," Zizek says, "will have to be broken here: the notion that the protection of one's specific way of life is in itself a proto-Fascist or racist category. If we don't abandon this notion, we open up the way for the anti-immigrant wave which thrives all around Europe." In an interview, IMF chief Christine Lagarde discusses the double European crisis of refugees and Greek debt.
The assumption that Syrians seeking refuge from the conflict would not stay long outside their borders has proven "devastatingly wrong," writes Louise Finan. The more than 4 million people now displaced in the region around Syria five years after war broke out, she says, are beginning to look like the Palestinians who still have not been able to return to their homes decades after they first fled. Similarly, Jina Krause-Vilmar says that interim opportunities that stop short of full integration must be provided for refugees in Lebanon and Jordan who are going nowhere soon. Daoud Kuttab argues that Jordan must grapple with the challenge that the hundreds of thousands of Syrian refugees now there for an extended time must sooner or later gain access to the job market. From Athens, Angeliki Kougiannou reports on the generosity of a woman in Greece who took in stranded refugees.
We also review what an array of world leaders, from Jordan's King Abdullah to French President Francois Hollande, had to say at the United Nations this week about the Syrian refugee crisis and remember that the migrant calamity in Calais continues. Rowaida Abdelaziz walks us through a day in the life of those caught in another brutal war raging in the region in Yemen.
Nick Robins-Early reports on the widely-held suspicion among American policymakers that Russian airstrikes in Syria are aimed more at buttressing Assad than blasting ISIS. In this week's "Forgotten Fact," Charlotte Alfred traces the evolution of the conflict in Syria to show "there would be no ISIS without Assad." She also reports on why Russian maps of Syria have vastly different versions of where ISIS controls territory. In an interview, Cambridge University international law professor Marc Weller questions the legality of the strikes. Raghida Dergham says the Russian intervention "has imposed on the United States, Europe and the Arab nations a fait accompli, which they have no choice but to accept. Ian Bremmer sees Putin's move in Syria as a reminder to the West that Russia is still a player outside its neighborhood. Indeed, Faisal Abbas writes that Russia will from now on have "a much bigger say" — and become a permanent presence — in the region.
In an exclusive op-ed for The WorldPost, Palestinian Authority President Mahmoud Abbas writes about "our moment of hope" when the Palestinian flag was raised at the U.N. this week for the first time.
In the wake of Chinese President Xi's announcement last week of a new cap-and-trade program to stem climate change in his nation of 1.4 billion, former Australian Prime Minister Kevin Rudd joins Dai Bingguo in a first-ever co-authored blog post with such a high-ranking former Chinese official on how "the East and West must work together" to build an "eco-civilization" for the future. Jeremy Haft argues that Donald Trump's obsession with China as a job-sucker is misplaced and questions China's official growth statistics.
Writing from Rome in our "Following Francis" series, Sébastien Maillard explains how the pope's "shock-the-Yankees-with-humility" gestures during his recent visit to the U.S. helped foster a "perspective of dialogue." Mariane Pearl writes about the global dialogue of Chime for Change that is "connecting the dots" in women's lives around the world.
Actor Matt Damon wants us to focus on the fact that 2.5 billion people live without clean water or toilets. Alexandra Ma reports on the "landfill salad" and other dishes served to world leaders at the U.N. this week to illustrate the amount of food that goes to waste on a hungry planet.
Writing from São Paulo, Brasil Post's Diego Iraheta says the crisis in Brazil has reached a critical moment in which responsible debate about the impeachment of President Dilma Rousseff is necessary. Writing from Madrid, Montserrat Dominguez calls for new policies "capable of healing wounds and weaving a new space for coexistence" in polarized Catalonia. Iranian philosopher Ramin Jahanbegloo is convinced that the nuclear deal between Iran and the world powers has bolstered the political chances for reformists.
Also this week, Charlie Rose interviewed historian Niall Ferguson about his just released biography, "Kissinger 1923-1968: The Idealist," at a book party hosted by The WorldPost at the Four Seasons Restaurant in New York.
In the last installment of our exponential technology series, the grand theorist of Singularity, Ray Kurzweil, talks in a video about how nanotechnology implanted in our brains can make us "more godlike." In an interview, European Competition Commissioner Margrethe Vestager, who filed antitrust charges against Google earlier this year, tells HuffPost, "What we're aiming for has nothing to do with Google as such — it has to do with the market allowing innovation."
Also in an interview, Edward Snowden tells WorldPost partner Fusion, "there is nobody good enough to block every [cyber] attack." In our Singularity series we report on how new educational technologies for Kenya proposed by Bill Gates and Mark Zuckerberg are running into the same kind of local resistance faced by the introduction of genetically modified organisms. "Much of the resistance to GMOs," the report notes, " comes from the heavy-handedness of their advocates and the sentiment that they were ultimately disempowering for many who adopted them."
In the "What's Working" category this week, Joseph Erbentraut tells the story of a campaign by women in Mumbai who purposefully "loiter" in groups at night in order to create safe public spaces for themselves, and Carol Kuruvilla reports on how Shia and Sunni Muslims prayed "shoulder to shoulder" in Lucknow, India for Eid.
Finally, see this remarkable video of a "dirty thunderstorm" in Chile where a volcanic eruption meets lightning.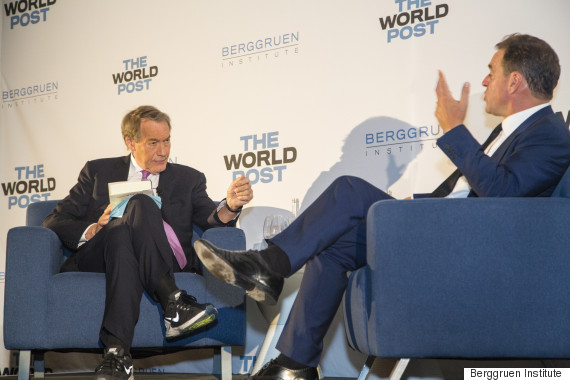 Charlie Rose questions Niall Ferguson at WorldPost book party in New York. The WorldPost.
WHO WE ARE

EDITORS: Nathan Gardels, Senior Advisor to the Berggruen Institute on Governance and the long-time editor of NPQ and the Global Viewpoint Network of the Los Angeles Times Syndicate/Tribune Media, is the Editor-in-Chief of The WorldPost. Farah Mohamed is the Managing Editor of The WorldPost. Kathleen Miles is the Senior Editor of the WorldPost. Alex Gardels and Peter Mellgard are the Associate Editors of The WorldPost. Katie Nelson is the National Editor at the Huffington Post, overseeing The WorldPost and HuffPost's editorial coverage. Eline Gordts is HuffPost's Senior World Editor. Charlotte Alfred and Nick Robins-Early are World Reporters. Rowaida Abdelaziz is Social Media Editor.

CORRESPONDENTS: Sophia Jones in Istanbul; Matt Sheehan in Beijing.

EDITORIAL BOARD: Nicolas Berggruen, Nathan Gardels, Arianna Huffington, Eric Schmidt (Google Inc.), Pierre Omidyar (First Look Media) Juan Luis Cebrian (El Pais/PRISA), Walter Isaacson (Aspen Institute/TIME-CNN), John Elkann (Corriere della Sera, La Stampa), Wadah Khanfar (Al Jazeera), Dileep Padgaonkar (Times of India) and Yoichi Funabashi (Asahi Shimbun).

VICE PRESIDENT OF OPERATIONS: Dawn Nakagawa.

CONTRIBUTING EDITORS: Moises Naim (former editor of Foreign Policy), Nayan Chanda (Yale/Global; Far Eastern Economic Review) and Katherine Keating (One-On-One). Sergio Munoz Bata and Parag Khanna are Contributing Editors-At-Large.

The Asia Society and its ChinaFile, edited by Orville Schell, is our primary partner on Asia coverage. Eric X. Li and the Chunqiu Institute/Fudan University in Shanghai and Guancha.cn also provide first person voices from China. We also draw on the content of China Digital Times. Seung-yoon Lee is The WorldPost link in South Korea.

Jared Cohen of Google Ideas provides regular commentary from young thinkers, leaders and activists around the globe. Bruce Mau provides regular columns from MassiveChangeNetwork.com on the "whole mind" way of thinking. Patrick Soon-Shiong is Contributing Editor for Health and Medicine.

ADVISORY COUNCIL: Members of the Berggruen Institute's 21st Century Council and Council for the Future of Europe serve as the Advisory Council — as well as regular contributors — to the site. These include, Jacques Attali, Shaukat Aziz, Gordon Brown, Fernando Henrique Cardoso, Juan Luis Cebrian, Jack Dorsey, Mohamed El-Erian, Francis Fukuyama, Felipe Gonzalez, John Gray, Reid Hoffman, Fred Hu, Mo Ibrahim, Alexei Kudrin, Pascal Lamy, Kishore Mahbubani, Alain Minc, Dambisa Moyo, Laura Tyson, Elon Musk, Pierre Omidyar, Raghuram Rajan, Nouriel Roubini, Nicolas Sarkozy, Eric Schmidt, Gerhard Schroeder, Peter Schwartz, Amartya Sen, Jeff Skoll, Michael Spence, Joe Stiglitz, Larry Summers, Wu Jianmin, George Yeo, Fareed Zakaria, Ernesto Zedillo, Ahmed Zewail, and Zheng Bijian.

From the Europe group, these include: Marek Belka, Tony Blair, Jacques Delors, Niall Ferguson, Anthony Giddens, Otmar Issing, Mario Monti, Robert Mundell, Peter Sutherland and Guy Verhofstadt.
MISSION STATEMENT
The WorldPost is a global media bridge that seeks to connect the world and connect the dots. Gathering together top editors and first person contributors from all corners of the planet, we aspire to be the one publication where the whole world meets.
We not only deliver breaking news from the best sources with original reportage on the ground and user-generated content; we bring the best minds and most authoritative as well as fresh and new voices together to make sense of events from a global perspective looking around, not a national perspective looking out.