Credits
Nathan Gardels is the editor-in-chief of Noema Magazine.
The characters in Orhan Pamuk's novels are complex, hybrid identities. They are neither purely Islamic traditionalists nor secular fundamentalists, but, as Turkey's most celebrated writer and Nobel laureate has put it, of "two souls." "To have two souls," Pamuk once told me, "is a good thing. That is the way people really are. We have to understand that, just like a person, a country can have two souls."
Mustafa Kemal Atatürk's military-allied, authoritarian and Western-oriented modernization from above bolstered one aspect of that soul in the last century. Over the last 13 years, current Turkish President Recep Tayyip Erdoğan's Islamic-based AKP has bolstered the other aspect through democratic modernization from below. In the process, political space has opened up not only to the influence of conservative rural Anatolia but also for other plural constituencies from Kurds to the gay community.
By trying to close that plural space now through increasingly autocratic tendencies — in the midst of the Syrian civil war spilling over its borders — Erdoğan has polarized the "two souls" of Turkey. For Pamuk, "to have democracy is precisely to have a dialogue between these two souls." "I am worried," he says, "because I know that in the end Erdoğan wants to govern alone at all costs. He does not want to share power."
Writing from Ankara in the wake of the horrific terror attack, the Turkish-British journalist Alev Scott reviews Pamuk's new novel, "A Strangeness in My Mind." "This is not an intentionally political novel," she notes, "but if there is a political message, this is it: Turkey needs to recognize its universals, not its differences." Prominent Turkish novelist Elif Shafak says in an interview that the tensions over the civil war in Syria are conjoining with the victim mentality of those in power in Turkey to create "a loss of collective reason" and "the erosion of empathy." Also writing from Ankara, Suat Kiniklioglu, once a spokesman for the AKP, worries that if the November elections don't enable formation of a coalition government we will see the "Pakistanization of Turkey."
WorldPost Middle East Correspondent Sophia Jones reports from Ankara on the trauma suffered by the victims there. Jo Confino asks activists on the ground in Turkey what they want to create a better world. Dutch journalist Fréderike Geerdink, who was recently deported from Turkey because of her reports on the Kurds, similarly argues that polarization in the country today can only be repaired by "a new Turkey based on pluralistic citizenship." Writing from Istanbul, Behlül Özkan says that the Ankara bombing suggests Turkey is now paying the price for turning a blind eye to the presence of the Islamic State on its territory. Also writing from Istanbul, Mustafa Akyol sees that the "Syrian civil war is [now] spilling into Turkey."
Writing from Paris, philosopher Bernard-Henri Lévy turns his attention to Putin's role in Syria: "The goal of Russia's intervention is therefore not to contribute to the 'struggle against terrorism,' as the Kremlin's propagandists claim, but to restore political control, at any cost, to the regime that spawned the terrorism in the first place." Sarwar Kashmeri disagrees. "Mr. Putin has made a strategic, well calibrated and thought out move on the Middle East chessboard and will soon reap significant geopolitical rewards from it," he writes. "For Americans and Europeans, the Russian offer will be a lifeline they cannot refuse." In an interview, Eliot Higgins of Bellingcat says the citizen journalist network platform he has set up to geolocate Russian airstrikes in Syria confirms that "Russia is not targeting the Islamic State … but rather an array of Syrian rebel groups fighting President Bashar Assad, an ally of the Kremlin."
Jeffrey Mankoff writes that Moscow has "calculated correctly" that the U.S. and its allies are not going to commit real forces to the fight in Syria and is thus setting an agenda to which the West must respond. Historian Niall Ferguson scores President Obama's notion of "strategic patience" that is allowing Syria to burn. (Also, watch here the WorldPost conversation between Charlie Rose and Ferguson on his new book, "Kissinger 1923-1968: Idealist.")
Turning to the impact of the Syrian crisis on Europe, German Vice-Chancellor Sigmar Gabriel and Foreign Minister Frank-Walter Steinmeier write that Germany can't indefinitely absorb refugees and must now "fight the root cause of the refugee crisis" by seeking political solutions in the Middle East and North Africa. In these photo essays, we look inside a refugee center in Germany and see desperate parents carrying their children ashore in Lesbos, Greece. Miguel Urban, a Podemos delegate to the European Parliament, compares Spain's Mellila refugee camp to Guantanamo. We report as well on a "Thank You Concert" in Munich by the so-called Syrian refugee "piano man," Ayham Ahmad, who has played for audiences along his route to Europe. Also from Munich, Sophia Maier describes what it was like to take in four refugees. In an act of "joy without borders" we report on a Jordanian couple who invited over 200 refugees to their wedding feast.
From Athens, Danae Leivada reports on how non-profit organizations are "bringing hope and care" to senior citizens who have suffered years of cuts on social services during Greece's sovereign debt crisis. In a new series, Dominique Mosbergen examines the struggle for LGBT rights across Southeast Asia.
As a new Palestinian uprising seems in the works, Daoud Kuttab writes from Amman that, without a concerted strategy to unify the Palestinians, "there is a real worry that this wave of opposition to occupation will fizzle out." David Polumbo-Liu attributes the spark in violence to the "destruction of religious sites and 'extrajudicial executions' of Palestinian teenagers." Mohammed Suliman argues that "Israel finds itself pitted against no particular Palestinian group or leadership, but primarily against [the entirety of] Palestine's younger generation in the West Bank, inside Israel and in the Gaza Strip." Former Israeli diplomat Josef Olmert asks about the president of the Palestinian Authority, "Why Does Abbas Lie?" World Reporter Charlotte Alfred tells the story of a Palestinian living in Tel Aviv who defused his neighbors' fear of Arabs with a humorous retort that went viral. Amal Clooney protests the "arbitrary arrest" of former Maldives President Mohamed Nasheed and calls for his release.
Writing from Moscow, Georgy Bovt hails the Nobel Prize for Literature awarded to Svetlana Alexievich at a time when the "'Russian world' is standing at the threshold of the deepest crisis of its long history." This week's "Forgotten Fact" looks at the recently released report by a Dutch commission that concluded that the Malaysian Airlines Flight MH17 shot down over Ukraine was hit by a Russian-manufactured Buk missile — and how few Russians believe that to be true.
From Qin'an Country in China, WorldPost China Correspondent Matt Sheehan reports how eye exams are improving the prospects of rural schools. Angus Deaton, who was awarded the Nobel Prize for economics this week, writes that poverty is more than the lack of money.
In a beautifully written and illustrated essay on the Zen qualities of Japan, Pico Iyer examines the disappearance of the ego and the relational identity of the person. In a series of stunning images, we present the winners of this year's microphotography contest hosted by Nikon and the winners of the global urban photography contest. Other photo essays this week feature the celebration of Navratri, the Hindu festival this week of nine nights dedicated to the glorification of Shakti, the feminine form of the Divine, a Stalin theme park in Lithuania and the exceptional pictures taken by the celebrated 90-year-old Italian farmer-photographer Ulisse Bezzi.
Fusion looks at the tailgate parties along the U.S.-Mexico border where people gathered together to watch the recent soccer match between the two countries. Our China in Africa Podcast explores the controversy over Niger's Chinese-built oil refinery. Finally, our Singularity series this week shows how a brain scan can tell if you are "naughty or nice."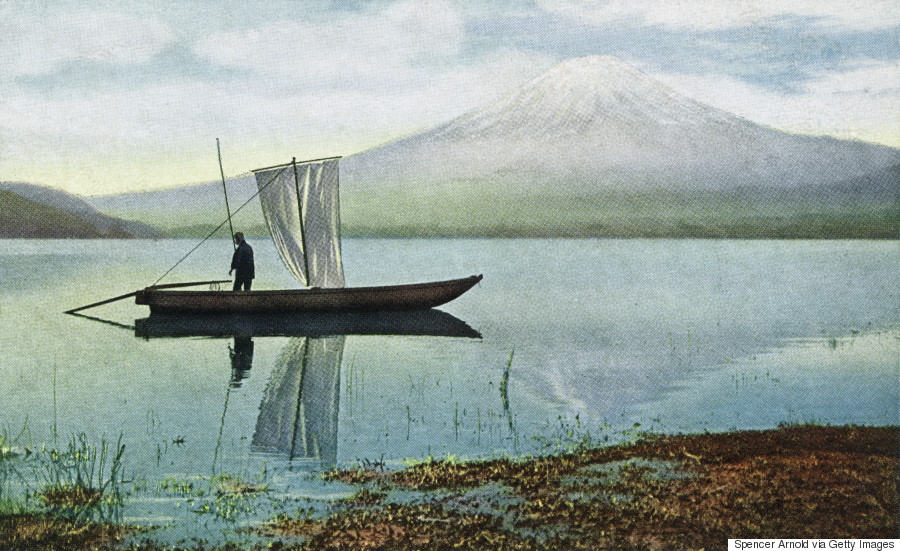 A fishing boat on a lake near Mount Fuji, Japan, circa 1910. (Photo by Spencer Arnold/Hulton Archive/Getty Images)
WHO WE ARE

EDITORS: Nathan Gardels, Senior Advisor to the Berggruen Institute on Governance and the long-time editor of NPQ and the Global Viewpoint Network of the Los Angeles Times Syndicate/Tribune Media, is the Editor-in-Chief of The WorldPost. Farah Mohamed is the Managing Editor of The WorldPost. Kathleen Miles is the Senior Editor of The WorldPost. Alex Gardels and Peter Mellgard are the Associate Editors of The WorldPost. Katie Nelson is the National Editor at the Huffington Post, overseeing The WorldPost and HuffPost's editorial coverage. Eline Gordts is HuffPost's Senior World Editor. Charlotte Alfred and Nick Robins-Early are World Reporters. Rowaida Abdelaziz is Social Media Editor.

CORRESPONDENTS: Sophia Jones in Istanbul; Matt Sheehan in Beijing.

EDITORIAL BOARD: Nicolas Berggruen, Nathan Gardels, Arianna Huffington, Eric Schmidt (Google Inc.), Pierre Omidyar (First Look Media) Juan Luis Cebrian (El Pais/PRISA), Walter Isaacson (Aspen Institute/TIME-CNN), John Elkann (Corriere della Sera, La Stampa), Wadah Khanfar (Al Jazeera), Dileep Padgaonkar (Times of India) and Yoichi Funabashi (Asahi Shimbun).

VICE PRESIDENT OF OPERATIONS: Dawn Nakagawa.

CONTRIBUTING EDITORS: Moises Naim (former editor of Foreign Policy), Nayan Chanda (Yale/Global; Far Eastern Economic Review) and Katherine Keating (One-On-One). Sergio Munoz Bata and Parag Khanna are Contributing Editors-At-Large.

The Asia Society and its ChinaFile, edited by Orville Schell, is our primary partner on Asia coverage. Eric X. Li and the Chunqiu Institute/Fudan University in Shanghai and Guancha.cn also provide first person voices from China. We also draw on the content of China Digital Times. Seung-yoon Lee is The WorldPost link in South Korea.

Jared Cohen of Google Ideas provides regular commentary from young thinkers, leaders and activists around the globe. Bruce Mau provides regular columns from MassiveChangeNetwork.com on the "whole mind" way of thinking. Patrick Soon-Shiong is Contributing Editor for Health and Medicine.

ADVISORY COUNCIL: Members of the Berggruen Institute's 21st Century Council and Council for the Future of Europe serve as the Advisory Council — as well as regular contributors — to the site. These include, Jacques Attali, Shaukat Aziz, Gordon Brown, Fernando Henrique Cardoso, Juan Luis Cebrian, Jack Dorsey, Mohamed El-Erian, Francis Fukuyama, Felipe Gonzalez, John Gray, Reid Hoffman, Fred Hu, Mo Ibrahim, Alexei Kudrin, Pascal Lamy, Kishore Mahbubani, Alain Minc, Dambisa Moyo, Laura Tyson, Elon Musk, Pierre Omidyar, Raghuram Rajan, Nouriel Roubini, Nicolas Sarkozy, Eric Schmidt, Gerhard Schroeder, Peter Schwartz, Amartya Sen, Jeff Skoll, Michael Spence, Joe Stiglitz, Larry Summers, Wu Jianmin, George Yeo, Fareed Zakaria, Ernesto Zedillo, Ahmed Zewail, and Zheng Bijian.

From the Europe group, these include: Marek Belka, Tony Blair, Jacques Delors, Niall Ferguson, Anthony Giddens, Otmar Issing, Mario Monti, Robert Mundell, Peter Sutherland and Guy Verhofstadt.
MISSION STATEMENT
The WorldPost is a global media bridge that seeks to connect the world and connect the dots. Gathering together top editors and first person contributors from all corners of the planet, we aspire to be the one publication where the whole world meets.
We not only deliver breaking news from the best sources with original reportage on the ground and user-generated content; we bring the best minds and most authoritative as well as fresh and new voices together to make sense of events from a global perspective looking around, not a national perspective looking out.