Credits
Kathleen Miles is the executive editor of Noema Magazine. She can be reached on Twitter at @mileskathleen.
Demonstrators in cities across the U.S. took to the streets Tuesday to protest what they say is an "epidemic of police brutality."
Organizers say protests took place in dozens of cities, including Los Angeles, New York City, Chicago, Cleveland, Seattle and Fresno.
People across the U.S. have mobilized on Oct. 22 since 1996 for a National Day of Protest to Stop Police Brutality, Repression and the Criminalization of a Generation. The protests were organized by the Stop Mass Incarceration Network, which also works with the Stolen Lives Project — a project to document killings by law enforcement nationwide.
"Police view all blacks and Latinos as criminals that are allowed to be either stopped and frisked here in New York," a protester in New York City said to Press TV. "In LA, … three or more black or brown youth standing together are considered a gang with no rights and are allowed to be rounded up."
Police departments have said that they do not institutionally target people of color and that they carefully investigate claims of police brutality. In a phone call with HuffPost, an LAPD spokeswoman said that the department denounces racial profiling and that all claims of wrongful police behavior are investigated and, when appropriate, result in discipline.
In Seattle, protesters burned flags, and police had to disperse fights between protesters and anarchists who seemed to have taken advantage of the situation, according to RT. A total of about 70 demonstrators participated in the protest, the Seattle Times reports.
About 70 protesters in Los Angeles stopped traffic and attracted dozens of police officers, as seen in the CBS video above. Members of the Youth Justice Coalition also gathered at a Compton City Council meeting to demand that city officials take action to reduce violence in the community.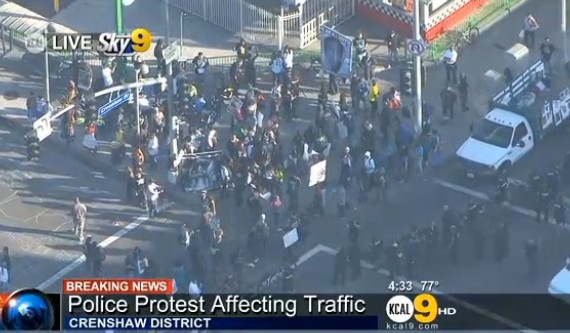 "When [police brutality] happens to one person in the community, it affects the entire community," Michael Richardson, a leader of the LA protest, said to Annenberg TV News. Los Angeles leads the nation in rates of police brutality, according to Annenberg.
"We don't want to be here 18 years from now, having more and more annual days of protest," the protester in New York City said to Press TV. "The point is to get to an Oct. 22 where we celebrate and look back to the days when this used to happen."